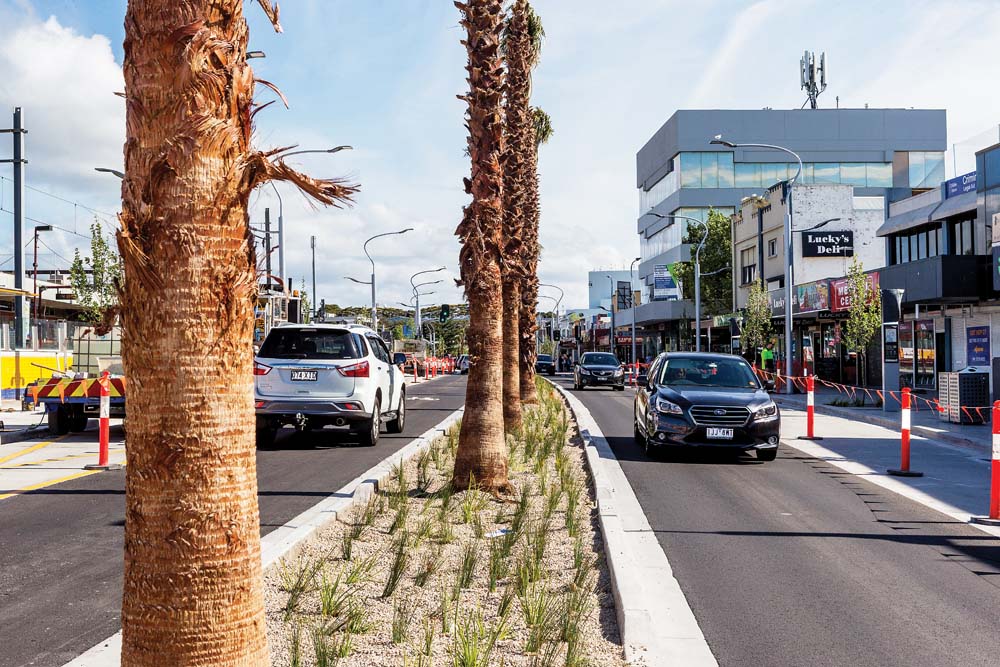 TRAFFIC is flowing along Young St again, although some bus services are not yet running through the street, amid a bitter war of words over businesses impacted by the $13 million redevelopment of the central Frankston street.
Frankston Labor MP Paul Edbrooke has called on federal Dunkley Liberal MP Chris Crewther to resign over claims by the Dunkley MP that 26 businesses in the Young St area have closed due to delays in the redevelopment.
The works by contractor Seymour Whyte were slated to be finished in May but complications from the need to move underground electrical cabling and the need to handle asbestos in Telstra pits with care saw the project end date delayed until October.
When asked, the mayor Cr Brian Cunial confirmed in a statement late last week that Frankston Council has received two applications from businesses for a one-off payment of $750 under a council trader's assistance package offered despite the Young St upgrades being a state government project.
"One application has been reviewed and approved by the assessment panel," Cr Cunial said. "The other recent application will be reviewed to determine eligibility." 
Mr Crewther and Frankston deputy mayor Steve Toms, a Labor Party member, have been sharing stories online from traders about business strife in the Young St precinct.
Mr Edbrooke disputes the claim that 26 businesses have closed due to the Young St works.
"As the member for Frankston, I receive my information from accurate sources like Frankston City Council's economic development department, The Frankston Business Network and management at Bayside Shopping Centre," Mr Edbrooke said.
"The member for Dunkley has made these unsubstantiated claims for months against all advice from business experts, is now effectively inferring that these professionals are liars and can't find the evidence … I call on the federal member to resign immediately."
Frankston Council intervened in the dispute "to put the facts on the table" by issuing a statement from the mayor on 27 October.
The mayor Cr Brian Cunial said: "As mayor, I'd like to put the facts on the table about recent statements claiming that 26 businesses have closed due to the Young St improvement project works.
"These comments do not accurately reflect the situation in Frankston City.
"Since January, a total of 14 businesses located in the area affected by the works have closed.
"Council officers spoke to these business operators to determine the reason for their closure, and four have connected their closure to the Young St works.
"Since January, there have also been a total of five businesses which have relocated within Frankston, three of which have moved into Young St."
The mayor said council analysis shows "the current level of business closures in the area affected by the works is consistent with the previous two years".
Council said 10 businesses in the Young St area closed in 2016 and 11 shut down in 2015 before any street works began.
The mayor advised council defined "the area affected by the works" as Young St, Beach St, Ross Smith Avenue East, Balmoral St, Station St and Wells St.
Cr Toms questioned the council figures about business closures when contacted by The Times.
"I'm very disappointed that the mayor has chosen to release this statement. In my view, and the data that I have, it is factually incorrect and grossly misinformed," the deputy mayor.
"I would have expected the mayor to have chatted to one of the traders' advocates or me or to Chris Crewther before he would release such a statement."
Mr Crewther said he is "unsure of the methodology used" by council to determine how many businesses in the area had closed as a result of the Young St works delay. He said he believes council's "figures to be inaccurate on whatever methodology was used".
He said eight businesses featuring "real people, with real stories" featured on the Facebook page promoted by the Dunkley MP and the deputy mayor.
"Their stories demonstrate those [council] previous figures to be inaccurate on whatever methodology was used," Mr Crewther said.
"Evidence from traders themselves indicate that many have closed in the Young St Precinct due to the works, not to mention those affected but still open. Traders will be releasing more of their own personal stories over coming days and weeks."
Mr Crewther welcomed the upgrade of Young St but he called on Mr Edbrooke to "fight for relief and compensation on traders' behalf".
"While I am surprised by the unstatesmanlike and negative statement from Mr Edbrooke that I should resign as a consequence of my advocacy for affected and closed traders, at their request, I remain very willing to work with Mr Edbrooke on getting a positive solution for affected traders, if he is willing to work with me to do so."
Cr Cunial said council supports the Young St rejuvenation as part of the state government $63 million revamp of Frankston train station and its surrounds.
"These works not only aim to improve pedestrian access and safety in the area, they are designed to improve the vibrancy of Frankston and cement the city's reputation as a destination for shoppers, visitors and residents alike," he said.
VicRoads confirmed on Friday (3 November) that temporary bus stops are in place along Young St while work is finished on new bus bays.
"Recent bus trials have been completed and 10 of 20 services are now using the new interchange on Young Street, including the popular SmartBus services," VicRoads metropolitan projects director Brendan Pauwels said.
Ten bus services are using temporary stops south of Young St while VicRoads works with Public Transport Victoria to move all bus services back to the Young St interchange.