DISTRICT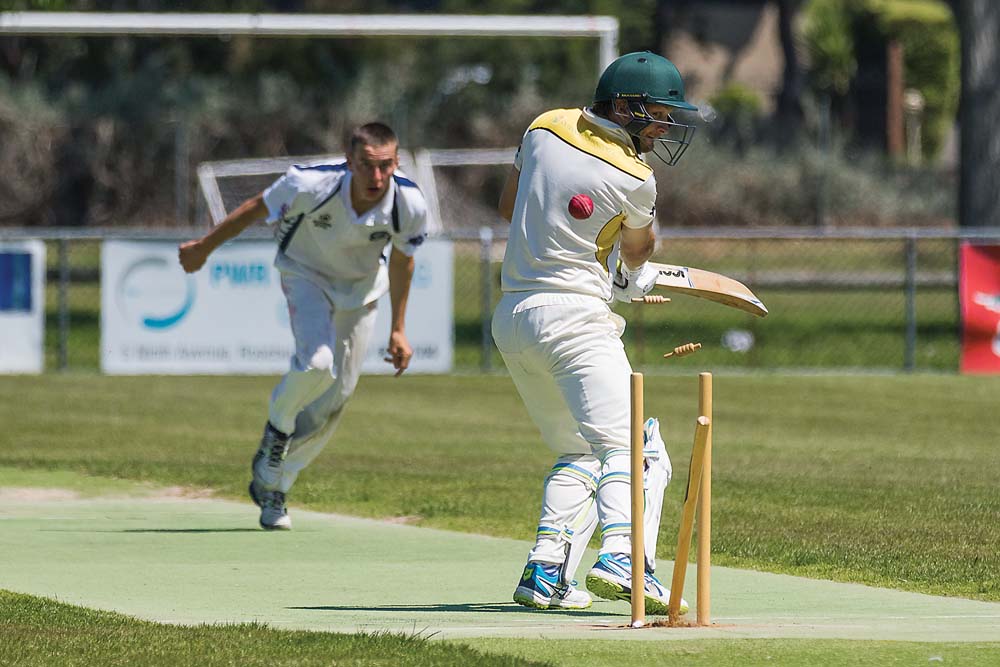 HASTINGS defended its miserly total of 119 against Baden Powell on Saturday, winning by more than 50 runs.
The Braves were always going to start the day in some trouble, resuming at 4/23, however, things didn't improve any.
Bryce Kellerman with 15 was the only remaining Baden Powell batsman to score double figures, as the home side slumped to 64.
The Blues went to the crease again and batted another 51 overs, slumping to 5/72.
It was enough to pick up a much-needed win for the Blues.
Rye was back to its old ways with the bat on Saturday, thrashed by Mt Martha.
The Reds were defending 226 and Rye was resuming at 1/8.
The Demons lasted just 56 overs and were bowled out for 97.
Josh Gana made a third of the runs, scoring 31, while Matt Whelan was trapped in front for 11.
Rhys Whitling opened the bowling for the Reds and claimed 4/22, while Kyle Bendle bowled 17.2 overs for a return of 3/22.
Rosebud wasn't able to get the 139 runs required for victory against Seaford.
The Buds resumed at 0/3 on their home deck, chasing just 138.
Billy Quigley (20), Jason Mathers (24) and Pete Doughty (25) all got starts, however, none of them were able to have enough impact to carry their side over the line.
Chris Cleef bowled 29 overs for a return of 3/40 and Matt Herbert claimed 3/7 from 11.5 overs. Dean Polson also took 2/22 off 12 and Dale Christie 2/35 off 23.
Heatherhill was no match for Seaford Tigers, belted by more than 100 runs.
Defending 8/262, the Tigers rolled the Hills for just 145 in 70.4 overs.
Gun junior Liam O'Halloran was a star with the ball for the Tigers, claiming 5/28 off 10 overs, while Ash Mills snared 2/41 off 20 overs.