PROVINCIAL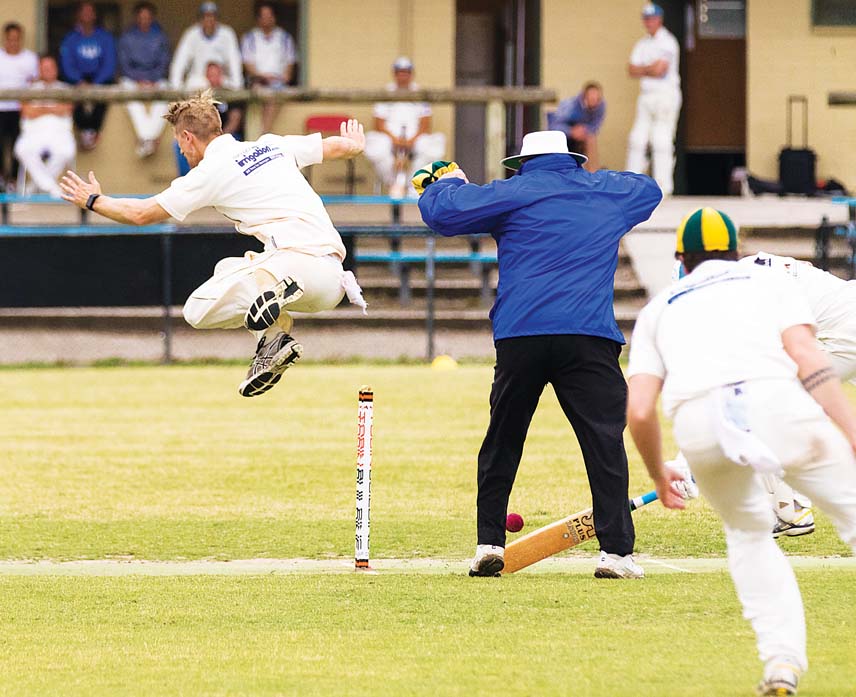 PENINSULA Old Boys were the big winners in Mornington Peninsula Provincial cricket on Saturday, the only team to get a result.
On a day that was dominated by soggy grounds and rain, all Provincial, Peninsula, District and Sub-District First XI matches ended in draws, except for the Old Boys, who got the job done against Pearcedale.
Defending 8/260, the Old Boys rolled Pearcedale for just 121 in 47 overs.
Jon Forrest was the key to the victory for the Old Boys, bowling 15 overs and four maidens for a return of 7/22. Tom Shayler was impressive again also with 3/20 from 12 overs.
Brad Trotter started like a house on fire with the bat for the Dales, scoring 17 of the team's first 18 runs, before becoming Shayler's first victim.
Chris Dew opened and top scored with 45, while Jarryd Herbert was the only other Dale to get to double figures with 26.
All other Provincial matches ended in a draw.
Langwarrin would have been extremely thankful, given they were just two wickets away from defeat against Mt Eliza.
Chasing 207, the Kangas were on their knees at 8/107 when rain took hold.
Nick Baron was the key for the Mounties with 4/47 from 28 overs and Rob Maskiel claimed 2/22. There were two run-outs.
Baxter was in the best position it has been all season but luck just isn't on their side.
Defending 6/341 after Chris Brittain (104), Justin Bridgeman (84), Daniel Warwick (49), Dale Irving (42) and Joe Rule (40) all got amongst the runs on day one, Baxter had Crib Point 4/102 when the game was called off.
Henry Dolphin was the thorn in Baxter's side, unbeaten on 49.
Mornington had Sorrento reeling at 3/30 before the rain came at David McFarlan Reserve.
The Doggies were defending 206. At one stage the Sorras were 3/11. Michael Heib grabbed all three wickets, finishing with 3/12. Sorrento faced just 21 overs.