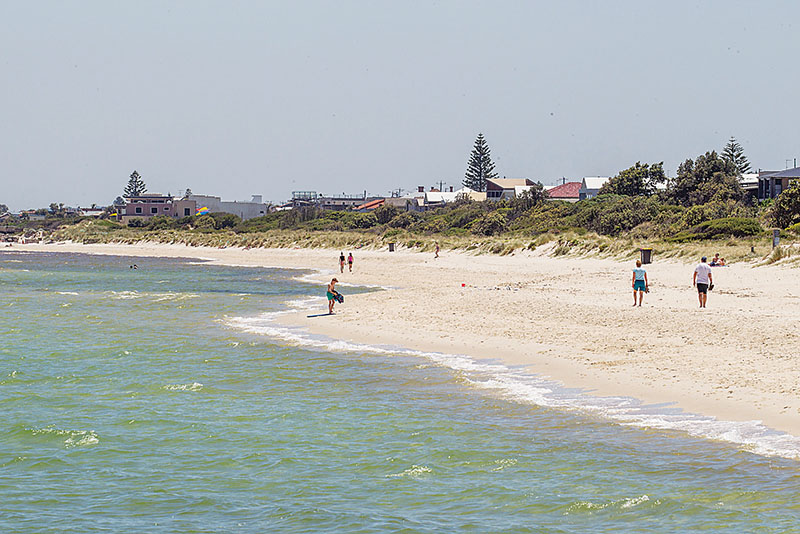 THE risk of shark attack off bayside beaches is "extremely low" according to the Victorian Fisheries Authority but beachgoers should still be "sharksmart" this summer according to the state government body.
The VFA's tips for swimmers, surfers, anglers and divers were issued in the same week Frankston beach was closed early on Sunday (10 December) at about 4.30pm due to an unconfirmed shark sighting near Frankston pier.
Lifesavers usually "close" the beach at 6pm on Sundays.
A dead whale carcass at Blairgowrie's Jubilee Point washed up earlier this month saw the VFA issue a warning about a possible increase in sharks lured to the Mornington Peninsula area.
VFA chief executive officer Travis Dowling said last week that sharks are a natural part of a healthy marine environment and there are steps people can take to minimise the risk of "an unwanted encounter" with a shark.
"When people get into the water to swim, surf, dive or fish, they are entering the shark's natural environment and so should be mindful and make good choices," Mr Dowling said. 
The VFA says people should:
Always swim, dive or surf with a friend

Swim between the red and yellow flags on patrolled beaches where possible

Avoid areas that attract sharks such as where natural food sources of sharks live, for example, seals; where fishing waste is being disposed of; places where human and animal waste enters the water

Watch for signs of unusual behaviour in wildlife or fish since these can indicate that a shark is in the area
Mr Dowling said that if beachgoers see a shark close to shore they should ring Victoria Police on 000, or notify lifesavers immediately if at a patrolled beach, to report its location and its distance from shore. 
"That information is relayed to the VicEmergency website and smartphone app so it can be shared quickly with anyone using our beautiful beaches.
"If the beach is patrolled by lifesavers, they will alert swimmers and potentially close the beach altogether if appropriate." 
Mr Dowling said it had been 30 years since a death had occurred from a shark attack in Victoria. 
"While there is no evidence that shark numbers are increasing, Victoria's human population is growing each year and more people are using the coastline to relax and recreate." 
See vfa.vic.gov.au/shark-smart for more information.
First published in the Chelsea Mordialloc Mentone News – 13 December 2017