SOCCER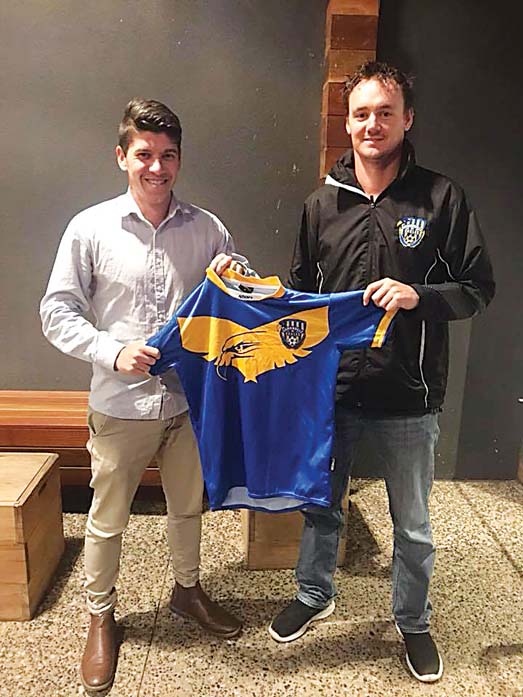 SOMERVILLE Eagles are flying high after last Friday's announcement that goalscoring legend David Greening will be the club's new player-coach for 2018.
Greening is the second founding member of Rosebud Heart senior club to switch to Somerville after Neil Herd moved there at the end of the 2016 season.
The switch leaves Heart firmly on the back foot without a coach, still searching for a suitable ground and now without the man who in three seasons delivered 108 goals from 57 league and cup appearances.
Greening had been mentioned as a possible Heart player-coach, Baxter offered him a player-coaching role as an assistant to Francis Beck while Skye United was keen to pair him with Daniel Attard up front.
In the end, it was State 5 South newcomer Somerville which won the battle for the services of "The Green Machine" from England's Isle of Wight.
"This is a really exciting challenge for me – a new challenge – and we'll just see how we go," Greening said.
"I worked under 'Squizzy' (Kevin Taylor) for four years and Scott (Morrison) for two years and I learned so much from them.
"I'm looking forward to getting stuck into it and I'm in the process of putting together a pre-season schedule at the moment.
"They finished 10th last year and I'd certainly be looking to improve on that.
"We've got a very young squad and hopefully we can get some older heads in there to bring them along."
Greening's first season in Australia was in 2010 and he was joint top scorer in State 3 North-West with 22 goals but he only played 16 games for Latrobe University due to the demands of a graduate diploma in teaching.
The following year he took up a posting at Boneo Primary School and has been the physical education teacher there ever since.
He has chalked up the remarkable statistic of winning eight straight Golden Boot awards, four with Seaford United and three with Heart to go with his 2010 success.
Meanwhile, there is a rift between the senior and junior wings of Peninsula Strikers and it may be irreparable.
It centres on the development pathway of the under-16s and under-18s and it is understood that Strikers junior club and Frankston Pines have struck a deal which will see the youngsters go to Pines rather than progress into Strikers' senior club.
"The language at the Strikers senior club is a massive issue for us," Junior club president Steve Schreck said.
"The mouths on some of the coaches they had last season doesn't suit where we're headed and what we're trying to promote.
"We've had a lot of people who have been to their games and have come back disheartened and disappointed.
"Officially we are an independent junior club but we're pushing to have an alliance with a club to give our juniors the best possible opportunity to continue into senior football in the local neighbourhood.
"We looked at Pines and (senior coach) Paul Williams and that is much more appealing to our people."
Strikers senior club president Trevor Johnston was left gutted by the decision and the reluctance of the junior club to enter into discussion on the issue.
He was due to hold talks with the junior club at 6.30pm on Thursday 2 November but received an email at 2.49pm that afternoon informing him that the meeting would not go ahead as the juniors had decided to cut all ties with the seniors.
"My response was to ask if this was a decision of a minority or a decision of the majority because my view is that a decision like this should go out to all members not just be made by their committee," Johnston said.
"I had a meeting with a member of their executive who wasn't overly impressed with the email sent to me and told me that this was not the majority view of the junior club.
"I had sent them a proposal outlining the future of our club and our wish to strengthen the affiliation between us.
"I wasn't asking them for money as our club can survive without their input, in fact, our finances have improved considerably since I've taken over.
"The email they sent was a really poor response and I felt it was a knee-jerk reaction.
"But if they're not going to be part of it then we need to start our own juniors and that's where we're at.
"It's pretty ordinary to have such a big junior club with no senior club attached and it's pretty ordinary that they won't even give us a chance."
Pines expects to field a young team in the Metropolitan Leagues to accommodate Strikers juniors that don't make its senior or reserves squads.
Right now though the buzz around Monterey Reserve concerns news of a major overhaul of the facility due to take place in 2019 and 2020.
"We've already had $600,000 approved by SRV (Sport and Recreation Victoria) but council has to come and talk to us and find out specifically how we want to use it," Pines president Gary Hodgson said.
"Then I find out last week that the whole place is getting ripped down and redeveloped in 2019/20 because of council building codes.
"What we need to go for now with the $600,000 is a disabled toilet and four changerooms down the back so that the changerooms are there when the rest of the building is pulled down and rebuilt."
Mornington has appointed Danny Black to the role of assistant playing coach of the reserves and the club is hoping to reach agreement with veteran striker Wayne Gordon shortly.
The ambitious Dallas Brooks Park outfit has signed an English attacking midfielder who is due to arrive in January and looks likely to complete the senior squad for the 2018 season.
Langwarrin's last pre-season hitout for 2017 saw it lose 3-2 to NPL giant South Melbourne at Lawton Park on Sunday.
A Nick Epifano free-kick opened the scoring for South Melbourne, Aaran Curie equalised then the home team took the lead through a superbly constructed interpassing move finished in style by Darcy Pawlik's clever chip over Nikola Roganovic.
Milos Lujic converted from the penalty spot and the sides went in locked at 2-2 at the interval.
The winner came from South triallist Amir Osmancevic midway through the second half.
In the earlier match, Langy's under-20s beat Skye United 1-0 thanks to a Keegan Guy goal in the second half.
Skye featured a number of triallists including Matthew Wilson (Melbourne Uni), Ivan Colo (Peninsula Strikers), Brett Neville (Traralgon City), Jordan Redburn (Langwarrin), Gerard Lawler (Langwarrin), Jack Gallagher (Baxter) and Nicholas Yott (Ringwood City).
Niko Matad and Caleb Vaughan also trialled with Skye.
Brian Murphy has joined Southern United's senior coaching group with primary responsibility for the club's under-19 squad.
Murphy holds an Oceania Football Confederation B licence, Football Association of Ireland Youth Coaching level 1 accreditation and other FAI coaching badges.
His playing career includes spells with Port Vale, Hayes FC, Dublin City, Kilkenny City, Kildare County, Monaghan Utd and Shamrock Rovers, DPMM FC (Brunei Premier League), Springvale White Eagles (VPL), Eastern Suburbs AFC (New Zealand) and Berwick City.
He has been an assistant coach at Fencibles United AFC and Eastern Suburbs AFC in New Zealand and has been head coach at Denham United women's team in England.