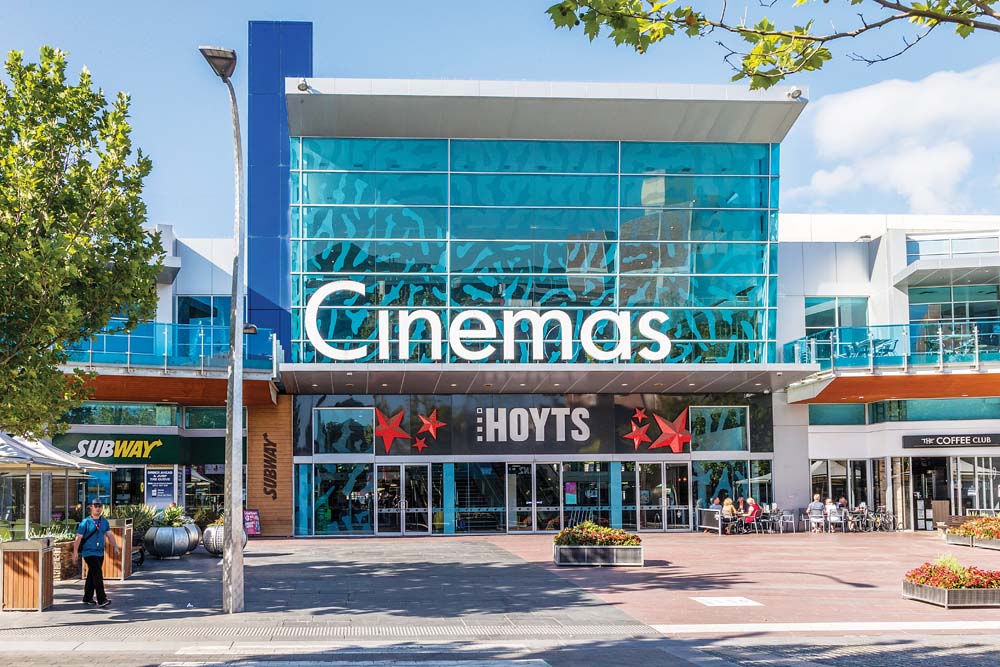 HOYTS Frankston wants permission to sell alcohol to moviegoers in all of its cinemas.
The cinema chain company has applied to Frankston Council for a liquor licence so booze can be sold to cinema-goers at screenings of movies in all 12 of its screening rooms at the Bayside Entertainment Complex in Wells St.
Hoyts says the plan to sell alcohol at Frankston screenings follows the rollout of the same business model at other Hoyts cinemas including Broadmeadows, Forest Hill, Chadstone and Melbourne Central.
Sophie Kusznirczuk, of Contour Town Planners, representing Hoyts, addressed councillors at the latest public council meeting last Monday (29 January) to answer questions about the proposal to sell alcoholic drinks at movie screenings.
Several councillors voiced misgivings about alcohol being widely sold to cinema patrons in Frankston amid concerns about a loss of "a family-friendly experience" at cinemas in general.
A council officers' report recommended the liquor licence be granted to Hoyts Frankston subject to alcohol not being served at the screenings of movies rated G (general admission) or PG (parental guidance) before 6pm.
Only people above the age of 18 who have bought a movie ticket or are attending a function with a movie screening will be able to buy alcohol at Hoyts Frankston if the liquor licence is granted.
Ms Kusznirczuk said the cinema chain has changed its business model across the country to compete against home viewing on larger TVs at cheaper prices and the recent surge of the online streaming of movies.
She said Hoyts now wants to offer a "luxury cinema experience at general admission prices" in all of its cinemas, not just in its LUX branded premium screening lounges.
The Frankston cinema complex was recently refurbished to install wider reclining chairs in all of its screening rooms reducing the total number of available seats from 2712 to 1073 seats across the 12 rooms.
Hoyts studies at cinema complexes elsewhere where the sale of alcohol in most screenings is now allowed found about 2 per cent of people buying cinema tickets also purchased alcohol while at the movies, Ms Kusznirczuk said.
"We acknowledge that every application has to be assessed on its merits and with regards to site context," Ms Kusznirczuk said at the council meeting.
"And we understand that this community, like many others, faces challenges with regards to alcohol-related behavioural incidents and we understand Frankston [Council] takes licensing matters very seriously as it should."
Council officers noted the Hoyts Frankston complex is not located near a residential area and several other tenants within the Bayside Entertainment Complex such as Grill'd, Nandos and The Coffee Club sell or serve alcohol.
"These licences are all considered low risk as the sale and consumption of liquor is secondary to the primary activity of serving food," the council officers' report stated.
Hoyts is applying for a liquor licence to sell alcohol between 11am-1am every day of the week.
Councillors concerned about the consumption of alcohol at cinemas expressed a preference for booze to only be sold at premium cinema screenings where meals are also served.
"It's my personal view that there should be a limit on which cinemas permit alcohol consumption," Cr Steve Toms said at the meeting.
Cr Michael O'Reilly said he attends Gold Class screenings at Village Cinemas in Karingal where alcohol can be purchased.
Ms Kusznirczuk said councils elsewhere and the Victorian Commission for Gambling and Liquor Regulation (VCGLR) have been "generally supportive" of Hoyts rolling out the sale of alcohol to non-luxury branded cinema rooms.
Cr Glenn Aitken noted people can drink alcohol at neighbouring cafes, pubs and clubs and questioned if it is appropriate to widely drink booze at the movies.
"Doesn't this create a confusing message for young people when they're going to a place that's primarily for casual entertainment to see further evidence of the consumption of liquor?"
Councillors deferred a decision on granting the liquor licence to Hoyts in Frankston until the public council meeting in late February after asking for more information from the applicant.
An unnamed neighbouring restaurant owner objected to the liquor licence for Hoyts, according to the council officers' report, citing fears about "noise, nuisance and anti-social behaviour" and "the cinema being occupied by a high proportion of minors".
Council officers sought input from Victoria Police on the liquor licence application but no response was received. Officers noted the police usually make submissions if a liquor licence is approved by council and then is sent to the state government's VCGLR for final approval.
Hoyts' media department in Sydney did not respond to a call or questions sent by email before publication deadline.