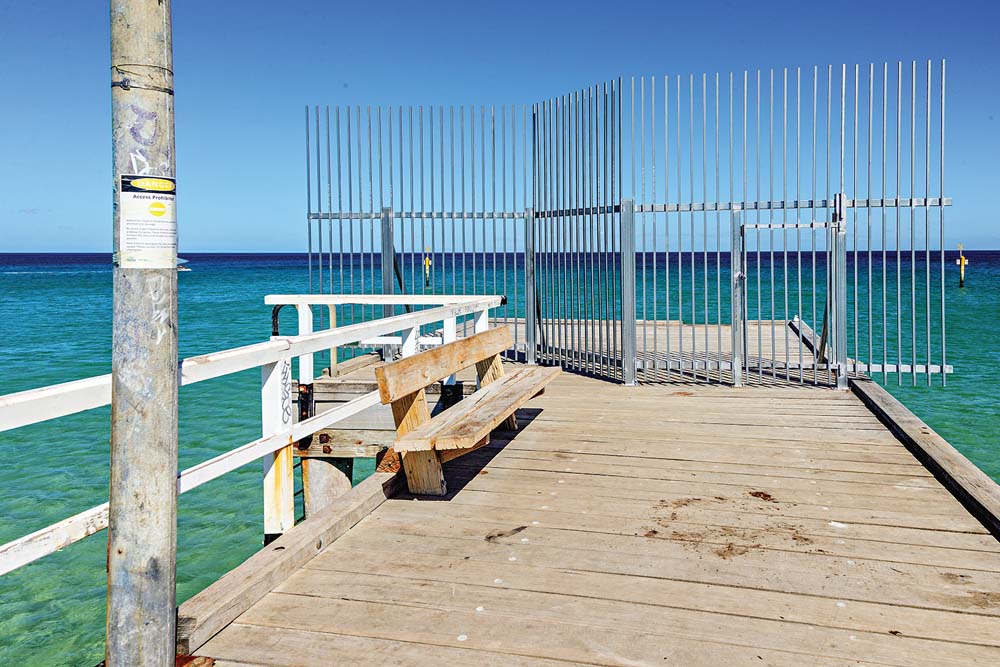 THE end of Seaford Pier will be reopened to the public, but it remains unclear when fencing at the pier end will be removed and why no repair works have been done for more than a year.
Repeated requests to Parks Victoria and state Carrum Labor MP Sonya Kilkenny over several weeks for details of work costs and timing remain unanswered.
A glossy video by the MP posted on Facebook on 17 March announced: "Terrific news — we're going to fix Seaford Pier".
No timeline for any plan to "get it done", or cost, or any reason for nearly two years of inaction by Parks Victoria was given in the video promoted with the hashtag #OnYaSonya! where the pier repairs were described as "a big job".
A statement was provided to The Times by Ms Kilkenny that also failed to answer any questions about the cost of any repairs.
"Seaford Pier is a much loved beautiful local treasure and icon and has so much history for many people," Ms Kilkenny stated.
"Some pylons at the end of the pier are compromised so in December 2016 ParksVic decided, as a safety precaution, to fence off the end of the pier to the public. 
"Since I made the announcement that the pier will be repaired I've received so many positive messages from all over the community.  
"A number of people talk about their own childhoods coming to Seaford beach and walking along the pier or swimming under it. Others mention the beautiful wooden structure and its aesthetic value.
"One thing is for sure, the local community and visitors to our beautiful Seaford beach love Seaford Pier. 
"And I am thrilled to be able to get funding so that Seaford Pier will be fully repaired so all of us will get to enjoy Seaford Pier for many years to come."
When asked again about the cost Ms Kilkenny said it would be included in the state 2018-19 budget.
Questions about a start and completion date for repair works remain unanswered.
Ms Kilkenny's announcement on Facebook that lacked any detail came 10 days after The Times first asked Parks Victoria about the pier end being fenced off.
Seaford resident Darren Gyss, who often swims near the pier, said he had been chasing Parks Victoria for months on an answer on when the pier will be fully open to the public ("Pier end closed for over year", The Times 13/3/17).
Parks Victoria communications adviser Jarred Parsons eventually advised a response would be provided by Ms Kilkenny's office instead of the state statutory management authority.
The state election will be held in November and it is not known if the pier will be repaired by the time Carrum electorate voters in the marginal seat head to the polls.