DIVISION TWO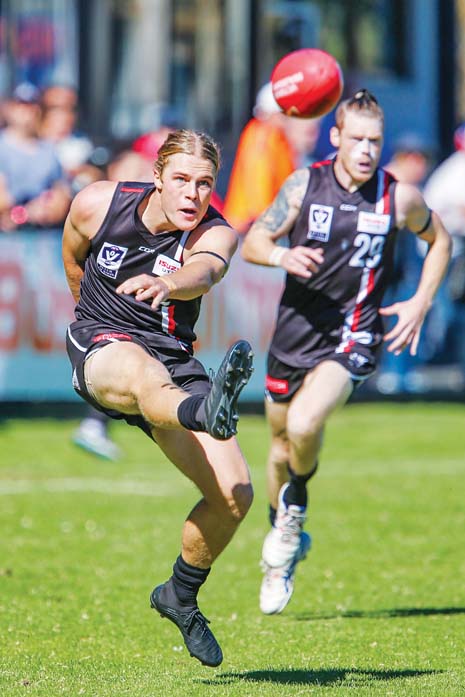 DROMANA overcame a slow start in MPNFL Division Two against Somerville on Saturday, winning by more than eight goals.
The Tigers trailed by 19 points at quarter time, however they booted 15 goals to four after the first change to win 16.15 (111) to 8.6 (54). The Tigers boasted 11 goal kickers, Ethan Johnstone the best of them with three majors while former Rye coach Ben Holmes once again proved what a bonus he is with two goals.
Andrew Howison was once again superb for the visitors, while Billy Quigley and Shaun Clarke were at the top of their game. Somerville struggled, restricted to just six scoring shots to twenty-eight after quarter time. Ryan Gillis was best in attack with three goals while Luke Rowe and Tim McGenniss along with Justin Allsopp worked tirelessly.
Karingal and Langwarrin may have gone face to face in a new division on Saturday, but the result was always going to be similar – an epic tussle.
The lead swung a number of times between the Bulls and the Kangas, but it was always unthinkable for Karingal lose after the unveiling of their new state of the art pavilion. Both clubs wore black armbands in the honour of Luke Duhig, who represented both clubs. The game was played in the spirit in which Luke approached his football, hard and tough.
Kangas led by a point at quarter time but were never able to get in front at any change, losing 10.14 (74) to 9.11 (65).
The evergreen Michael Burke was the best player on the field heavily supported by new Karingal teammate Steve McInnes.  Blake Peach and Shane Paterson were the best of the Kangaroos.
Chelsea enjoyed victory number one in the new look competition with a 11.13 (79) to 11.6 (72) win over Red Hill.
The Seagulls trailed by four points at half-time but booted six goals six to five goals one after the major change to win by seven points. Curtis Bywater kicked off 2018 the same way he finished off 2017, booting four goals.  While Simon Mitchelhill and Jason Clarke were outstanding. Todd Gardiner was allowed too much freedom through the middle of the field by the Hillmen.
The Hillmen once again lost a game they arguably should have won. Chelsea are expected to be a big improver this year, so it proves that the Hillmen aren't too far off the pace. Matt Hyden, Jonah Siversen and Dylan Hoare were the best of the Hillmen.
Rye was tipped to be a massive improver in 2018. What wasn't expected was for Tyabb to improve at similar levels. The scoreboard looked as expected at half-time on Saturday, Rye leading 6.6 (42) to Tyabb 1.2 (8).
By the end of the match, the scoreboard read Rye 11.14 (80) to Tyabb 10.9 (69). Spencer McCartney and Jake Anderson with four goals were standouts for the Yabbies. Key recruit Tyrren Head and Jai Lloyd were exceptional for Rye.
Devon Meadows got their season away to a flyer smashing Pearcedale by nine goals, 17.12 (114) to 8.13 (61).
It was sensational to see Troy Aust back in the Devon Meadows line up booting five goals while a number of other recruits, including Joel Hillis and Liam Drew, provided plenty of excitement for the Panther's crowd.
Other than a tight first quarter, the young Pearcedale side was never competitive. It may be another long year.
It was a bittersweet win for Hastings on Saturday against Crib Point, winning by 111 points, but possibly losing gun recruit Matt Boland to a season-ending knee injury.  If there was positive news it was Luke Hewitt booting eight goals after coming back from a knee injury.