SOCCER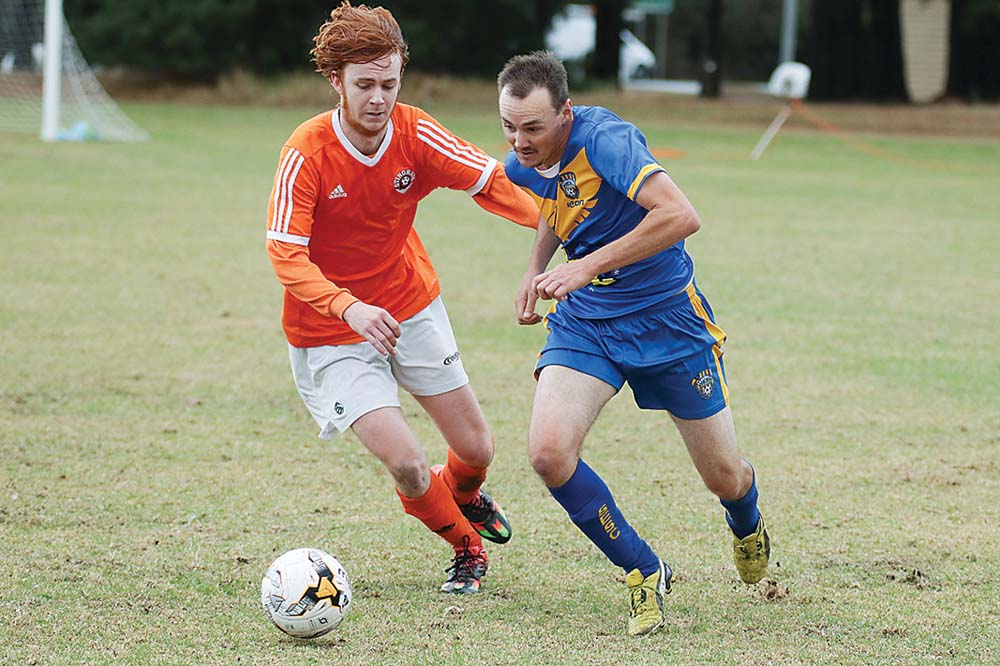 SOMERVILLE Eagles continued their winning ways in State 5 South with a 3-1 win over Aspendale at Tyabb Central Recreation Reserve on Saturday.
Eagles' player-coach Dave Greening refuses to discuss the club's promotion chances but his side is doing its talking out on the pitch and now boasts a perfect start to the season.
Somerville flew out of the blocks and dominated the first half-hour before a superb ball down the line from Sam Beadle found Greening.
The ace striker twisted and turned past two opponents before firing a shot at goal which was parried to Louis Griffiths who tucked it away from close range for the opener.
Andy Yeo, Joel Wade and Griffiths went close again before a brilliant through ball from Bjorn Kutschera found Greening who outpaced the defence then struck a left-foot shot beyond the keeper to give the home side a two-goal cushion at half-time.
The second half was a lot more competitive although Michael Clark, Greening, Griffiths and Matt Swanson had chances to extend the lead.
A superb lob by Aspendale striker Cameron Pain in the 74th minute gave Eagles' keeper Brad Klarenbeek no chance and ensured a tense finale.
But Greening eased the home club's fears when he burst past three defenders to finish beyond the keeper from a tight angle.
Oh how Mornington would love to emulate Somerville's start to the season.
Adam Jamieson's side started its campaign as State 1 South-East title favourite but after three straight losses now is on the bottom of the league and in desperate need of a win at Elwood Park next Saturday against fellow struggler St Kilda.
Despite holding visitor Richmond to a 0-0 scoreline after playing against a howling gale in the first half at Dallas Brooks Park last weekend the home team eventually went down 2-1.
Two superb crosses bent into the wind by Sam Reeves gave Mornington its best chances in the opening 45 minutes but neither Andre Bennett nor Curtis Hutson could make them count.
Richmond keeper Ferran Borras suffered a hand injury in the 25th minute and after a lengthy delay was replaced by Ilhan Somertas.
Richmond's best chance of the half came in the 43rd minute when Arnold Suew played a one-two and charged into the right side of the box only to shoot across Mornington keeper Liam Little and wide of the far post.
When Max Etheridge got the decisive touch and broke the deadlock in the 48th minute Mornington was in a commanding position with the wind roaring at its back.
And if Sammy Orritt's acrobatic volley had been on target a few minutes later then it could have been game over.
But Richmond showed tremendous character to claw its way back into the contest and a spectacularly effective rabona from gifted playmaker Edgar Marcellino in the 67th minute took everyone by surprise.
Everyone except former Mornington central midfielder Chris Reid who had snuck into the box and his low strike past Little was met by youngster Charlie Parker whose sliding attempt to clear sent the ball over the goal line for the equaliser.
Parker was to play an important part in the decisive moment of the contest when his tackle from behind felled Elisio Batista inside the area in the 87th minute and left referee Patrick Chaplin with no choice but to point to the spot.
Marcellino converted by sending Little the wrong way and completing Richmond's comeback.
Fears of three red cards for Mornington in as many weeks looked founded when Jamie Cumming scythed down Batista two minutes later but Cumming escaped with a caution.
Mornington veteran Wayne Gordon came off the bench in the dying minutes but didn't have enough time to make an impact.
The last thing Skye United expected when it started its 2018 State 3 South-East campaign was to be pointless after three rounds but that is the reality that Billy Armour's side faces after Saturday's 2-0 away loss to league leader South Yarra.
Skye has only scored once in three games, an alarming statistic given the club's expectations after a robust recruiting drive in the off-season.
Ronan Kelly gave South Yarra a half-time lead and a second-half strike from Elvis Imarhiagbe settled the issue.
Skye is third-bottom and is at home on Saturday to second-bottom Dingley Stars so a win is a must.
Dylan Waugh's late goal for Seaford United was little consolation after a disappointing performance on Saturday against Bayside Argonauts.
For the Cheltenham-based visitor it was soon mission accomplished and they travelled back up Nepean Highway with three points and a hefty goal difference after a 7-1 rout of the home team.
Seaford has quickly established itself as the leading relegation candidate in State 3 South-East and travels to fifth-placed Whitehorse United next weekend.
In State 4 South Baxter kick-started its 2018 season with a Travis Ernsdoerfer hat-trick in a 6-1 thrashing of Dandenong Warriors at Lois Twohig Reserve on Saturday.
The visitors took control of this clash after eight minutes with an Ernsdoerfer strike from the left and a Dan Disseldorp header from a long ball into the box by Matt Morgan later in the half saw Baxter leading 2-0 at the interval.
Five minutes into the second half a Michael Bowen header made it 2-1 but the home side's hopes were shattered soon after when Izaak Barr met a loose ball and from 25 metres sent a screamer into the top corner to make it 3-1.
Ernsdoerfer withstood a challenge inside the area and blasted the ball high into the net to make it 4-1 then Baxter substitute Joe Iline calmly nutmegged the keeper to make it 5-1 in the 88th minute.
Ernsdoerfer rounded off a great day for himself and his team with a low left-foot strike from the edge of the box in the 90th minute to complete the whitewash.
In NPL2 East news Langwarrin's excellent start to the season continued when Gus Macleod's outfit came away from Churchill Reserve with a 0-0 draw against NPL2 West league leader St Albans Saints in their crossover clash on Sunday.
Langy came closest in the first half when a Callum Goulding strike from outside the area struck the post and referee Dean Stafrace waved away loud appeals for a penalty after Langy striker Liam Baxter went down inside the area.
Langy's under-20s lost 3-1 with teenager Zach Karolidis making it two goals in two days after scoring from a stunning free-kick the previous day in the under-18s victory over Murray United at Albury-Wodonga.
In NPLW news Southern United lost 11-0 away to Geelong Galaxy United on Saturday.
Southern's U12s won 8-1 with goals from Chiara Taylor, Eden McKeown (2), Leah Plavljanic, Jasmine Smith, Rhiannon Kelleher, Kayla McLeod and Savanah Lapenta.
Southern's under-14s won 4-1 with goals from Alex Jones, Rhys McKenna, Alessandra Davis and Candy Kilderry, the under-16s lost 3-1 with Monique Lapenta scoring for Southern while the under-19s lost 1-0.
Here are next weekend's games:
SATURDAY 3pm: Langwarrin v Eastern Lions (Lawton Park), St Kilda v Mornington (Elwood Park), Frankston Pines v Old Scotch (Monterey Reserve), Skye Utd v Dingley Stars (Skye Recreation Reserve), Whitehorse Utd v Seaford Utd (Terrara Park), Baxter v Noble Park (Baxter Park), Old Mentonians v Somerville Eagles (Mentone Grammar Senior School).
SATURDAY, 7pm: Knox City v Peninsula Strikers (Egan Lee Reserve).
SUNDAY 3.15pm: Southern Utd v South Melbourne (Monterey Reserve, U12s 9am, U14s 10.15am, U16s 11.40am, U19s 1.15pm).