DIVISION TWO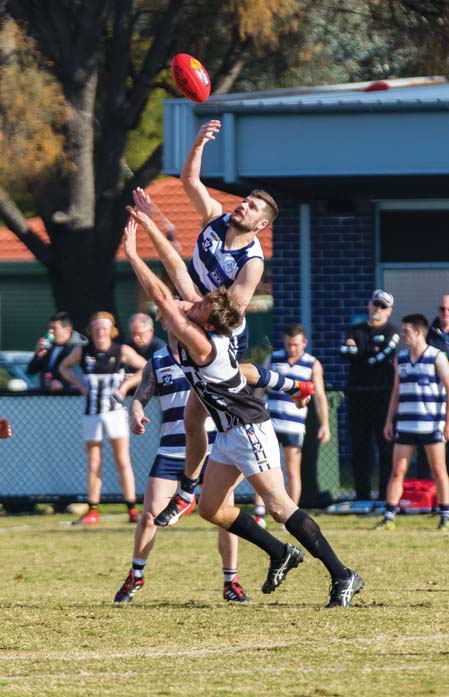 DROMANA'S undefeated start to the year nearly came undone in a scrappy contest at home, as they were almost overrun by a plucky Langwarrin side in MPNFL Division Two action on Saturday.
Dromana, who pumped their opposition by over 100 points last week, started well to take a 13-point lead into quarter-time but were put on the back foot as Langwarrin struck back to cut the deficit to just one goal at the main break.
The third quarter was all Dromana, but despite their dominance, they couldn't punish Langwarrin on the scoreboard, as they only scored two goals and six behinds for the quarter. With a 22-point lead in hand going into the final term, Dromana looked on top, but they hadn't landed the killer blow yet.
Langwarrin battled bravely to keep themselves alive, and were much the better team in the last quarter, kicking three goals to one to cut down the lead. Unfortunately for Langwarrin though, as the final siren blew all they had won was respect, with first place Dromana holding on to win 9.15 (69) to 7.11 (53) to keep their undefeated streak intact.
The most entertaining contest of the round came out of RJ Rowley Reserve, as Rye hosted Somerville in a clash between two teams looking to stabilise shaky starts to their seasons.
The two evenly matched teams traded the lead back and forth, but it was Rye who eventually established a comfortable advantage, leading by 28 points at the 10-minute mark of the final quarter.
Needing to overcome a five-goal deficit without much time to play, Somerville had their backs to the wall but didn't give up the fight. The away team got one back through Justin Allsopp, before quickly kicking another three goals to reduce the lead to one behind with mere minutes left to play.
With the contest hanging in the balance, it was Somerville's Timothy McGenniss who proved to be the hero, as he kicked his third for the game to put his team ahead, which would be enough for them to secure a miracle comeback win 12.15 (87) to 13.15 (93).
Playing at home, Pearcedale were keen to make amends for their 100-point defeat to Dromana last week as they faced Red Hill on Saturday.
Red Hill though, reeling from their one-point loss to Karingal last week, wanted it more than their opponents, and were absolutely ruthless in heaping more misery on a helpless Pearcedale side.
Pearcedale could only manage four goals for the entire afternoon and again were put to the sword in another devastating 100-point defeat.
Red Hill's 12 individual goalkickers tell the story of their comprehensive team performance, with Daniel Allsop named best on ground in the 4.10 (34) to 21.13 (139) win away from home.
Red Hill will need to carry this momentum through to their next game, as they are set to take on undefeated Dromana at Red Hill Recreation Reserve next Sunday.
Elsewhere, Crib Point were not able to follow up on their first win for the year last week, as they fell to an impressive Chelsea side at Chelsea Reserve on Saturday.
Chelsea were impressive right from the start and went into half-time already ahead by 58 points.
Curtis Bywater was among the best for Chelsea, as he kicked three majors to take his tally for the year to 32, just one goal shy of the top of the league's goalkicking ranks.
Mykelti Lefau followed up his impressive five-goal haul from last week with another two goals for his side against Chelsea, but it was little help as Crib Point was comprehensively beaten 16.18 (114) to 4.7 (31).
It was also business as usual for second-placed Karingal, who easily accounted for Tyabb at Bunguyan Reserve.
A third quarter which saw Karingal score four goals to Tyabb's zero proved to be the difference, as the match finished Tyabb 7.6 (48) to Karingal 11.13 (79).
Matthew Dimkos was the standout performer for Tyabb, but his five goals were not enough to help his team mount any sort of challenge.
At Glover Reserve, the result also went as expected as Devon Meadows took on Hastings at home.
Hastings, sitting in fourth place and looking for their third win on the trot following a four-point victory against Rye last week, looked set for a challenge during the first quarter. The contest was tough and even, and they went into the first break surprisingly behind by two points.
After a slow start, Hastings quickly found another gear and looked much the better team throughout the rest of the day.
Led by a four-goal performance from in-form Luke Hewitt, Hastings were able to secure a fairly hassle-free victory 9.10 (64) to 16.16 (112).