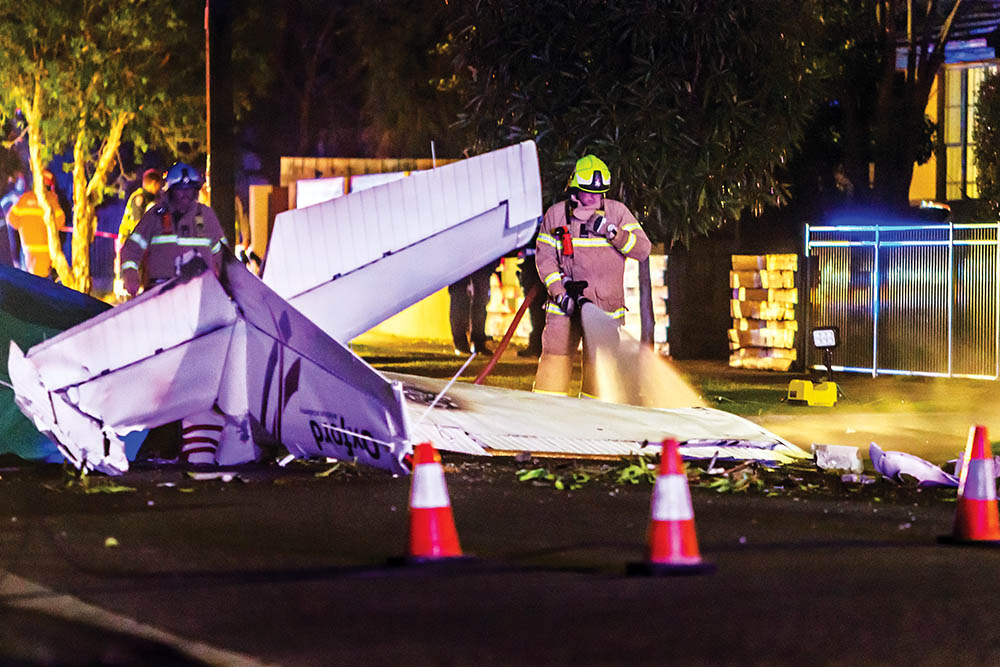 AIRCRAFT crash investigators will examine the reasons for a light plane crash in Mordialloc on Friday (8 June).
A single-engine Cessna 172 that took off from Moorabbin Airport at about 4pm crashed in Scarlet Street at about 5pm on Friday afternoon and erupted into flames.
The pilot, Anthony Lidell, 50, a father-of-two from Mount Martha, an experienced aircraft mechanic, died when the plane hit the middle of the road in Scarlet Street, narrowly missing houses.
Some residents rushed to the crash site to try to help despite the plane's fuel catching fire in the street.
Firefighters quickly extinguished the blaze upon arrival.
Victoria Police spokeswoman Belinda Batty said the cause of the plane crash will be investigated by the Australian Transport Safety Bureau.
"Police will prepare a report for the coroner after the death of a man in a light plane crash in Mordialloc," she said in a statement.
"No-one else was injured in the incident."
Scarlet Street is less than 1km from Moorabbin Airport.
Kingston mayor Cr Steve Staikos said council was saddened to hear about the pilot's death.
"Our thoughts are with the pilot's family and also with the local community who have been shocked by the crash in Scarlet Street," he said.
"Council will ensure that all local residents are kept informed of the outcomes of this investigation as soon as a finding is made."
In October 2014 a pilot, John Stephenson, 77, died when his light plane crashed in a laneway off Thames Promenade in Chelsea after leaving Moorabbin Airport.
No-one else was injured in that crash.
First published in the Chelsea Mordialloc Mentone News – 13 June 2018