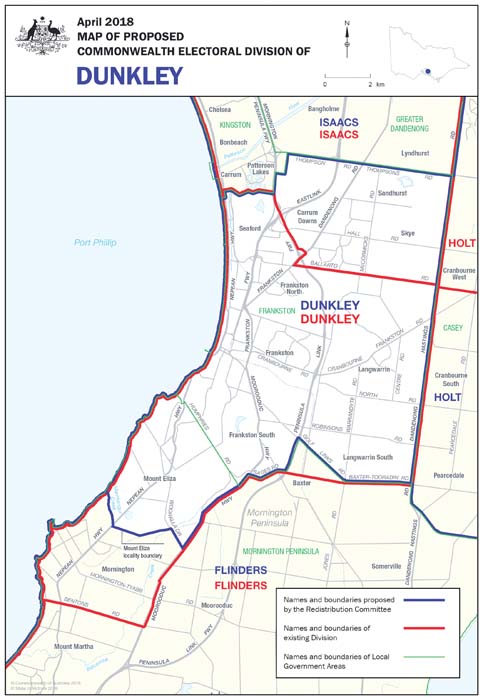 THE Australian Electoral Commission (AEC) has approved boundary changes across three south-east region electorates — Isaacs, Dunkley and Flinders — as part of a wider redistribution of electorate boundaries to create a new electorate called Foster northwest of Melbourne.
Population demographics changes made the AEC look at electorate changes across Victoria to better represent voters.
In Isaacs, federal Labor MP Mark Dreyfus said he is "sorry that from the next election I will no longer represent residents of Carrum Downs, Sandhurst, Skye, Noble Park and the parts of Keysborough north of Cheltenham Road".
"I can assure these residents that I will continue to represent them right up until election day," he said.
Isaacs gains Cheltenham, Dingley Village, Heatherton, Highett and Moorabbin within its northern boundaries.
Mr Dreyfus has a 3.9 per cent margin in Isaacs.
Liberal Dunkley MP Chris Crewther faces an uphill battle to save his seat at the next federal election after the changes to the electorate boundary, losing Mornington and the northern part of Baxter to the seat of Flinders held by fellow Liberal MP Greg Hunt.
Carrum Downs, Sandhurst and Skye move from Isaacs held by Mr Dreyfus to Dunkley.
Based on votes at the 2016 federal election, Dunkley now flips from having a 1.4 per cent narrow Liberal majority to being a nominal 1.3 per cent Labor seat.
Mr Crewther campaigned against the Dunkley electorate changes, urging community groups to lobby the AEC to maintain the status quo.
"I'm pleased that the Australian Electorate Commission has just decided to bring the whole of Carrum Downs, Skye and Sandhurst into my electorate," Mr Crewther said.
"I welcome residents in these suburbs to Dunkley."
He said he is "sad" at losing both Mornington and Baxter "from my electorate".
The Dunkley MP said residents in Carrum Downs, Skye and Sandhurst "want change".
"Many locals have told me how they've felt neglected after 22 years of Labor in charge of their area, with 11 years of having Mark Dreyfus as their local Member for Isaacs, who not only lives out of his electorate in Malvern, but also has not knocked on most of the doors I've already knocked on, and hasn't delivered on vital local infrastructure upgrades like resolving road congestion issues."
Mr Hunt, federal Health Minister, has also lost a chunk of the Flinders electorate in the redistribution, despite gaining Mornington and all of Baxter, but still has a safe Liberal majority in the new seat. Phillip Island and Bass Coast suburbs previously in the Flinders electorate will become part of the seat of Monash.
The next federal election will be held by 18 May next year at the latest if not called by Prime Minister Malcolm Turnbull before that date.
First published in the Chelsea Mordialloc Mentone News – 27 June 2018