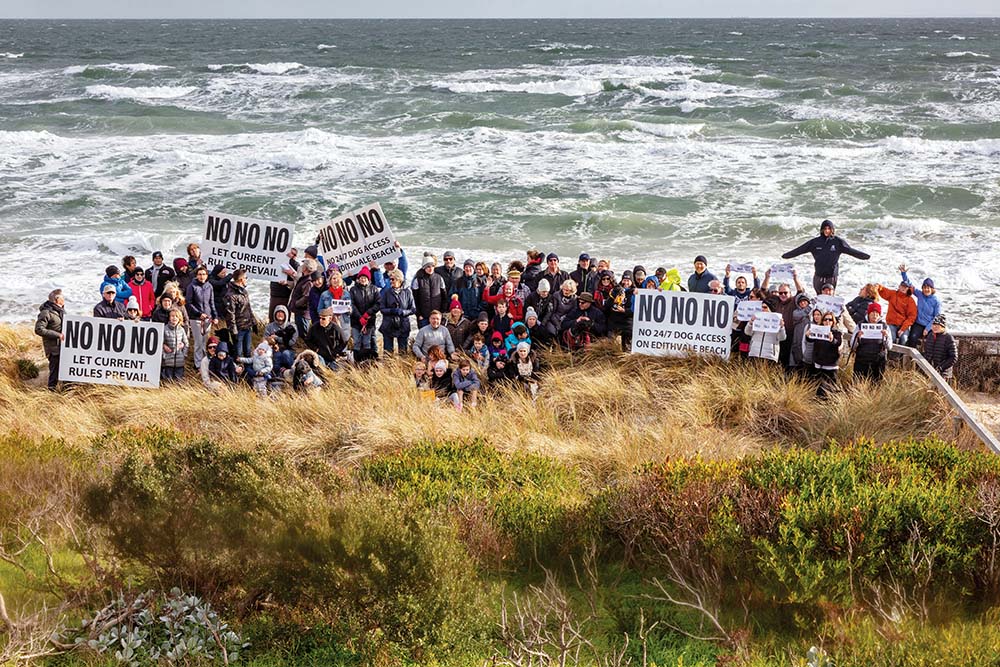 A BACKLASH against a proposed 24/7 off-leash zone for dogs at Edithvale beach has seen residents gather on the foreshore to show opposition to the proposal. Some dog owners also attended the demonstration.
Demonstration organiser Kevin Harrison said many residents and beachgoers are aghast at a Kingston Council suggestion to allow dogs to run off-leash at all times of the day and night on a 300-metre stretch of Edithvale beach between Somme Lane and Bristol Avenue.
He said the demonstration held on Saturday (7 July) was well attended despite poor weather on the day.
"We cannot for the life of us fathom why a large section of Melbourne's most prized and pristine beaches on Edithvale foreshore with no specific boundaries has been proposed by council as a suitable location for a 24/7 dogs off-leash beach," Mr Harrison said.
"This is an outrageous proposal which will effectively deny the public enjoyment of nearly a quarter of one of Melbourne's most popular and populated beaches — a beach that is enjoyed every summer by thousands of people of all ages from all walks of life, including families."
Councillors at council's May public council meeting backed a plan to allow canines to walk and run off-leash in the area and sought community feedback on the proposal.
In a report lodged at the May meeting, council officers recommended other "quieter" areas in Chelsea and Carrum as being more appropriate for a permanent dog off-leash zone.
"Council will consider all community submissions and feedback at the end of the public consultation period," Council planning and development general manager Jonathan Guttmann said in the wake of the weekend demonstration at Edithvale beach.
Councillors at the May meeting said they would listen to community feedback before any final decision on an off-leash area.
"It is also worth noting that many people opposing this proposal are dog owners who use the Edithvale foreshore regularly to exercise their dogs and feel that the current dog rules are fair and reasonable for all," Mr Harrison said.
Council is taking public feedback on the proposed Edithvale 24-hour dog off-lead area until Tuesday 31 July at yourkingstonyoursay.com.au/edithvaleofflead online or by calling 1300 653 356.
First published in the Chelsea Mordialloc Mentone News – 11 July 2018