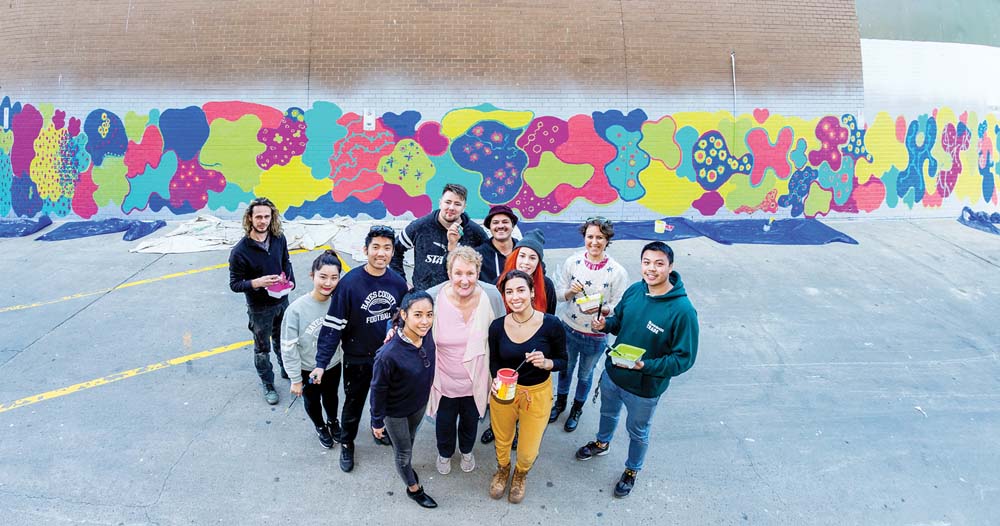 A CHARITY that helps women "dress for success" for job interviews has received a colourful welcome to its new premises after making a move from Bayside Shopping Centre's Balmoral Walk.
Dress For Success Mornington Peninsula has moved to Ross Smith Avenue, Frankston and volunteers, including two young architects, spent time painting a mural on the wall of the group's new base.
DFS events team leader Jenny Wright thanked architects Simon Linardi and Johan Sear from Atelier Cartel in Carlton for rallying volunteer painters for the mural project.
"To enhance the new shop, Simon, Johan and 10 young artists have also painted an inspiring and colourful mural down the outside wall. The theme is fun, colour and harmony," she said.
"Dress for Success Mornington Peninsula is also grateful to the local RSL who have painted the inside walls and Rotary North Frankston who helped demolish the old fit-out ready for the new partitions and flooring which will be laid for nothing by RJ Precision Flooring."
The Dress For Success organisation offers female jobseekers individual fashion makeovers, help with job interview outfits and training for writing CVs and attending job interviews.
See morningtonpeninsula.dressforsuccess.org online or call 9770 0220 for more information.