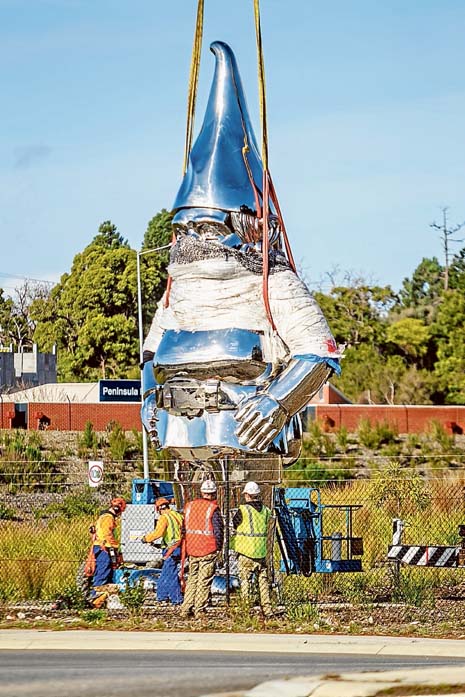 THE "chrome gnome" that towers over the Cranbourne Road exit of Peninsula Link will leave the roadside next year.
The shiny sculpture, officially called Reflective Lullaby, will head to Langwarrin's McClelland Sculpture Park and Gallery in August next year.
Perhaps pre-empting a public outcry similar to that which followed the gnome replacing the previous Tree of Life sculpture in July 2015, the gallery announced last week well ahead of schedule that the Reflective Lullaby gnome by Slovenia born artist Gregor Kregar will be leaving its existing Peninsula Link home next year.
The Southern Way McClelland, a public-private partnership between the gallery and Peninsula Link owners Southern Way, aims to rotate major sculptures on display throughout the Frankston municipality every two years on average.
The organisation announced the gnome's successor will be Love Flower by artists John Meade and Emily Karanikolopolous.
"The fifth in this highly regarded series of Southern Way McClelland Commissions, John Meade and Emily Karanikolopolous' Love Flower will be iconic and awe-inspiring," McClelland Sculpture Park & Gallery director Lisa Byrne said.
"As public sculpture, this work will engage in ways with the aesthetics of nature, as well as being an absolutely magical sight for all who pass by."
The Southern Way McClelland Commission said it received 65 submissions from local, interstate and international artists to replace the chrome gnome.
The Love Flower artwork commission is part of a program of new sculptures alternating every two years between sites at Skye Road and Cranbourne Road along Peninsula Link.
There will be 14 commissions over 25 years until 2037.
Southern Way donates funding for the sculptures. After four years on public display, the commissions form part of McClelland's permanent sculpture collection.