SOCCER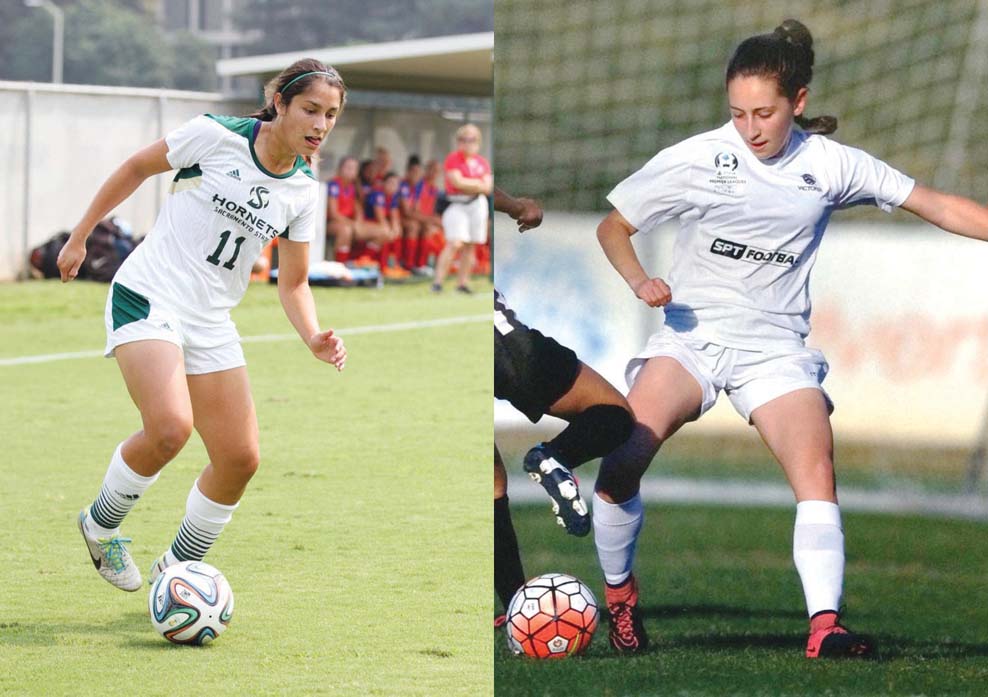 SOUTHERN United just beat last week's transfer deadline to register two clutch signings in US attacking midfielder Jennifer Lum and teenage holding midfielder Niamh McLure.
The transfer window closed at 10am on Thursday and Southern player-coach Melissa Maizels was racing the clock for the club to register her two signings while waiting on news from another two targets.
"I spoke to around eight players and was hoping to bring in four but I'm happy with the business we've done," Maizels said.
"This is a statement of intent from Southern and it lets people know that this club has big plans for next season."
Maizels had been contacted by an overseas-based player agent a couple of years ago trying to get her to play in the US and a recent contact with that agent led to the signing of California-based Lum, 24, who has an impressive scoring record.
Southern secured private sponsorship for Lum and is hopeful that she can arrive in time to face South Melbourne on Saturday.
The club expects visa approval and flights to be organised shortly.
Lum played with Boca 92 juniors and Placer United and at university level with Sacramento State.
She has won representative honours and multiple MVP awards.
McLure is a former Southern and NTC player and the teenager returns to Monterey Reserve from Box Hill United.
She was set to make her debut in Sunday's away clash with Heidelberg United but the wild weekend weather made the Olympic Village pitch unplayable and all of Southern's matches (senior and underage) were postponed.
In NPL2 news Langwarrin had Scottish import John Baird to thank as he hit the mark twice on debut in the local club's 2-1 home win over North Geelong last Saturday.
The visitors were flying high in the West division of the elite regionalised competition and had gone into this contest just two points behind league leader Werribee City.
However they were missing four players from their usual starting 11 including leading scorer Darius Madison.
In difficult weather conditions Langy failed to hit the target in the first half while North Geelong couldn't find a way past home team keeper Fraser MacLaren.
It was a different matter in the second half and just two minutes in an unmarked Baird stole in at the back post for a simple sidefoot volley following a Jordan Templin corner swung over from the left.
In the 64th minute Lachie McGrath slid in and levelled from close range following a Morgan Filer shot from the left of the area.
But Baird wasn't done yet and when big Anthony Banovac clattered into Langy target man Max Etheridge in the 70th minute the referee pointed to the spot and the Scot converted.
The importance of the win was evident from the reaction of the Langy bench when the final whistle blew and players and coaching staff were still congratulating each other as they walked off to applause from local fans.
In State 1 news Doveton's season continued to unravel when it was comfortably beaten 4-2 by Mornington at Dallas Brooks Park on Saturday.
Kyrom Kerr, 17, made his senior debut for Mornington and drew praise from head coach Adam Jamieson.
"We played Kyrom in centre midfield and took him off with about 15 to go," Jamieson said.
"He had a really good game and he's a very talented kid."
The contest was put out of Doveton's reach in the first half.
Josh Hine opened the scoring when he chested down a ball over the top and hammered it home from an angle inside the box.
Two Sammy Orritt goals, the second when he ghosted in to strike a Craig Smart free-kick, sent the home side into the changerooms at the interval with a 3-0 lead.
Orritt completed his hat-trick in the second period when he scored from the spot.
In State 2 news Peninsula Strikers had a fine 3-1 away win over Berwick City last weekend and are back in the promotion hunt.
Strikers are among a bunching field of runner-up aspirants behind tearaway league leader Boroondara-Carey Eagles.
An early Paul McEvoy goal put Berwick City ahead but two Alpha Turay goals in two minutes, both from John Prescott assists, turned this contest around and Antun Vulic's strike from just outside the area in first-half injury time settled the issue.
In State 3 news Skye United pulled off the great escape coming from 2-0 down at half-time to beat Brighton 4-3 in a nerve-jangling contest at Skye Recreation Reserve on Saturday.
A great long strike from David Nicholas on the half-hour and a Sean Mulcahy header in the 40th minute had the visitors in control.
Nicholas hit the underside of the bar early in the second half but in the 52nd minute Skye substitute Maxim Avram applied enough pressure following a Mark O'Connor free-kick and the ball was bundled over the line to make it 2-1.
Two minutes later Mitch Blake scored following up an Avram strike and although the assistant referee had his flag raised the goal eventually was given.
Skye substitute Mikey Turner came on in the 75th minute and three minutes later his looping volley put Skye ahead for the first time.
But a mixup at the back in the 83rd minute allowed Nicholas to break into a one-on-one with Skye custodian Jonathan Crook and the Brighton striker made no mistake to make it 3-3.
However, there was one last twist to the tale as Blake was brought down in the box in the 94th minute and up stepped Daniel Walsh who is yet to miss from the spot this season and he buried the winner for Skye's ninth win in 10 games.
Frankston Pines lost 2-0 away to Bayside Argonauts on Saturday.
Nothing can take away from a poor Pines' performance but the club was bitterly disappointed with a series of refereeing decisions.
In State 4 news Dandenong South defeated Baxter 3-2 at Tatterson Park last weekend while Seaford United's away clash with Rowville Eagles was washed out.
Baxter's goals came from Lawrence Komba and substitute Abdull Darmanii but Dandenong grabbed the winner in the 87th minute.
Central defensive pairing Izaak Barr and Matt McDermott could return from injury for Baxter's home match on Saturday against Rowville Eagles.
In State 5 news a Kieran Hughes hat-trick spearheaded Aspendale Stingrays' thumping 7-0 home win over Pakenham United on Saturday.
Aspendale was 5-0 up after 32 minutes and cruised throughout the second half.
Other scorers were Kenan Nuhanovic (2), Ryan Mravljak and Ben Garside Weinert.
In another State 5 match what should have been a celebration of a remarkable goalscoring milestone from ace striker and player-coach David Greening turned into a nightmare last weekend when Somerville lost 3-0 away to Knox United and Greening was sent off after receiving a second caution in the second half.
The refereeing contributed to the stop-start nature of this contest as the match official regularly stopped play to talk to the Somerville bench.
Bad light forced the match to be called off in the 79th minute but the result seems certain to stand.
Greening's send-off couldn't have come at a worse time as he'll miss Saturday's clash with league leader Old Mentonians.
Football Victoria will only promote the league champion this season as it undertakes a major league restructure so Somerville's season could hinge on the outcome of this fixture.
Rosebud's away clash with Tullamarine on Saturday was washed out in both the seniors and reserves.
This weekend's games:
FRIDAY, 8.30pm: Skye Utd v Ashburton Utd (Skye Recreation Reserve), Frankston Pines v Whitehorse Utd (Monterey Reserve).
SATURDAY, 3pm: Langwarrin v Murray United (Lawton Park), Casey Comets v Mornington (Comets Stadium), Peninsula Strikers v Monbulk Rangers (Centenary Park), Baxter v Rowville Eagles (Baxter Park), Seaford Utd v Dingley Stars (North Seaford Reserve), Old Mentonians v Somerville Eagles (Mentone Grammar), Tullamarine v Aspendale Stingrays (Melrose Drive Reserve), Casey Panthers v Rosebud (Prospect Hill Reserve).
SATURDAY, 3.30pm: South Melbourne v Southern Utd (Lakeside Stadium).