SOCCER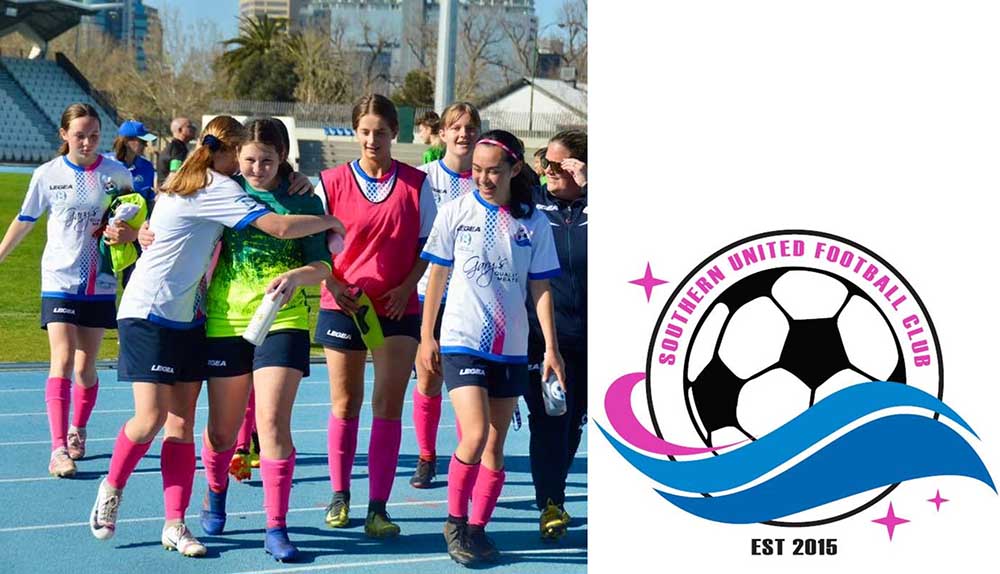 SOUTHERN United's remarkable youngsters stunned odds-on favourite and league champion South Melbourne at Lakeside Stadium on Saturday to claim a place in this weekend's under-16 NPLW Grand Final.
Southern finished the league season 27 points behind South Melbourne who had a superior goal difference of 57.
But this Southern group has been one of the NPLW's success stories having won the title and the Grand Final in 2017 at under-13 level and doubling up on championship success last year but losing 2-1 to Calder United in the under-14 showpiece event.
On Saturday South Melbourne went ahead in the 55th minute when Georgia Kandilas was left free at the back post and headed home.
But the lead only lasted two minutes.
Southern captain Sage Kirby had her shirt pulled inside the area and leading scorer Rhys McKenna converted from the spot.
The deadlock couldn't be broken at the end of normal time and 10 minutes each way of extra time so penalties decided the winner of this cut-throat semi-final.
And Southern gave a flawless display converting four times through McKenna, Olivia Cullen, Indy Scarr and Taylah Hennekam while Southern keeper Alex Jones saved twice to send the local side into this weekend's Grand Final against Bulleen.
Southern has an ace up its sleeve in head coach and former Matilda Deb Nichols who along with current under-14s coach Emma Bracken has nurtured these talented young players and helped them develop into one of Victoria's best underage sides.
An emotional Nicholls addressed her squad after the game:
"Today is a day you will never forget. You will replay this day when you, in the future, are standing in my shoes in front of a team of young chargers.
"This is why I have stayed in this game for 43 years, for days like today.
"This game can break your heart but can also take you to the most wonderful places.
"It's been one hell of a week for this club but you just took it to another level.
"So proud. Looking forward to another Grand Final. We fear no one."
Things are just as exciting off the field and Southern made a raft of coaching announcements last week with Olivia Groves, Bracken, Nichols and Liam Drury all being re-appointed to their roles with the under-12s, under-14s, under-16s and reserves squads respectively.
The club also announced that Melissa Maizels had been retained as senior player-coach and that Southern and Casey council have struck an agreement that will see the club based at the elite soccer facility at Casey Fields.
It was the final step in Southern cutting itself free from a sometimes fraught relationship with Frankston council and many at the club are delighted at the switch of allegiances.
In NPL2 news Jamie Skelly has been retained as Scott Miller's assistant at Langwarrin.
The former Casey Comets and Peninsula Strikers head coach was at the centre of a strong rumour circulating last week linking him with another local club but quickly dismissed any suggestion of a move.
"I'll be at Langy again next season and I'm really looking forward to it," Skelly said.
"My first choice always was to stay here."
Langy legend Gus Macleod was last week named as the club's new head of coaching for its community junior teams.
Mark Cassar is Langy's new NPL technical director replacing the highly successful Stephen Fisher who was tipped to be joining Frankston Pines but Bentleigh Greens and Doveton have been in touch and are keen to have him involved.
Doug Hodgson has left Langwarrin and the club has advertised its NPL under-16 and under-18 coaching positions.
In State 1 news Mornington has confirmed a number of appointments recently with Adam Jamieson re-appointed as senior coach along with assistant Nathan Peel.
Craig Davidson is technical director of Mornington's NPL juniors, Adam Austin is head of coaching for community junior teams and Andrew Martin is head of coaching for the women's program.
In State 5 news Somerville Eagles' finals campaign ended last weekend when it went down 2-1 to Waverley Wanderers at Comets Stadium.
Waverley left winger Panagiotis Tsoupeis was the most influential player on the pitch and he gave Somerville right back Callum Richardson a torrid time throughout.
The most colourful person off the pitch was Waverley assistant coach Gabby Vlahos who insisted on reminding referee George Iliopoulos that there was a reason he was refereeing at State 5 level.
The fact that Waverley was a State 5 team and Vlahos was a State 5 assistant appeared to be of little concern and an agitated Vlahos followed Iliopoulos to the referees' room at half-time arguing over a decision taken in the first half.
At one stage after the interval Iliopoulos stopped play to insist on a child leaving the Waverley technical area and was given an explanation that there was no-one to look after the youngster.
This theatrical parry and thrust came to an abrupt end during the second stanza when Iliopoulos could take no more and he sent off Vlahos forcing him to leave the arena and become one of the 64 spectators on the other side of the fence.
Meanwhile there was a match going on.
In the 49th minute Somerville lined up to defend a Tsoupeis corner without anyone on the near post.
That forced Somerville keeper Francis Beck into diving down low and late and failing to stop the ball slipping under his grasp and into goal for the opener.
In the 62nd minute Somerville player-coach Dave Greening neatly turned inside an opponent on the right and broke forward then crossed to the far post where strike partner Mark Pagliarulo's first-time sidefoot volley made it 1-1.
But Tsoupeis wasn't done with yet.
In the 72nd minute he looked set to curl in a free-kick instead squaring the ball to former Skye striker Nick Theodore and his drive from outside the area rocketed into the far corner giving Beck no chance.
Somerville pushed central midfielder Daniel Hodge forward late in the contest but the damage had been done.
Meanwhile Aspendale Stingrays and Rosebud signed off on the 2019 State 5 season with a remarkable 12-goal catch-up contest at Kingston Heath Soccer Complex last Wednesday night.
What was a whirlwind start for the Stingrays turned into an arm wrestle in which they eventually prevailed 8-4.
Aspendale led through 16-year-old Nathan Barnett whose pace worried Rosebud early and the teenager scored the first two goals inside four minutes.
When Kieran Hughes made it 3-0 in the 25th minute a comfortable night seemed assured.
Right on half-time the first of a Cory Osorio double made it 3-1.
An eight-goal second half centred on a quickfire hat-trick from substitute Anthony Segavac whose goal blitz was achieved in just nine minutes ending any hopes the visitors had of completing a comeback.
It was an excellent season finale for the Stingrays who boast the youngest side in the competition.
The game also marked the 250th appearance for the club of Aspendale's Noah Berends who is just 18 years old.
Aspendale's best were Hughes, Peter Dimopoulos and Kenan Nuhanovic.
In other news Monterey Reserve will host Go Sevens during the off-season.
The program is a Football Victoria initiative at venues across the state and while a typical GO Sevens competition runs for seven weeks each location can also vary the competition length.
GO Football locations offer well organised seven-a-side matches for players and teams from ages 10 upwards and for all levels of experience with mixed, female, and male divisions.
To register as an individual or register your team go to https://www.gofootball.com.au/play/pick-your-location/monterey-reserve.
This weekend:
SATURDAY, 11.50am: Bulleen v Southern United (U16 Grand Final at ABD Stadium, Broadmeadows Valley Park).