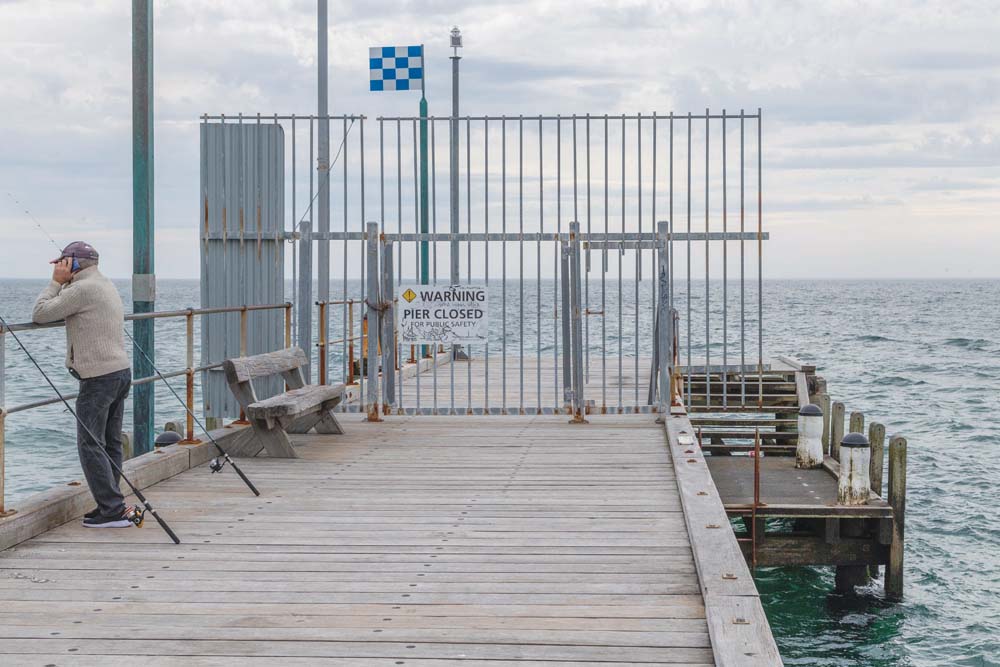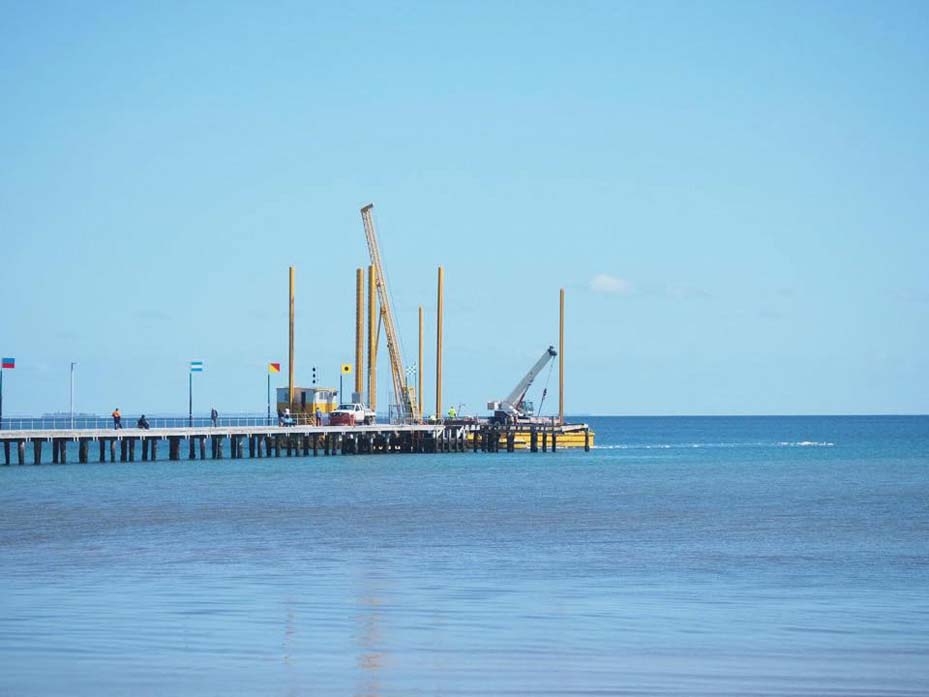 THE process of reconstructing the end of Frankston Pier has begun.
The pier was badly damaged on 9 August during stormy weather. A 20 metre section of the pier broke off from the end, and floated its way down to the foreshore.
A Bureau of Meteorology report the morning the pier was damaged stated that "damaging westerly winds" of up to 100 kmph were expected to hit the Mornington Peninsula. They recorded a 95 kmph gust of wind in Frankston at around 9.05am that morning.
The escaped chunk has since been removed, and the process to restore the pier to its former glory began last week.
Frankston MP Paul Edbrooke confirmed that "Parks Victoria is currently using barges to fully assess the piles and structure to determine works that will be required to repair the pier."
"The repairs needed include removing the damaged head of pier and rebuilding the pier head and the associated ramp, along with approximately 30 timber piles and decking. Reusable decking and beams will be salvaged for re-use if possible," he said.
He said that the tender to repair the pier would be released in the next two weeks. The office of Mr Edbrooke was asked how much the process would cost and said "until the tender process is complete we do not have that information."
"Despite extensive upgrades over the years, the original form has changed little since the early twentieth century and is a rare example of a timber pier," Mr Edbrooke said. "The pier will reopen to the public once it is deemed safe to do so."
On 9 August when the pier was damaged, Park Victoria acting regional manager of marine and maritime Sofia De Lesantis said "as a result of the severe weather event declared across Victoria on Thursday 8 August, Parks Victoria closed access to Frankston Pier to the public. This morning [9 August], a 20 metre section of the pier broke off into Port Phillip Bay which included lighting, a navigational aid and a seat. No one was injured and the section has since washed ashore."
"In severe weather events we advise people to avoid visiting piers and be cautious along the seafront. Make sure today you show a little bit of patience because there will be plenty of people trying to assist with hazards," she said ("Pier can't weather the storm", The Times, 12/8/19).