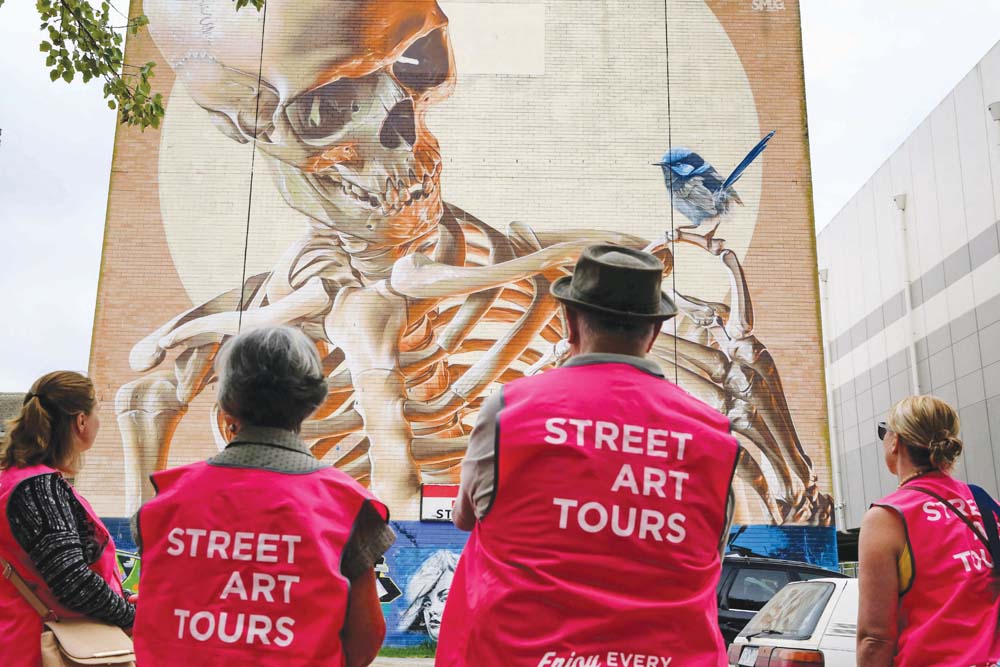 FRANKSTON is in the running to be recognised as the area with the best street art in the country.
Frankston's "inner city street art trail" has been named a finalist in the Best Street Art Trail category of the 2019 Australian Street Art Awards.
The artwork was first installed as part of the three day Big Picture Fest.
The mayor Michael O'Reilly said "the trail was created by Frankston City Council to leverage more than 20 murals throughout the city centre's streets and laneways that can be explored as a self-guided experience or as part of a guided tour. The artwork has been installed as part of the Big Picture Fest three-day festival as well as an ongoing program of artwork which is now being supplemented by individual businesses who are installing their own artwork."
"Renowned international, national and local artists have created timeless pieces of art that not only attract visitors throughout our renowned Big Picture Festival, but also for years to come," he said.
"Frankston has fast become a must-see destination for free public art with loads of sculptures and a growing collection of cutting edge street art murals, which in my opinion rival that of any city."
Australian Street Art Awards director Liz Rivers said "the awards educate travellers about the magnificent array of publicly accessible art that can be found in every corner of the country, while showcasing destinations like Frankston that are using publicly accessible art to transform their streets and landscapes."
"Australia has a long history of creating sculptures, monuments and other art that is captivating to visitors. However, there's never been a way of rewarding and supporting places that created these art related experiences for visitors. The Australian Street Art Awards remedies that shortcoming," she said.
The winners are announced on 6 November.