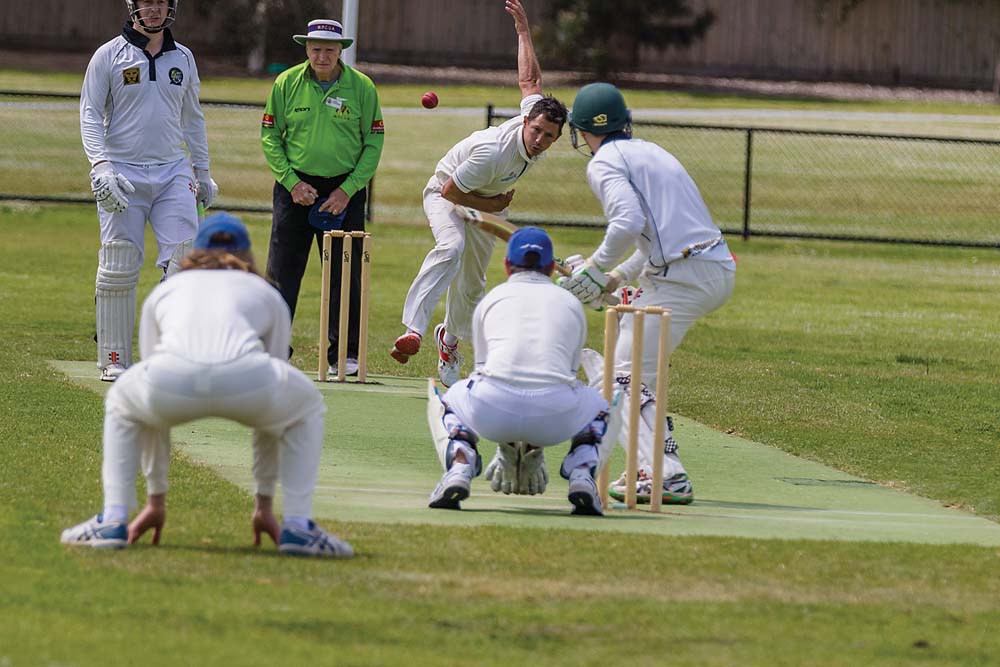 PENINSULA
MAIN RIDGE have had a tough afternoon in day one of their clash against Somerville.
Main Ridge came in to bat first, and had difficulties. First drop batsman Chris Parker was their best performer with a half century, but he got no help from the rest of the top order. They ended up bowled out for 133, with 26 overs left to play for the afternoon. Jayde Herrick took seven wickets.
Somerville had no trouble chasing down their target, and ended up at 1/148 at stumps, securing them the first innings win. Brenton Alp was electric with bat in hand, posting 83 runs.
With one day remaining, Somerville have put themselves in with a good shot of an outright win.
Pines played phenomenal cricket at home at Eric Bell Reserve on Saturday, giving their visiting Long Island opponents headaches all day long.
Brad Trotter, Harley Peace-Stirling, and Nick Wilcox all reached their half centuries for Pines, helping their side to a massive total of 8/311 at stumps.
On day two, Long Island are faced with a massive mountain to climb to get a result.
Moorooduc have put themselves in pole position to claim a win over Pearcedale with an excellent bowling performance.
Pearcedale came in to bat first and struggled, ending up all out for just 110 runs.
In response Moorooduc put 71 runs on the board before stumps, well within striking distance to get the win.
Red Hill had a good day at home, batting out the day against Heatherhill and finishing with a total of 9/234.
DISTRICT
A BRILLIANT century from Dewayne Bowden was the highlight of day one of Dromana and Crib Point's two day clash.
Bowden ended up scoring 105 runs before his wicket fell, helping his Dromana side to a total of 230 all out.
Crib Point came in to bat for nine overs before the close of play, and ended up at 3/27.
It was a one man show for Rosebud on Saturday, with number three batsman Billy Quigley scoring 93 not out. Unfortunately for Quigley, his teammates struggled badly. Rosebud's next best batsman scored just 12 runs.
Rosebud ended up all out for 144. Delacombe Park came in for 10 overs before stumps, and chose to play it safe. They will restart on day two from 0/8.
At Belvedere Reserve, Seaford Tigers put together a brilliant team performance to set their Hastings opponents a target of 240 to chase down.
Each of the Tigers' batsmen on the day reached double digit figures. Mitch White was top scorer with 58.
Carrum faced some troubles in their clash against Mt Martha. On day two, Mt Martha will need to score 134 to get the win.
SUB DISTRICT
BONEO have put themselves in a good position to claim the win in their two day clash against Carrum Downs.
Boneo won the toss and chose to bat first, and at 6/48 looked in a world of trouble. A 108 run partnership put them back in a good spot.
Jarvis Anderson was best of Boneo's batsmen, hitting 13 fours and scoring 77 batting at number eight. Flinn Shiel was also impressive, scoring 60.
Boneo ended up all out for 220, but made the most of the seven overs they were given with ball in hand before the close of play.
Carrum Downs lost both openers for ducks, and finished at 2/7 at stumps.
At Bunguyan Reserve, Tyabb performed well and set Balnarring a difficult target to chase down on day two.
Opener Michael Edwards got things started on the right foot for the Yabbies with an impressive half century. Tyabb finished at 253 at stumps.
Rowan Walker cleaned up Tyabb's tail end to stop them from inflicting further damage. He posted figures of 5/44 off just over six overs.
At Kananook Reserve, Seaford put 239 runs on the board against Tootgarook.
Tootgarook have a bit of work to do on day two, and will restart at 0/4.
Ballam Park were impressive in the first day of their clash against Skye, finishing with a total of 280 runs.
PROVINCIAL
JUSTIN Grant scored a career best 135 runs last weekend for Mt Eliza to help his side to a good total against Baden Powell.
The two sides faced off at Overport Oval, with Mt Eliza winning the toss and choosing to bat first. Grant was by far Mt Eliza's best batsman, as he helped his side set a target of 254 for Baden Powell to chase down.
Taylor Harrison was Baden Powell's best bowler on the day, taking a five wicket haul.
Cory Harris scored a magnificent century for Sorrento in their clash against Baxter.
Sorrento made the big road trip down to tackle Baxter, and chose to bat first after winning the toss. Harris made the biggest impact, and Sorrento set a score of 222 before being bowled out.
Yohan Maddege managed to pick up five wickets, and his Baxter teammates will restart on day two from 0/6.
Langwarrin's clash against Flinders looks like it may go down to the wire on day two, after both sides had difficulties with the bat on Saturday.
Flinders chose to bat first, and outside of a half century from Kane Hawkins, struggled to make an impact. They struggled to deal with the bowling of Matt Prosser, who took 5/39.
Flinders ended up all out for 134. Langwarrin came in to bat for 14 overs before stumps and had their own troubles, finishing at 3/38.
At Alexandra Park, Mornington will have to chase down Peninsula OB's target of 248 to get a result. The home side will restart at 2/25 on day two.