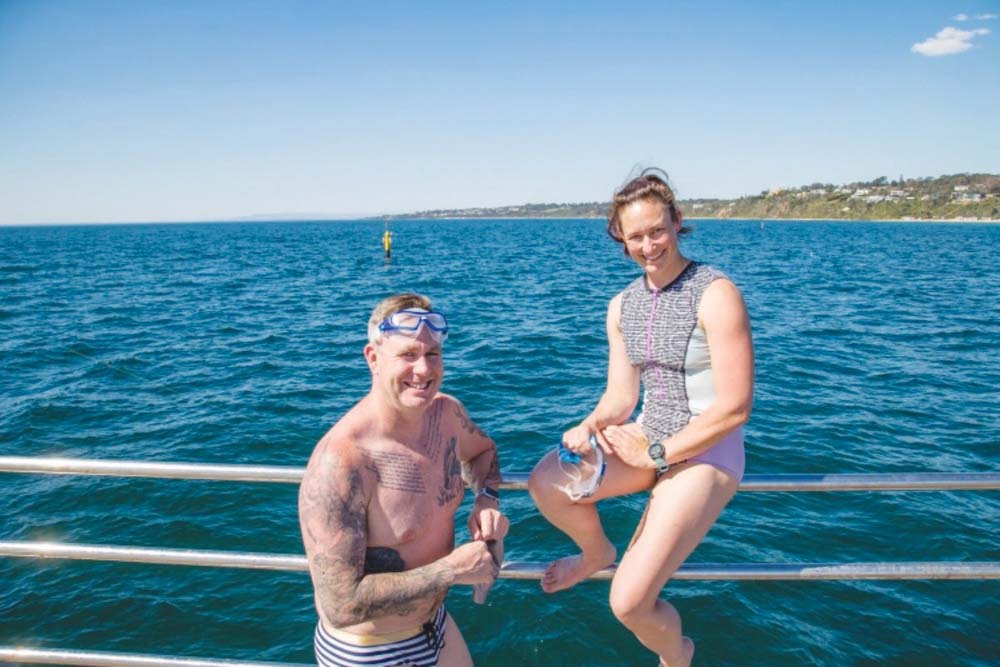 FRESH from rescuing a swimmer in danger under Frankston pier, Senior Constable Julie Morris is planning an endurance swim between the Frankston and Mornington piers in January to raise money for the Victoria Police Blue Ribbon Foundation.
It is to be called #piertopierforourpeers and has the nickname "10k for 10k".
Senior Constable Morris, a member of Frankston police and also a Mornington Peninsula Shire Councillor, led a distressed Corey Wood to safety from under Frankston pier on a hot and windy Thursday 22 November. ("Police to the rescue in pier drama", The Times, 26/11/2019).
The accomplished long-distance swimmer had to fight huge swells, with waves topping the boardwalk and a strong undercurrent which was pushing them back into the underside of the pier.
The pair was reunited later with Senior Constable Morris getting a thank-you hug from Corey Wood for her role, pictured.
Senior Constable Morris will swim the 10km with colleague Sergeant Daniel Burton on 8 January to raise money for Police and Emergency Service members suffering from PTSD and work-related mental health conditions. They aim to raise $10,000.
She said police suicide was a constant concern. "We've lost five and the most recent was last week," she said.
The keen triathletes have been swimming together for three years and share a passion for long-distance swimming at all times of the year.
They are keeping the swim direction flexible depending on the weather. "Ideally we want the wind and tides behind us," she said.
"We will hug the coastline by swimming from pole to pole rather than going direct. A support crew in kayaks will have food and drink and a spare wetsuit just in case one of us gets into trouble.
"It will be a challenge but no matter how hard it is if we can lean on one another and get there it will be worth it – especially if the raise the $10,000."