By Brosnan Kelly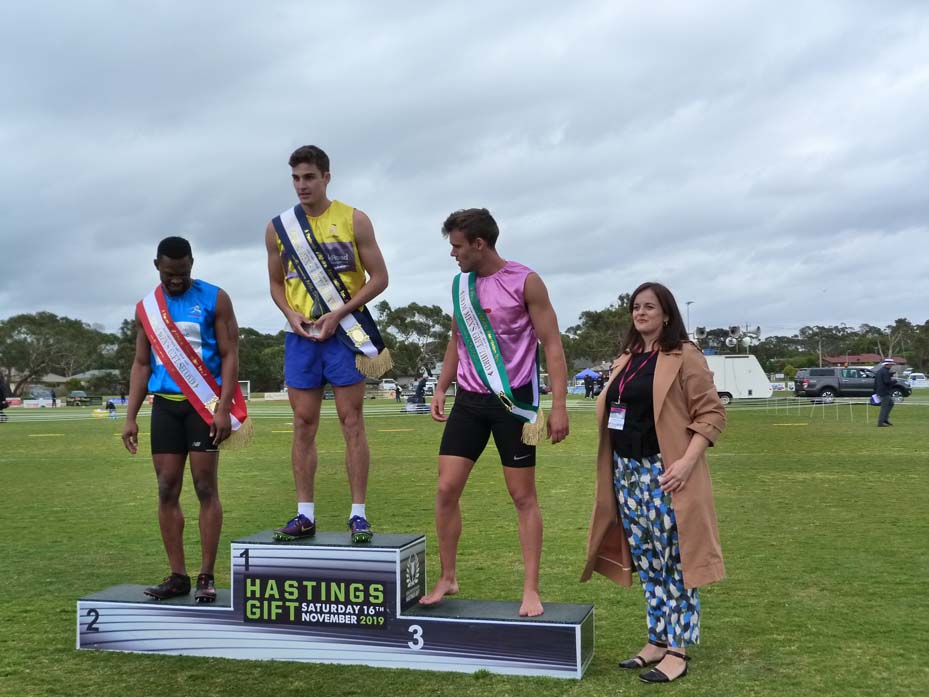 IN only its second year, two hundred and forty athletes from around Victoria – and some interstate – descended upon the Thomas Barclays Oval for the annual running of the Hastings Gift.
An event organised by a local community based group, 'Peninsula Athletics Association Incorporated', the Gift was initiated in 2018 in an attempt to raise interest in the suburb and attract tourism to the area, as well as aiding in the continuity of the richly historic sport of Professional Athletics.
The AGL Hastings Women's Gift was run and won by emerging sprint star and local peninsula talent Kysha Praciak.
The 20 year old crossed the line in the 120m main event in 14.37 seconds, holding off a fast finishing South Australian Ellie Whittingham, and training partner Sienna Fighera in the final. Kysha celebrated with family, partner and her training squad Pride Performance, coached by Matt Carter.
"Crossing that line and hearing the commentator say that I had taken out the Hastings Gift was unreal… it took a bit to sink in, but when it did I was over the moon!"
In Kysha's first year in her new squad, the 2019 Rye Gift champion and Stawell Gift semi finalist has fit in quite naturally based on her strong performance.
"The whole crew at Pride Performance have been incredible to me since coming over at the start of pre season, I couldn't be more grateful for them all, especially my coach, Matt Carter."
Still a young and developing athlete, the sky seems to be the limit for the Mount Eliza based student.
I'm not too sure [of the next goal], at this point in time we're just taking it one step at a time. We have relays this weekend which will be a lot of fun and then I'll be having another hit out at the Warrnambool Gift the following weekend."
The Men's Gift was run and won by Queensland emerging talent Max Mason, holding off last years runner up Fejiro Omuviwe and Rye sprinter Jasper Nettlefold.