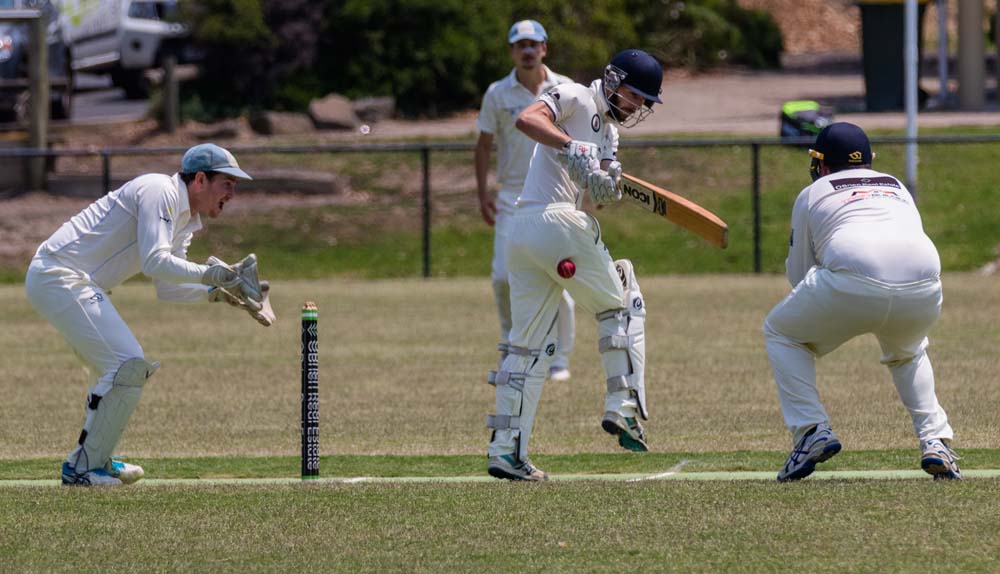 PENINSULA
A HAT trick from Pines bowler Jackson Mockett was not enough to get his side over the line against Somerville on Saturday.
Pines had a lot of work to do at Eric Bell Reserve, having only made 94 runs the week prior on day one of their clash.
Mockett's haul of 6/41 was impressive, but Somerville still managed to grab the win. They finished all out for 169 runs. Pines' second innings finished at 7/90.
At Ballam Park East, Red Hill did enough to grab a win over Long Island.
Chasing 112 to win, Red Hill started things off well. They ended up surpassing their target with seven wickets in hand.
Simon Dart was Red Hill's best with the bat, reaching his half century. His side finished the day at 8/134.
Moorooduc's impressive day one total of 252 was enough for them to secure victory against Main Ridge.
Tom Shayler was a big contributor for Moorooduc on day two, taking 5/54. His bowling efforts helped restrict Main Ridge to 170 off 50 overs.
Heatherhill also managed to defend their day one total in their clash against Pearcedale.
Chasing 251 to win, Pearcedale didn't get close. They ended up all out for a paltry total of 90. They were made to follow on but avoided an outright loss, ending the day at 7/68.

DISTRICT
DROMANA fell just 12 runs short of victory in a thrilling run chase against Hastings on Saturday.
Needing 141 to win on day two, Dromana were helped by a massive effort from number five batsman Dewayne Bowden, who put 77 runs on the board.
Bowden was still out in the middle when Dromana were at 8/130. Once his wicket fell, his side's last wicket fell shortly afterwards. They ended up all out for 130.
Shavidu Amarasinghe was the best of the bowlers on day two, taking 4/37 for Hastings.
Mt Martha performed well against Delacombe Park on Saturday, chasing down their target of 170 runs needed to win.
Openers Simon Street and Kade Bendle got their side off to a good start, putting together a 74 run opening stand. Their efforts helped Mt Martha chase down their target with six wickets in hand.
Seaford Tigers had a tough day ahead of them at Roy Dore Reserve, having to chase down 229 to defeat Carrum.
Tigers' openers Jake Harrington and Brayden Roscoe were brilliant, putting together a 141 run opening stand. Roscoe top scored for his side with 78, including 7 fours and 2 sixes.
The Tigers eventually got over the line for a hard fought victory.

SUB DISTRICT
CARRUM Downs fought valiantly, but weren't able to chase down Seaford's mammoth total of 302 at Kananook Reserve.
James Quarmby was Carrum Downs' best batsman on the day. He scored 87 to give his side a shot of grabbing the win, but unfortunately for him it wasn't quite enough.
Carrum Downs got to a respectable total of 231 before being bowled out.
Skye had a tough afternoon at home against Tyabb, falling to an outright loss.
After having already fallen to a first innings defeat on day one, Skye needed to perform a lot better on day two to prevent another defeat on the second day of play. They managed to score 124 off 40 overs.
During their second innings Tyabb proved up to the task, reaching 0/84 off just over 15 overs without loss of a wicket, guaranteeing them an outright win.
At Truemans Road Reserve, Rye's first innings total of 54 doomed them to an outright loss in their two day clash against Tootgarook.
Tootgarook declared at 7/129 in their first innings. Rye's second innings was also disappointing, and they were dismissed for just 61.
Boneo took on Frankston YCW at home on Saturday. They defended their total of 166 by bowling the Stonecats out for 102.

PROVINCIAL
BADEN Powell managed to get the better of Flinders in a high scoring clash at BA Cairns Reserve.
Defending a day one total of 249, Baden Powell were in with a good shot at victory. Flinders got off to a good start though, going 54 runs without losing their first wicket.
Flinders' middle order struggled, and at 5/102 their run chase looked doomed. An excellent half century from Shane Beggs late in the game helped get their run chase back on track, but it wasn't quite enough to get his side over the line.
Flinders ended up all out for 236, 14 runs short of a win.
At Lloyd Park, Peninsula Old Boys fell just short of victory against Langwarrin.
Chasing 187 for victory on day two, Peninsula OB's run chase started poorly. They looked in bad shape at 4/38.
Old Boys' middle order performed well and put them back into contention, but they didn't quite do enough to grab the win. Peninsula OB ended up all out 25 runs short of victory,
Langwarrin bowler Malcolm Coutts played a big part, taking 4/13 off 15 overs.
At Emil Madsen Reserve, Mt Eliza chased down Baxter's total of 98 with two wickets in hand.
A century from Robert Wilson has the highlight of the day in Mornington and Sorrento's clash. The Sorrento batsman scored 129 to help his side chase down their target of 160.