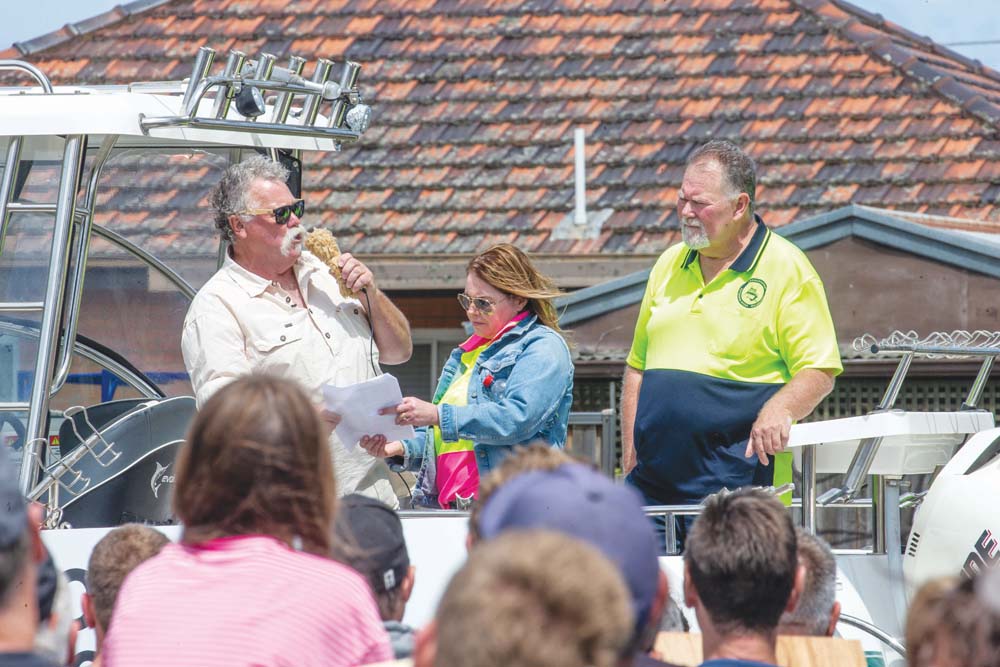 A CROWD of hundreds turned up to a rally on Sunday, 16 February to support keeping Launching Way as operators at the Patterson River boat ramp.
Trevor and Lynette Hogan of Launching Way have manned the boat ramp for 25 years. Following a lease dispute with Melbourne Water, they now face eviction on 31 March. Mr Hogan said they were "very blindsided" by the call to give them their marching orders.
"The boat ramp has been manned for last 50 years and we've done 25 years," he said. "Realistically there isn't real rhyme or reason to what they're doing at all."
Mr Hogan said the proposal of a short term stay beyond 31 March might be damaging to the business. "There's been nothing put in writing or formally offered to us, but normally the winter time is not commercially viable. Normally you're trading over the whole year and take losses over the winter period, so a proposal for a six month stay would be commercially not viable," he said.
A rally held last weekend to show support for the Hogans was attended by a big crowd.
"The event was mind blowing. A bit of a rally had been organised to show our local member Sonya Kilkenny and [boating minister] Jaala Pulford that we had support, and we thought about 50 or 60 people might show, but we had over 100 boats and we had over 400 people," he said.
"We had support coming in from every direction. We were quite gobsmacked."
Launching Way has also hosted the annual Mates Day event, taking disabled people out on the water for a day out fishing.
Local boater John Willis was among those at the rally voicing their disappointment. "How on earth can this government preach better boating without recognising and supporting the excellent service and passion offered by the Hogans and their staff," he said. "Our blood is boiling over this hypocrisy."
Carrum MP Sonya Kilkenny told The News that "the Hogans' lease with Melbourne Water, originally due to expire at the end of August 2018, was extended and is now due to expire on 31 March 2020. Following recent discussions with the Hogans, I understand that they have recently been offered a short term lease while the government seeks expressions of interest to manage the Patterson River boat ramp from this spring."
"I really hope the Hogans will take part in the expressions of interest process and register their interest in managing the boat launch into the future. They are well regarded by many boaters and fishers and have been such a great source of information, support and comfort for so many people at the boat launch over a period of many, many years," she said.
The eviction comes amid a state government review into "infrastructure management" of boat ramps in Port Phillip.
The Better Boating Victoria website states that "the Victorian government is committed to reviewing the management of boat ramp infrastructure in Port Phillip and Western Port."
The review, conducted by Deloitte, will look into "identification of current issues impacting the management of recreational boating infrastructure, assessment of current management practices, assessment of recreational boating assets in Port Phillip and Western Port, options for management improvements, and consideration of a dedicated boating infrastructure authority."
The review is due to be completed in April. More information at betterboating.vic.gov.au/about/port-phillip-western-port-review/
First published in the Chelsea Mordialloc Mentone News – 19 February 2020