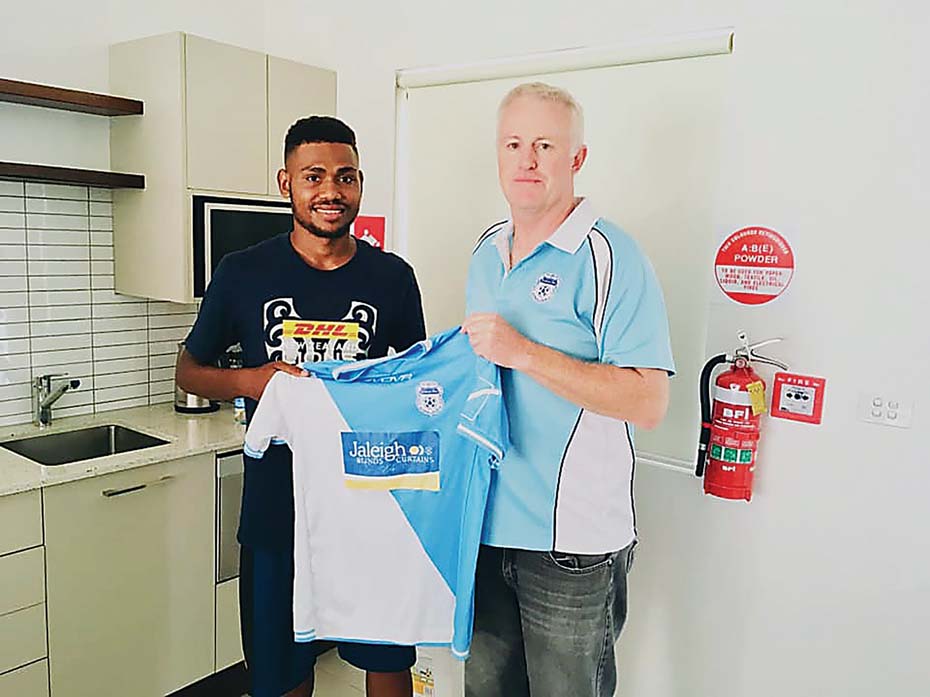 SOCCER
THE wait is finally over. Four Fijian internationals fly in to Melbourne today (Tuesday) to play for Frankston Pines.
Last week the Monterey Reserve outfit received news that visa applications for the quartet had been approved and flights were promptly organised.
The recruits are 20-year-old midfielder Savenaca Baledrokadroka, 19-year-old goalkeeper Asaeli Batikasa, 20-year-old defender Peni Tuigulagula and 20-year-old striker Tito Vodowaqa.
Baledrokadroka captains Fiji's under-23s and has also made seven full international appearances for the national team.
Pines gaffer Kevin "Squizzy" Taylor has seen Tuigulagula and Vodowaqa in action at the Pacific Cup in New Zealand last year and has watched videos of Baledrokadroka and Batikasa.
"All of the players were recommended to us by former Fiji national coach Christopher Gamel and national team manager Anushil Kumar," Taylor said.
"We view the signing of the boys as a real coup for the club.
"Our off-field profile has received a massive boost as has our playing group and I'm excited at the prospect of adding four top quality players to our talented young squad.
"I have no doubt they will flourish in their new environment, bring out the best in the players already with us and ensure we are very competitive heading into the upcoming season."
The plan to bring the players here and use Pines as a possible springboard leading to NPL and perhaps A-League contracts was first hatched last year as part of a partnership between the local club and the Victorian Multicultural Sports Association, a Fijian community group.
The plan is one of the first of its kind in Victoria and was only made possible with the assistance of the Fiji Prime Minister's Office, Fiji's Ministry of Foreign Affairs and Ministry of Sports and Youth Affairs, and Mr John Feakes, Mr Alex Park and Mr Daniel Millis of the Australian High Commission, Suva, and the Fiji Football Association.
To facilitate processing of the players' international clearances Pines and the Fiji FA struck an agreement that the local outfit would waive all rights to financial gain should the players transfer to the NPL or A-League albeit that under FIFA regulations a formula for compensation is in place.
In NPL2 pre-season news Langwarrin downed Doveton 4-3 at Waratah Reserve last weekend.
The goalfest was due to a combination of some excellent attacking play and finishing and inept defending.
Langy burst this contest wide open with three goals in 10 scintillating first half minutes but Doveton hit back in the second period and groin injuries to Langy defenders Reese Cox and substitute Alex Van Heerwarden forced veteran Boris Ovcin to come off the bench and deputise in central defence alongside Jamie Cumming.
Damir Stoilovic's cross from the right led to the opening goal.
Teenage man-mountain Tom Advoulis was in goal for the home team and could only parry Delarno Pharoe's back post header allowing Luke Goulding to finish from close range.
A slick break minutes later saw a superb exchange between Stoilovic and Luke Goulding with the former finishing in style and suddenly it was 2-0.
The onslaught continued when the classy Tommy Youngs cut in from the right and slipped a well-weighted through ball to Stoilovic who again finished well past the advancing Advoulis.
Early in the second half Ross Frame got the first of his three goals and no doubt would like to be given the room in NPL3 this season afforded him by the Langy defence.
Frame's second from the penalty spot made it 3-2 but Luke Goulding's looping header over Doveton substitute keeper Stuart Webster made it 4-2.
But Langwarrin didn't heed the warning signs as it failed to close down Frame yet again and he hammered home a low shot from just outside the area to complete the scoreline.
Former Langy teenager Keegan Guy came off the Doveton bench and missed two good chances to level late in the contest.
Mornington went down 2-0 away to Bulleen last Saturday with goals from former Langwarrin striker David Stirton and Thomas Danielle.
Peninsula Strikers lost 1-0 to Chelsea at Centenary Park on Saturday.
It was a classic smash and grab raid by the State 4 visitor who scored midway through the first half.
Chelsea was well set up defensively and a relatively inexperienced Strikers side couldn't break down its opponent.
Strikers were missing Jonny Guthrie (cricket), Sam Luxford (overseas holiday), Tom Hawkins (work) and Laban Stringer (injury).
Jason Bradbury's long-range effort late in the first half slammed off the crossbar and Ben Doree's attempted lob in the second half went wide.
Frankston Pines went down 2-1 to Skye United in a friendly at Monterey Reserve last Thursday night.
Skye went 2-0 up in the first half thanks to Mitch Blake and Mikey Turner but a stunning second-half strike from Alex Roberts reduced the deficit.
Skye recruit Travis Ernsdoerfer remains sidelined through illness but is hopeful that he can get the all-clear to return to training in the next few weeks.
Baxter and Rosebud drew 2-2 in Saturday's friendly at Baxter Park.
Former Baxter striker Mark Pagliarulo opened Rosebud's account midway through the first half when he cut inside from the left and struck his shot inside the near post.
Baxter levelled right on half-time from a set piece when big Dan Disseldorp was free at the back post and headed home.
Rosebud regained the lead in the 65th minute when Chris Parry found space in behind the home team's defence and his cross to the back post was headed in by Blake Hicks, another ex-Baxter player.
Baxter's get-out-of-jail card came via the penalty spot with virtually the last kick of the contest as Nat Daher's conversion ended a poor display from the home side.
Rosebud keeper Hayden Hicks was red carded for dissent straight after Daher's penalty.
Somerville Eagles defeated Mount Martha 2-0 on Saturday at Somerville Secondary College with Jarryd McMinimee and Matthew Surgenor scoring.
Seaford United lost 5-2 at home to Middle Park last weekend with Dylan Waugh and Mitch Hawkins scoring for Seaford.
All three local State 4 South clubs enter this year's FFA Cup this weekend but were unable to confirm kick-off times as we went to press.
Somerville Eagles, Baxter and Seaford United will all play at home with Somerville trying to arrange a Friday night fixture at Monterey Reserve, Baxter trying to arrange a Saturday fixture and Seaford hoping to play on Sunday.
The ties are Baxter v Darebin Utd, Somerville Eagles v Endeavour Utd and Seaford Utd v Albert Park.
This week's pre-season friendlies:
SATURDAY: Langwarrin v Box Hill, Lawton Park, 1pm & 3pm; Werribee City v Mornington, Galvin Park, 1pm & 3pm; Peninsula Strikers v South Springvale, Centenary Park, 1pm & 3pm; Pakenham Utd v Skye Utd, IYU Recreation Reserve, 1pm & 3pm; Frankston Pines v Beaumaris, Monterey Reserve, 6pm & 8pm; Aspendale Stingrays v Tullamarine, Kingston Heath Soccer Complex, 3.30pm; Endeavour Sporting FC v Mount Martha, Chalcot Lodge Reserve, 1pm and 3pm; Rosebud v Maribyrnong Greens, Olympic Park, 1pm & 3pm.
First published in the Frankston Times – 25 February 2020