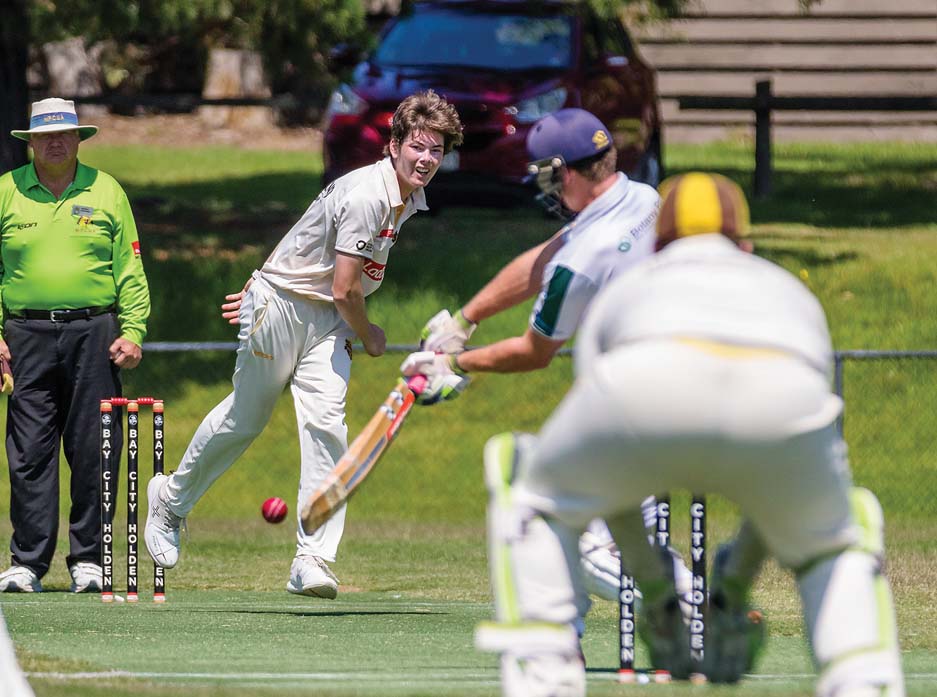 PENINSULA
A BRILLIANT knock by opener Riley Shaw has put Red Hill in a good position in their two day clash against Pearcedale.
Shaw has struggled with form this season, but showed his ability with a massive score on Saturday. He scored 93 before being caught and bowled.
A strong middle order performance by Red Hill brought them to a total of 5/242 after 60 overs. The Hillmen declared, wanting a chance to attack Pearcedale's batting lineup.
Pearcedale came in to bat for a disastrous 20 overs before stumps. They ended the day at 5/32, facing certain defeat.
At Bruce Park, Pines had a good day against Heatherhill. Pines scored 253 runs, setting their opponents a difficult target to chase on day two.
Heatherhill bowler Jake Theobald worked hard, bowling 31 overs for the day. He posted figures of 6/106.

DISTRICT
CRIB Point and Delacombe Park look set to go down to the wire on day two after a hotly contested day of cricket on Saturday.
Delacombe Park won the toss and chose to bat first. Opener Jonathan Guthrie played well and scored a half century, but he didn't get much backup from his teammates.
Just two Delacombe Park batsmen reached double digit figures, and they ended up all out for 118.
Chasing a relatively small total, Crib Point were in a good position to grab a win. They came in to bat for 40 overs before stumps was called, and ended the day at 7/83. They need 36 more runs to win with just three wickets in hand on day two.
Hastings had a great day at home against Mt Martha, securing the win after just one day of play.
Mt Martha had a miserable time, ending up all out for 80 runs. Hastings managed to pass that total with nine wickets to spare, and will restart on day two from 1/104.
At Olympic Park, Rosebud played host to Carrum. The home side declared at 8/204 in their first innings.
Carrum lost one wicket before stumps, and will pick things back up from 1/8.
Dromana were bowled out for 157 by Seaford Tigers on Saturday. The Tigers finished the session at 2/54.

SUB DISTRICT
FRANKSTON YCW have set Ballam Park a mammoth total to chase down.
The Stonecats chose to bat first on their home deck on day one of the two day clash between the sides. They got off to a shaky start after losing both openers for small totals, but quickly got the contest back under control.
YCW's middle order was formidable. Neil Barfuss was their most impressive performer, scoring 86 runs, his best score for the season.
By the time stumps was called, Frankston YCW had run away to a score of 9/320.
Tootgarook had a good day on the road against Skye, wrapping up a win after just one day of play.
Skye scored 108 in their first innings, and were bowled out after just 47 overs.
Tootgarook came out of the gates like a raging bull, chasing down their target with pace. They closed the day at 7/247.
Rye set Balnarring a target of 205 runs to chase down on the first day of their matchup.
Balnarring's run chase got off to a disastrous start. They came in for five overs before the close of play, and finished at 2/10.
At Bunguyan Reserve, Carrum Downs scored 159 on their first innings. In response, Tyabb reached 2/24 before play was called off.

PROVINCIAL
A STUNNING 149 run partnership between Tom Wood and Josh Waldron has helped Baden Powell to a huge total against Mornington.
Wood was the standout performer on day one, scoring 120 runs. Waldron contributed 89 runs to the total.
Baden Powell ended up making 326 before being bowled out, setting Mornington a huge mountain to climb.
Michael Heib was Mornington's best performer, grabbing a five wicket haul.
At Lloyd Park, Langwarrin have put themselves in a good position to get a win over Baxter.
Langy came in to bat first, and ended up setting a total of 180. Travis Campbell was their best performer, scoring 68.
Baxter's run chase got off to a horrible start. They came in for 11 overs before stumps, and finished up at 4/12.
A knock of 93 from Shane Beggs was the highlight of Flinders' first innings against Peninsula OB on Saturday. They scored 9/211 before stumps.
At David Macfarlane Reserve, Mt Eliza scored 170 runs before being bowled out by Sorrento. The Sharks restart on day two from 1/10.
First published in the Frankston Times – 25 February 2020