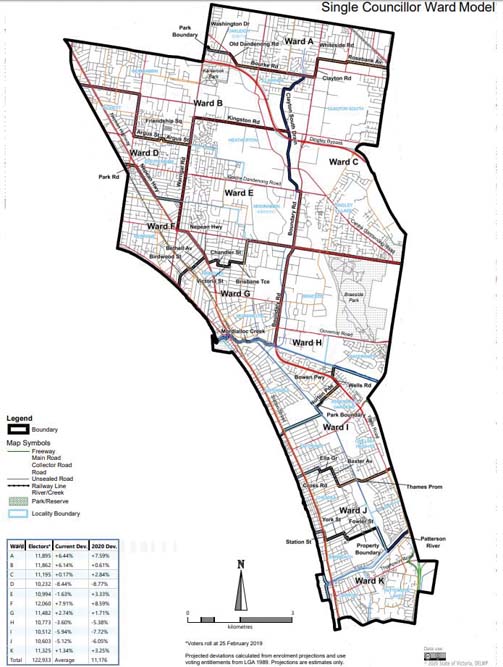 KINGSTON councillors have agreed to write to Premier Daniel Andrews asking for the October council elections to be delayed, and for local ward boundary changes to be held off.
Earlier this year, the new Local Government Act was passed. The act mandated that Kingston Council's structure change to eleven single member wards at the next election. Kingston Council currently consists of nine councillors split across three wards.
Following the recent dismissal of local government minister Adem Somyurek, Kingston councillors have voted to direct the mayor to write to the Premier "seeking his intervention to suspend the recently announced changes to the City of Kingston ward boundaries".
The motion approved by councillors at their 22 June meeting read that the request to suspend planned boundary changes "is based on the lack of consultation by the minister and his department with the community or council. Furthermore the minister has chosen to completely ignore the recommendations of the recent Victorian Electoral Commission review. Considering the devastating allegations made against the minister in the media it is imperative that this council be absolutely confident that the changes were made in the interests of the Kingston community rather than for any alternative motivation the minister may have had."
The change to single member wards defied a recommendation made by the Victorian Electoral Commission in October last year. A report completed by the VEC recommended that council should remain split into three wards ("Review recommends more councillors, The News, 16/10/19).
The letter that will be sent to the Premier will also request that the local government elections be deferred to a later date.
After Mr Somyurek's sacking, Mr Andrews told media that he was "not aware of any reason to go back over (…) or to be concerned about" decisions made while he was local government minister ("Minister removal won't change law", The News, 17/6/2020).
Kingston Council has recommended to the state government that the new single member wards be named Bunjil, Karkarook, Caruana, Wattle, Chicquita, Como, Derrimut, Yammerbook, Sandpiper, Longbeach, and Banksia.
First published in the Chelsea Mordialloc Mentone News – 1 July 2020