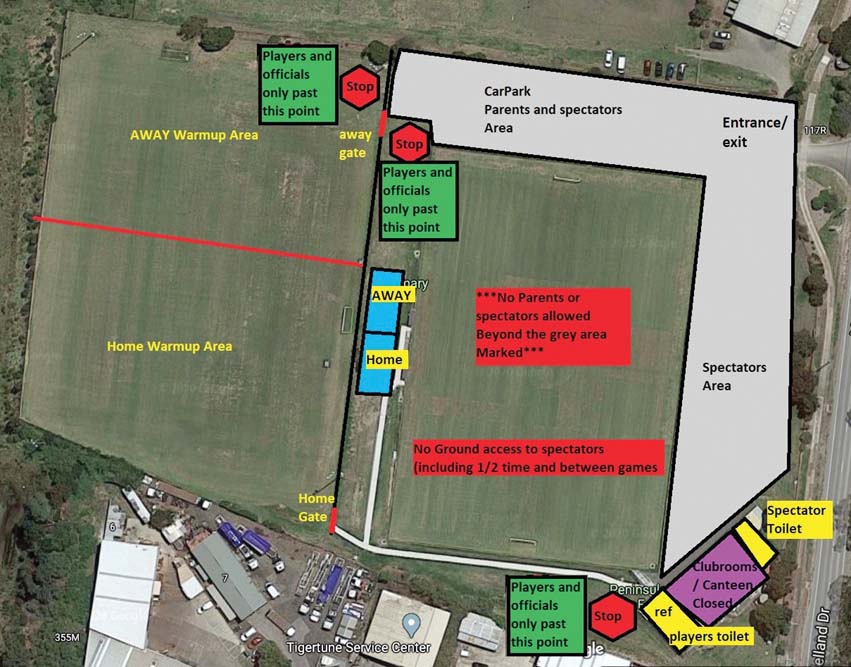 SOCCER
FOOTBALL Victoria's hopes for the 2020 season rest on avoiding a statewide return to lockdown.
While clubs in the South and East of the currently regionalised junior NPL are set to complete the grading round of the season with another double header of matches this weekend the North and West competitions remain under suspension.
The official line from the state's controlling body confirms its dilemma.
"Football Victoria is currently working with all clubs – Junior Boys, Junior Girls, Community and NPL Senior (Women and Men) – that are located in the North and West regions of Victoria to understand how our seasons can both commence and proceed given recent (state) government announcements on a return to stage 3 COVID-19 restrictions."
FV hopes to advise clubs this week of the outcome of its deliberations but much will depend on the success of the response to the present spike in infections.
The pre-pandemic plan to grade junior NPL teams on the basis of results to align them with opponents of similar standard now seems a forlorn hope given the suspension of two regions and the added travel component of deregionalising competition.
As things stand implementing the required biosecurity protocols was testing enough for clubs who took to the pitch last weekend.
Of the three local clubs in junior NPL action Peninsula Strikers faced the extra challenge of hosting matches on Saturday and Sunday while Langwarrin and Mornington both had away fixtures as part of last weekend's double header.
Strikers' vice-president Steve Schreck devised a map outlining the club's plans to segregate Centenary Park for the visits of Dandenong City on Saturday and Glen Eira on Sunday.
Both opposition clubs were sent Schreck's map last Thursday and were able to distribute it to the parents of their juniors.
Early last week Schreck measured various areas of the clubrooms knowing that it was impossible to apply the four-square-metre distancing requirement so Strikers decided to leave the rooms shut.
"The logic behind closing the changerooms is that you would need 64 square metres for 16 players and obviously there's no such thing as a changeroom that big," Schreck said.
"By segregating parents and kids we can control the kids' distancing.
"All we can do is put the rules in place and do our best to ensure that they are adhered to."
Strikers sent an email to the club's junior NPL parents confirming that matches were set to go ahead and alerting them to the measures in place.
"Looks like we are go for the weekend. Here are the COVID-19 measures in place … (see image for reference). Home game both days – Blue home kit for both games, times are the same for both days. U13s: 10am kickoff, U14: 11:30am kickoff, U15: 1pm kickoff, U16: 2:40pm kickoff.
"Please arrive 45 minutes prior to kickoff (earlier if you want a park near the fence to watch).
"Clubrooms are closed except toilets and the referees' room (which is now a changeroom).
"Children are required to check in at the grandstand both days. The grandstand is the changeroom. Only players allowed in the grandstand.
"Please make sure they arrive in tracksuit as it will be cold.
"No parent or spectator will be allowed beyond the carpark/clubroom areas (see grey marked areas).
"Spectator sign in, sanitiser and toilets are at the clubroom.
"I've asked all teams to provide three marshals to assist (we normally need two). Bring an umbrella if you are marshalling.
"Make sure kids bring their own drinks and half-time snack if required. This has also been sent to the opposition clubs. Anyhow good luck all and see you there."
In the end Strikers' biggest obstacle was the weather and Sunday's round 9 fixtures against Glen Eira were washed out.
But Saturday's fixtures went ahead and Strikers achieved some excellent results.
The under-13s leapfrogged Dandenong City on the ladder with a 1-0 win, a great start for new coach Danny Topping who has replaced John Meads.
The side's leading scorer Mehar Singh added to his season's tally which now stands at 12.
The under-14 clash ended in stalemate with neither side able to score.
Dandenong had gone into the clash in third spot on the ladder five places above Strikers but the home side could have snatched all three points after crafting a rare chance following a corner late in the contest.
Strikers under-15s conceded goals in the last five minutes to go down 3-0 but the home side had saved its best for the last of the four matches.
The under-16 clash ended in a 1-1 draw with Dandenong City losing its top-of-the-table status.
Dandenong opened the scoring in the 30th minute through Joseph Colarco but a minute into the second half Strikers levelled.
A Strikers' free-kick deflected off the defensive wall and Favour Okoronkwo's cross to the back post was slotted home by Mark Deacon.
Shay Power-Reeves was Strikers' best.
The younger brother of senior squad striker Jai Power had been out of the game for the past few seasons.
In State 3 news Frankston Pines secured the signature of striker Matt "Hammer" Hames last week despite the former Strikers and Knox player attracting interest from other clubs.
Pines boss Kevin "Squizzy" Taylor was the frontrunner in the race as Hames is a former Pines player and already had said how much he enjoyed the culture at the club.
"We are really pleased to have signed a player of Matt's pedigree," Taylor said.
"He's a proven goalscorer at State League level and adds another dimension to our talented forward line.
"His ability to hold the ball up brings those around him into play and his workrate is second to none."
In State 5 news Rosebud striker Mark Pagliarulo may assist the club with coaching as he recovers from a knee injury.
Recent scans revealed that no surgery was required at this stage but the news is not all good.
"There's a small tear in my LCL but I've been referred to a specialist to look at the area that's still in pain," he said.
"It looks okay per the scan but with constant pain they think there might be a small crack or chip in the bone or top of my fibia.
"Won't be playing anytime soon but looks like I'll do a bit of coaching and help in any way the manager needs me.
"He's not got an assistant so hopefully I can slot into that role if I can't play, which looks likely as I'm struggling."
Here are Saturday's junior NPL results:
U13s: Mornington 0 Berwick City 8, Peninsula Strikers 1 (Mehar Singh) Dandenong City 0, Oakleigh Cannons 2 Langwarrin 0.
U14s: Mornington 2 (Aydin Genc, Casey Dudley) Berwick City 2, Peninsula Strikers 0 Dandenong City 0, Oakleigh Cannons 5 Langwarrin 1 (Lachlan Millar).
U15s: Mornington 2 (Rome Hodson, Jackson Tossavainen) Berwick City 1, Peninsula Strikers 0 Dandenong City 3, Oakleigh Cannons 3 Langwarrin 0.
U16s: Mornington 0 Berwick City 6, Peninsula Strikers 1 (Mark Deacon) Dandenong City 1, Oakleigh Cannons 4 Langwarrin 0.
Here are Sunday's junior NPL results:
U13s: Langwarrin 6 (Ollie Pase 2, Jaylen Faithfull, Lukas Martin-Rico, Ethan Walker, Bailey Stephens) Kingston City 0, Gippsland 2 Mornington 4 (Lachie Jamieson, James Clennett, Callum Hughes, own goal).
U14s: Langwarrin 1 Kingston City 3, Gippsland 0 Mornington 2 (Stevie Ellix, Emilio Merchan).
U15s: Langwarrin 1 (Brodie Bennett) Kingston City 1, Gippsland 0 Mornington 2 (Anton Beeby, Jimmy Parkes).
U16s: Langwarrin 4 (Karl Eichenberger, Artim Lumanovski, Amin Ahmad, Luca Coco) Kingston City 1, Gippsland 4 Mornington 3 (Jakob Markulin 3).
Here are this weekend's fixtures:
SATURDAY: Mornington v Langwarrin, Dallas Brooks Park (U13s 9.30am, U14s 11am, U15s 12.30pm, U16s 2.30pm); Bentleigh Greens v Peninsula Strikers, Kingston Heath Soccer Complex (U13s 10am pitch 2, U14s 10am pitch 3, U15s 11.30am pitch 2, U16s 11.30am pitch 3).
SUNDAY: Dandenong Thunder v Langwarrin, George Andrews Reserve (U13s 10am, U14s 11.30am, U15s 1pm, U16s Langwarrin bye); Oakleigh Cannons v Peninsula Strikers, Jack Edwards Reserve (U13s 10am, U14s 12 noon, U15s 2pm, U16s 4pm), Springvale White Eagles v Mornington, Serbian Sports Centre (U13s 10am, U14s 11.30am, U15s Mornington bye, U16s 1pm).
First published in the Frankston Times – 6 July 2020