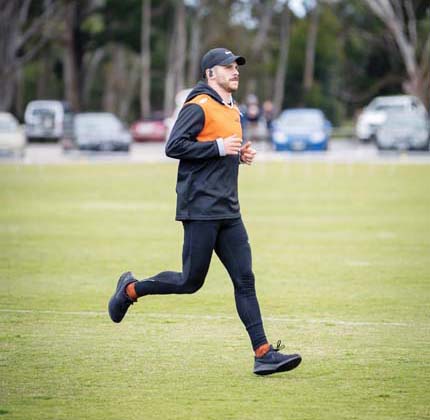 By Bree Masters
ATHLETES training for the rescheduled Tokyo Olympics are being confronted by an unforeseen obstacle: the six-week lockdown aimed at stopping the spread of COVID-19.
With their training options suddenly curtailed Mornington Peninsula Athletics Club sprinters Sophia Fighera and Matthew Rizzo have teamed up to help each other stay fit for Tokyo.
Matthew Rizzo, 2017 Stawell Gift winner, said news of sporting facilities and gyms closing and outdoor exercise being restricted to two people, means his Olympic dream is at stake.
"With gyms closing, it will mean that we will not be able to complete our gym sessions and may cause us to be behind the eight ball compared to athletes from other states once the restrictions are over," Rizzo said.
"I am currently in the process of modifying my training sessions and working out a revised training plan with my coach for the next six weeks, that will still allow me to take the path that I need to get me to the Olympic games next year."
Rizzo, 21, of Langwarrin said the lockdown would also have a big impact on training for many athletes around Victoria.
"At first, I was disheartened about the news, however I am trying to stay positive, despite the new restrictions," Rizzo said. "I've wanted to go to the Olympics since I was a young boy, so I'm willing to jump a few hurdles to achieve my ultimate goal of representing my country at the Games."
Training partner and fellow Olympic hopeful, Fighera, said training would be different without the motivation and company of her peninsula-based Pride Performance squad.
"Training without my squad will be very difficult, as we all push each other to be better and we have a lot of fun at training," Fighera, runner-up in the 2019 Stawell Gift, said.
"I am very lucky to still be able to train alongside my sister and have a little gym set up at home so I can still work on my strength."
With the big goal of racing at the Tokyo 2021 Olympic Games, 22-year-old Fighera said despite the restrictions, she will continue to focus on her ultimate goal of racing at the Games.
"I will continue to push myself in every session and focus on both my small and big goals," she said.
"I will focus on working on my weakness and continuing to improve the small aspects in my training."
First published in the Chelsea Mordialloc Mentone News – 22 July 2020