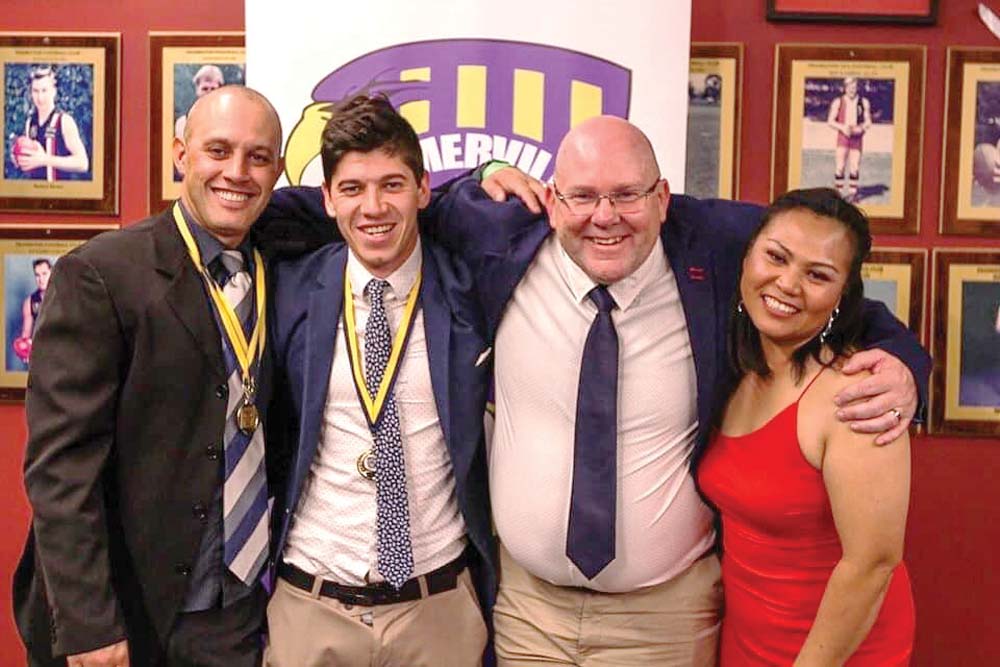 SOCCER
WHEN Luke Mulder gazes into a crystal ball he sees his beloved Somerville Eagles thriving at a purpose-built facility five years from now.
The 49-year-old father of four only joined the Eagles in 2017 but for the past three years he has been in charge of the fledgling club's rollercoaster ride.
No other club president in local soccer circles has had to navigate a safe passage through such turbulent waters.
That's because stunning onfield success and cyclonic off-field upheaval have shared top billing in the Somerville saga.
Not to mention a pandemic and its effect on the 2020 season.
Somerville's 10th-placed finish in 2017, its inaugural venture into State League ranks, was followed by a fourth-placed finish in 2018 that provided the springboard for last year's State 5 South championship triumph.
Joint coaches Scott Morrison and Dave Greening, assisted by Stan Packer and goalkeeping coach Stuart Mitchell, celebrated the Eagles' title with players, administrators and supporters when the final whistle blew on Saturday 31 August.
That round 21 result confirmed the club's promotion and celebrations continued after the last match of the season the following week.
But few knew of the undercurrent of discontent that existed and when director of football Zach Peddersen confirmed two months later that the club would not be competing in the Wallace Cup that was the trigger that led to the departures of Morrison, Packer and Mitchell.
Billy Rae was appointed senior coach in late December but a couple of months later Rae quit.
No-one wanted to talk about Rae's departure least of all Rae himself.
The club didn't even announce it on social media.
Greening was appointed player-coach in May and shortly after Packer returned as his assistant only for Greening to walk out in June.
It became a case of last man standing and that man was Packer.
As we went to press he still is senior coach.
Mulder's response to such events is calm and considered and he is keen for Rae to return in some capacity.
"Billy Rae was fantastic for this club and I would love him to be involved again," Mulder said.
"What happens at clubs is that people's egos get in the way some times but I'm all about culture and you have to want to be part of our culture if you want to stay at our club.
"All the uncertainty we've had hasn't helped anything but remember we've only been going for four years and it can take time to find your feet."
Mulder wonders whether Somerville was prepared for the rise to State 4 ranks and sees a downside to last year's success.
"I don't think we were really ready to be a State 4 club.
"Winning last year and going up put pressure on us regarding facilities and obviously we don't have the money to pay players.
"In the short term we don't want to pay players but we recognise if we want to go higher and compete then we'll probably have to because that's what every other club does.
"Our vision is to have a club where everyone gets a fair go and a fair opportunity to play sport but once you start paying players you get people who turn up for the money then leave.
"From my limited time in the sport that's the most frustrating part.
"I love loyalty but obviously if a club gives you loyalty then you've got to give loyalty back and I don't want to be a stop-off for those journeymen-type players.
"I'm keen to continue to grow our junior side of the club even though we've grown so quickly in such a short time.
"I think we need to look at more stable growth now. We need to look at ourselves and how we want to grow over the next four or five years rather than just look at next year.
"I guess when you start up you want to become as big as you can as quickly as possible and that can hurt."
Currently Somerville migrates between three venues – Tyabb Central Reserve, Somerville Secondary College and Barber Reserve.
The State 4 side plays home games at Tyabb but the surface there is dodgy and when it deteriorates the club switches to the more expensive synthetic option at the Secondary College.
Barber Reserve is a training base for the seniors, juniors and women's program and a matchday venue for juniors and women.
"They (council) spent $500,000 on the clubrooms at Tyabb and they did a fair job on it," Mulder said.
"They've done up all the changerooms and the main area plus the decking. It's very modern now."
Last week the office of federal health minister and Member for Flinders Greg Hunt confirmed that a $200,000 grant announced last year for a much-needed upgrade to Barber Reserve had been delivered to council coffers.
"Greg Hunt came to training one night and probably bamboozled us a little bit when he asked us what we wanted.
"We said we'd told council that we'd like the ground done up and they'd said 'no'.
"Then we said we'd like lights and council said 'no' again.
"But this grant means a lot.
"They are going to build a big outdoor shelter area which will be good to have somewhere to stay outside when it's raining.
"They're also putting in new coaches boxes which is really for football not for soccer and they're also redoing the carpark because it's like a swamp there in winter.
"Our main plan in the short term is to get the council to put drainage on Barber or Tyabb because they're not drained at all and they're classed as overflow grounds."
That's not the only sticking point between club and shire council.
"Last year the council put up $50,000 for a feasibility study to find a permanent home for us.
"The money was to have a look at where council could buy some land and obviously build but at the moment we've had no news back as to the outcome of that study.
"We've tried and tried but no-one can get back to us on that."
There's better news on the Wallace Cup front though for Mulder is optimistic that Somerville will one day compete in the annual charity event.
The Eagles are the only peninsula club that refuses to play in the tournament.
It's common knowledge that a long-standing personal feud is behind the impasse but there is mounting pressure on Somerville to take its place among other local clubs in celebrating the life of the late Langwarrin president Stephen Wallace and showcasing our sport and club camaraderie.
"I believe that over time it will happen," Mulder said.
"Time heals a lot of things.
"I want to unite with a lot of Mornington peninsula clubs and the Frankston clubs because our common threat should never ever be ourselves.
"It should be other codes."