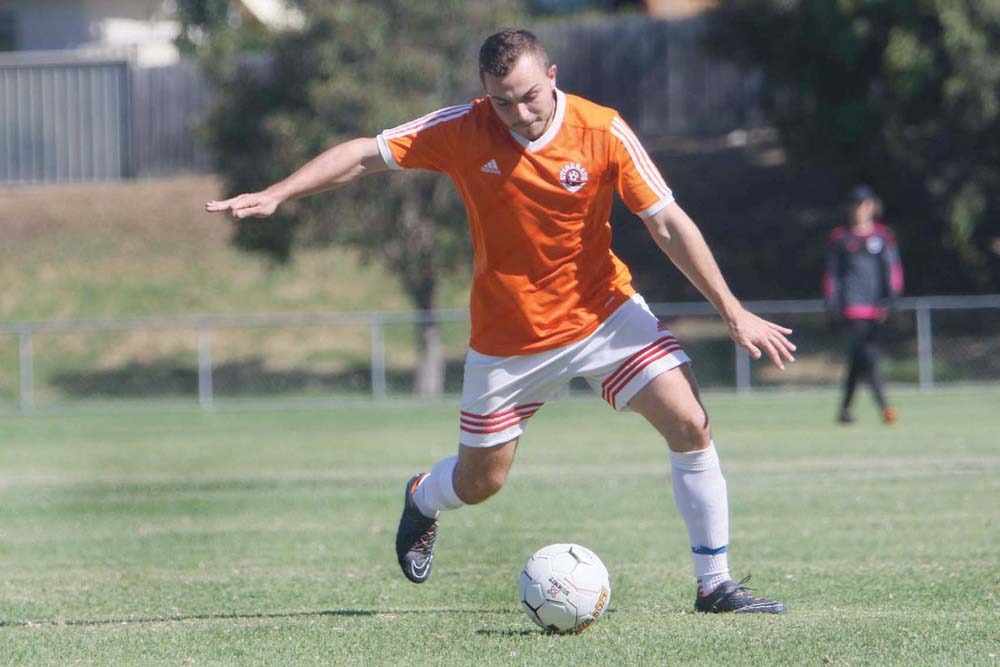 SOCCER
PROMOTION within two years and a personal honour thrown in. Adrian Pace dares to dream.
The 27-year-old "veteran" of Aspendale Stingrays senior squad thinks both targets are realistic and he's confident that at least one of them is within striking distance.
"I think promotion is definitely on the cards," Pace said.
"The squad is pretty strong. A lot of the boys came up from the under-18s who won their league and they will only get better after the experience they got last year playing their first senior games.
"I think I'm the oldest one there. Our average age is probably around 20, 21 and we're a pretty exciting team to watch.
"We might cop a few goals but we outscore a lot of teams.
"I think we won 5-4 in one of our games last season."
As for personal honours his trophy cabinet remains empty. No best player award, no players' player award, nothing.
"Something to strive for I suppose."
His playing CV isn't barren though as it lists eight clubs on a journey which started at Beaumaris in the under-9s.
However he stopped playing and only returned to the sport a few years later after successfully trialling for a place in Bentleigh Greens under-14As.
But as the teenage Pace discovered junior soccer isn't immune to club politics.
"Right before the season started and after all the try-outs to make the squad the coach actually left and took half the side with him so we didn't have a very good season."
Pace lasted just two seasons with Greens then moved to Centenary Park to play with Strikers' under-16s while doubling up in the reserves.
His next move was to see him make his senior debut for Frankston Pines against Old Scotch in 2011.
Pete Schwellinger, Jamie McMinimee and John Bruce were part of the passing parade of coaches at Monterey Reserve in that era as Pines were trapped in an alarming freefall that saw them plummet from Premier League to Provisional League in successive seasons.
That changed dramatically in 2012 with the arrival of Danny Verdun as senior coach and the club clinched promotion that year and returned to State League after finishing second in Provisional 1 South-East.
"Danny's a great man manager," Pace said.
"He really gets you pumped up for the game.
"He gets everyone on his side and you really want to play for him."
Although Pace was part of the senior squad in 2013 that consolidated Pines' State League status the following year he was on the move joining Chelsea along with a couple of his mates for the 2014 season.
But that didn't work out as Chelsea's off-field problems had a direct impact upon its onfield fortunes.
"They were in State 5 and there were a lot of problems within the club back then.
"We went through three coaches that year and although we were a lot better after the technical director Rob (Giabardo) took over it was a little too late."
Pace returned to Strikers for the next two seasons under local icon Craig Lewis.
"Off the park Lewie was like your mate.
"He was similar to Danny in the way he got you pumped up for games.
"I enjoyed that 2015 season and given that we introduced a few young guys into the side I thought we did quite well."
When the 2017 season came around Pace was restless.
Verdun was in his second season back at Knox and Pace was keen to link up with his former coach.
"I did a pre-season under Danny but that didn't really work out so I went back to Strikers but that didn't work out either.
"I had some injury issues and I fell out of favour so I ended up going to Seaford midway through the season.
"They were in a pretty bad spot. They were on the bottom and Paulo (Pinheiro) was coaching.
"We didn't really have the team and I don't know if Paulo was given the support from the club in terms of coaching staff.
"I was there the next season under Paulo as well but eventually he quit and Matty Morris-Thomas took over."
Within weeks Pace was on the move once more.
"Again I kind of fell out of favour a little bit so I went to Baxter mid-year and played under Roy (Kilner)."
Although he only made eight appearances for Baxter there was never a dull moment.
"I usually played on the left either at left back or left wing but Roy played me up front.
"Baxter was good for me and the best part was that we stayed up."
Baxter dragged itself off the deck in the back half of that season and although Football Victoria's records credit Pace with a solitary goal during his stint up front they are wrong.
That goal was scored in a 2-2 draw with Dandenong Warriors, a result that was overturned on appeal.
Tuach Ter was playing with Langwarrin's under-20s that season but turned out for Warriors wearing the number 21 strip and was listed as Thor Kong on the official teamsheet.
Members of Langy's coaching staff were at the match and identified Ter and Langwarrin notified FFV of the youngster's indiscretion.
FV eventually ruled in Baxter's favour giving it a 3-0 walkover which proved crucial as the club avoided the drop from State 4 South by just one point.
"There was a great bunch down there and I had probably some of the most enjoyable times I've had on the park.
"We were all mates and there was a strong culture at the club with lots of players sticking around after the match and having a beer together."
Yet the camaraderie enjoyed by the playing group couldn't keep Pace at Baxter Park and he joined Aspendale Stingrays for the 2019 season.
"I'm from Aspendale and the opportunity came up to go there when (senior coach) Lee Barber messaged me.
"He was taking on a new venture with a group of young guys and I wanted to see what it was like."
Pace alternated training sessions between the Stingrays and Baxter but he settled on the goal of getting his local club out of State 5 South.
"That didn't work out last season and I think we finished seventh.
"We only lost to Somerville and White Star Dandenong in the second half of the season and they finished first and third so it was a pretty promising end.
"We were looking to build on it this year until this virus stuff happened."
Given no interruptions to the 2021 season Pace has much to look forward to.
Stingrays have use of a multi-million dollar state-of-the-art complex at Kerr Reserve and continued use of Jack Grut Reserve so off the field the springboard for expansion is in place.
"I'm pretty positive about our future.
"I can't see any reason to move now.
"I walk to training plus I've got a coach who puts up with my crap so I'm pretty happy here."