KINGSTON Council has approved changes to their long-discussed housing strategy and neighbourhood character study.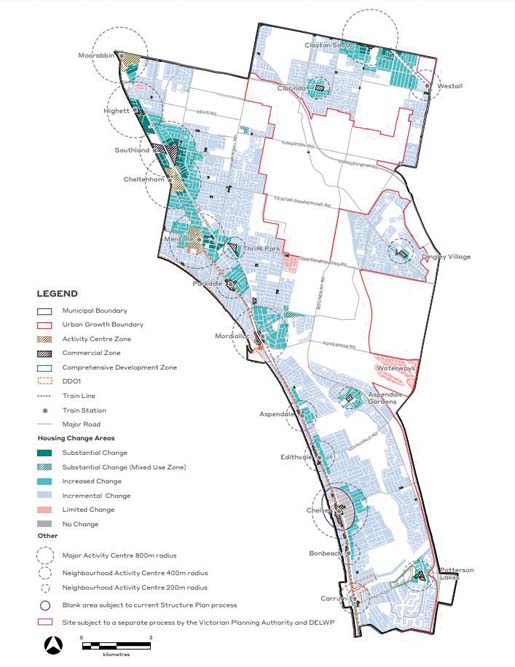 The strategy contains new guidelines on dwelling heights and density. Among the changes from the draft document released by council last year is the classification of more properties into the "neighbourhood residential zone". This would limit construction to two storeys, a maximum of nine meters in height.
A total of 51.3 per cent of land in Kingston available for residential development had been classified as in the NRZ in the 2019 draft. That has now been expanded to at least 80 per cent.
Areas in Mentone and Cheltenham have been designated as "substantial change" areas in the document. The study read that housing in substantial change areas "will generally be in the form of apartment, shop-top, and townhouse developments of up to four storeys (14 metres)".
The study reads that "the objectives for the proposed substantial change areas include [to] encourage the development of high density housing types, particularly townhouses, apartments and shop-top dwellings, ensure design and function of new development is of the highest quality and complements the city's overall image and character, encourage a diversity of housing types, including smaller housing types and apartments with 3 or more bedrooms, [and] encourage a variety of tenures, particularly affordable housing types, to meet the needs of a range of households."
In the latest draft of the strategy from July this year, Mordialloc contained a large "increased change" area in which "new housing will be up to three storeys (11 metres)". Smaller areas in Patterson Lakes and Aspendale Gardens had also been designated as "increased change".
However, Cr Rosemary West amended the strategy further at council's most recent meeting to incorporate some of those areas into the neighbourhood residential zone, restricting buildings to a two storey limit.
Areas in the southern region of the Kingston municipality, including Chelsea, are mostly listed as "no change" or "incremental change" areas.
All present councillors voted to approve the document, with the exception of Cr Ron Brownlees who opposed.
Cr West said at council's 5 August meeting that "this motion has been drafted as a way of protecting our existing one and two storey areas and keeping them one and two storeys."
"This will mean that hopefully nobody in a two storey area will find themselves pushed into a three storey area. Council had a strong statement of community opinion on this when we did our submissions last year. We had 1600 submissions, 99.6 per cent of which opposed the council strategy."
Council will now request authorisation from the planning minister to prepare a planning scheme amendment. A futher stage of consultation will then take place.
The mayor Georgina Oxley said "I know this may be a bit of a gamble and we may not get approval from the department for this, but we've got to try. I think we have to listen to what our residents have told us loud and clear."
To view the full study visit kingston.vic.gov.au/Property-and-Development/Planning-for-our-future/Housing-Strategy-and-Neighbourhood-Character-Study
First published in the Chelsea Mordialloc Mentone News – 12 August 2020