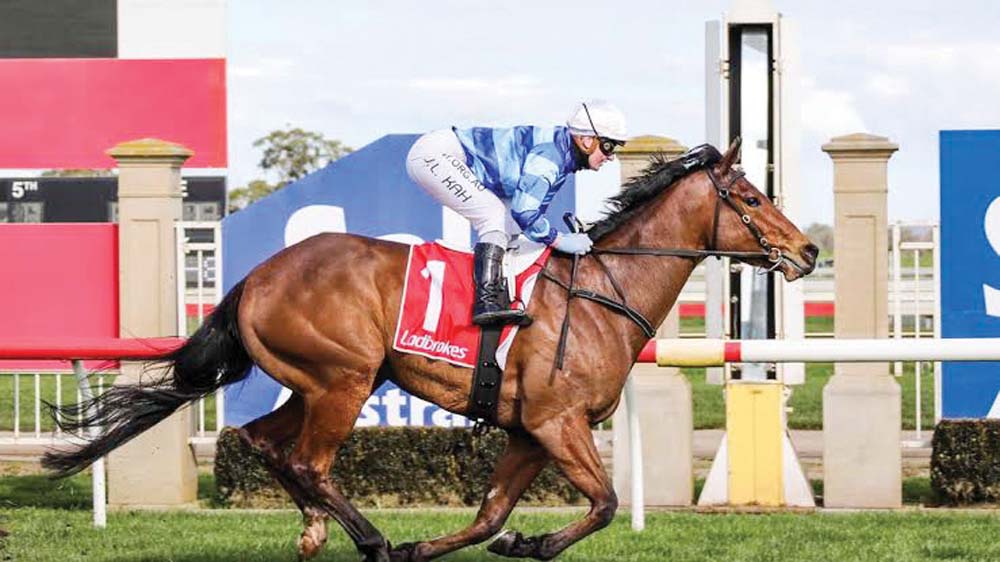 HORSE RACING
CLAYTON Douglas has begun his training career in sensational fashion with his heavily backed debutant, Barocha, providing plenty of entertainment at Sale on Thursday 13 August.
The Mornington-based trainer saw his very first runner get backed in from $6 into $1.75 after showing plenty of ability at the Mornington jumpouts, including a comfortable win in a heat that included the Group 1 winner Princess Jenni and Melbourne Cup hopeful Steel Prince.
The addition of an unidentified viral text message spruik sent out the day prior to his debut added to the drama.
While not all the facts were correct in the creative text message, the four-year-old first starter lived up to the hype to score a dominant five-length victory courteous of a calm ride from Douglas' partner, Jamie Kah.
Douglas said it was "unbelievable" to land the win with the amount of exposure his first starter had gained.
"I'm just rapt," he said. "Jamie's done a really good job on this horse. He's not really an easy horse and she's really educated him well.
"There was a lot of hype over it, but I knew he was pretty good, and so did Jamie. We did think he'd probably do that."
The victory continued a family tradition with Douglas following in the footsteps of his father Vic Douglas and his grandfather Vic Douglas Snr., who were both successful trainers in their own right
"It's always been on the cards with dad and grandpa training," Clayton said. "Mornington have been great for me as well. The facilities are great down there and it's good to get a nice horse that's come out of Mornington and hopefully he can progress on from here."
For where Barocha heads to, Douglas said he'll just be letting the "dust settle" for now.
"There were a few plans," he said. "We just wanted to make sure we could do that today. I was thinking if it gets beat what maiden do I take it to or if it runs second which way do I go, but now he's won really well so I'll speak to the ownership group and we'll work it out."
On the other hand, Jamie Kah predicted some potentially high targets for the gelded son of Ilovethiscity.
"I don't think I've ever been this excited before," Kah said.
"We think he's got a lot of ability but obviously being a first-starter we just wanted him to do it on race day and run well.
"I'm so happy for Clayton, he puts so much time and effort into the horse and his team so it's really rewarding.
"Now that he's won, I can say that I think he's definitely Stakes-class. Once we step him up over 1200m and 1400m, he'll really be able to let down and show his class."
Barocha was a $12,000 purchase from the 2018 Inglis Yearling Sales.