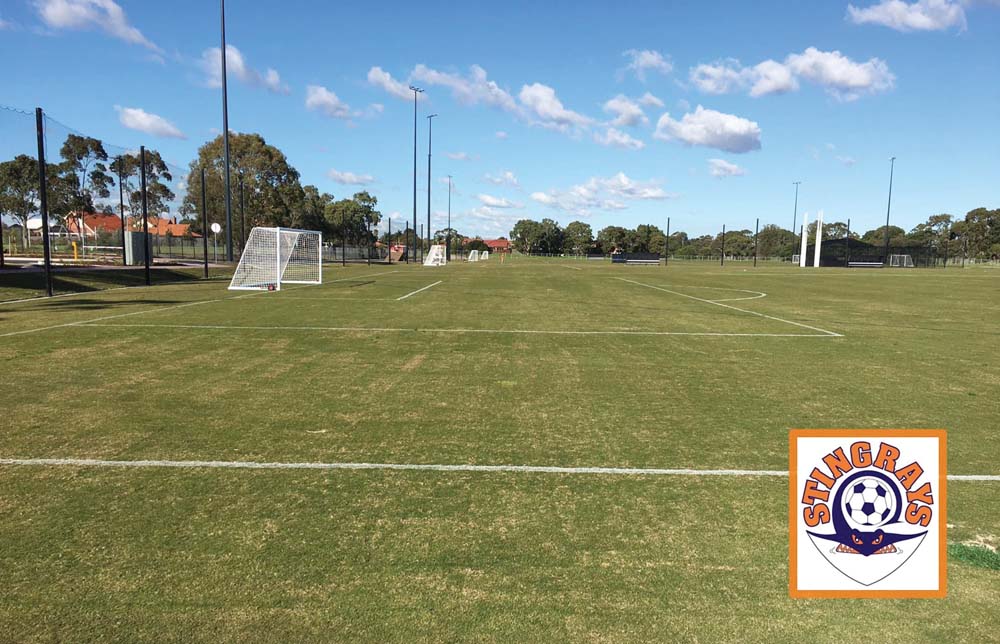 ---
SOCCER
ASPENDALE Stingrays are on track to christen their multi-million dollar Aspendale Gardens Sports Ground facility in 2021.
The $12.5 million multipurpose complex will allow the State 5 club to reboot its expansion plans and immediately grow its junior program.
The Kerr Crescent project is jointly funded by Kingston council ($8.5m) and state government ($4m).
For some time now Football Victoria's 2018 Club of the Year has been forced to curtail training to one session a week for most of its junior teams but the AGSG facility should address that problem.
"Our biggest restriction over the past five years has been facilities," club president Derrick Berends said.
"We were close to 500 members this year but we haven't been able to go out and actively hold clinics and advertise for a few years now as we simply haven't had room to accommodate bigger numbers.
"One year when numbers were around 200 we ran a clinic and we had 150 new kids turn up and we ended up going from 200 to 400 members in one or two seasons."
Stage 1 of the AGSG project has been completed and four pitches with floodlights are good to go.
This week Kingston council will kickstart the tender process for stage 2 due to earlier than anticipated planning approval.
Council is expected to award the tender in the first week in December and the construction offsite of the modular clubrooms should start that same month.
The clubrooms should be completed onsite by July next year but this won't stop the Stingrays from using the new facility earlier.
"There will be temporary toilets and changerooms so we can hold junior games there without stage 2 being completed," Berends said.
"We did use the pitches sparingly just before lockdown as the light towers were installed in May."
Upon completion the clubrooms will boast four changerooms, referees rooms, a first-aid room, an administration office, storage space, a large multipurpose area, public toilets, terrace seating and covered spectator areas.
The Stingrays have 42 teams at present including 25 MiniRoos sides.
MiniRoos is a national program for boys and girls of all abilities, aged between 4–11 years old and aims to introduce soccer to newcomers in an inclusive way.
"We're quite happy to base our juniors at Aspendale Gardens and leave our seniors at Jack Grut Reserve," Berends said.
"That puts Jack Grut in a far better position to cope as it has been overused for some time.
"Our seniors can still use the Aspendale Gardens facilities as far as training goes but Jack Grut will still be a major part of our senior program as it will be their main ground."
The Stingrays have used a variety of venues for training and matchdays over the past few years including Doug Denyer Reserve, Browns Reserve and Parkdale Secondary College as well as Jack Grut.
"Once we get full access to the (Aspendale Gardens) facility and can train on it any time we like it will increase our ability to do a proper pre-season.
"Our other grounds are associated with cricket so we've been unable to train on them until March at the earliest."
In other news Langwarrin has re-signed senior assistant coach Jamie Skelly and specialist goalkeeping coach Peter Blasby for the 2021 season.
Skelly was first appointed to the position in September 2018.
He is a former Langy player and reserves coach and had stints at Casey Comets and Peninsula Strikers as head coach.
"I'm really pleased and happy to stay on and continue the project we started two years ago," Skelly said.
"I've been coaching at a senior level for 10 years now but to work closely and speak every day with someone with the knowledge and experience Scott's had at such high levels has definitely helped me improve as a coach."
Blasby boasts a celebrated playing career at Frankston Pines, Albion Rovers, Heidelberg United, Melbourne Croatia (Knights), Morwell Falcons and Croydon and was selected in Melbourne Knights' Team of the Century.
His specialist coaching talents have been used by Bentleigh Greens, Dandenong Thunder, Dandenong City, Mornington, Peninsula Strikers and Casey Comets.
This is Blasby's second spell as Langy goalkeeping coach and he is a former assistant coach of the reserves.
Meanwhile almost all club presidents throughout the bayside and peninsula regions look set to remain at the administrative helm for the 2021 season.
Of the 12 local club bosses only Mount Martha president Dean Whitehead is yet to decide whether to run again.
The other incumbents are Tanya Wallace (Langwarrin), Matt Cameron (Mornington), Adrian Scialpi (Peninsula Strikers), Daren Jones (Skye United), Lee Davies (Frankston Pines), Bray Hodgkinson (Baxter), Willie Lynn (Seaford United), John Zeccola (Chelsea), Luke Mulder (Somerville Eagles), Derrick Berends (Aspendale Stingrays) and Melissa Osorio (Rosebud).
While some clubs anticipate holding AGMs online others are keen to wait until COVID-19 restrictions are eased in Victoria.
Chelsea boss Zeccola hopes his club can hold its AGM at its clubrooms.
"Our end of year is 30 September and under our constitution we don't have to hold our AGM until February 2021," he said.
Legally the club AGM has to be held within five months of the end-of-year period.
"We'll probably hold it early next year even though we normally hold it in October.
"At last year's AGM, I said that it would be my last year as president but COVID changed all that.
"The next six to 12 months will be very challenging for our club both operationally and financially and I don't think that it is right to walk away from this club and the decisions made when I was at the helm. "It is only fair that I stay around at the club to face the challenges and stand by the decisions we've made."
Local players are in the transfer spotlight with former Langwarrin and Berwick City junior Matt Millar joining English League Club Shrewsbury Town on loan from A-League outfit Newcastle Jets.
Millar, 24, joined Newcastle from Central Coast Mariners last year and is a former Melbourne Victory and Melbourne City youth player.
He left City in 2016 to join South Melbourne and two years later signed with the Mariners.
Another former Langy player Bailey Wright made last season's loan move from Bristol City to Sunderland a permanent deal when signing a two-year contract with the Black Cats in August.
Wright played in last weekend's 0-0 draw away to Charlton which leaves Sunderland fourth in the table.
And former Frankston Pines defender and Socceroos midfielder Jackson Irvine is yet to sign with another club after becoming a free agent at the end of his contract with Hull City.
Irvine's agent is ex-Socceroo Vince Grella and they have looked at offers from UK and European clubs recently.
Free agents are not restricted by transfer windows so Irvine's options may open up further after the current window closes.