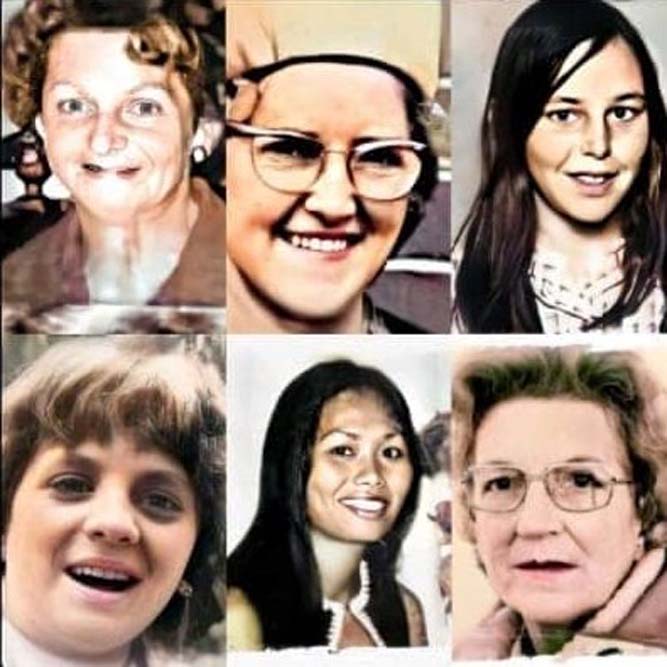 ---
By Jake Pike
THE death of a family member or friend is never easy. COVID restrictions have highlighted the pain caused when those closest are not afforded closure around the death of a loved one.
But this pain and uncertainty is not an unprecedented pandemic phenomenon, it's a feeling all too familiar for the friends and family of the women found in Tynong North and Frankston between 1980 and 1983.
Despite the six-million-dollar reward and multiple investigations, the murders of Catherine Headland, Bertha Miller, Allison Rooke, Joy Summers, Narumol Stephenson and Ann-Marie Sargent have gone unsolved for forty years.
While Belanglo State Forest and Snowtown leave most Australians with an eerie sense of familiarity, Tynong North is best known for local theme park Gumbuya World, rather than the disposal site for one of Australia's worst serial killers.
Over the past four decades scores of top detectives have worked the case to no avail, the advances in technology can't account for a lack of physical evidence.
The bodies of the women were all found in such a state of decomposition that homicide detectives were unable to determine a cause of death.
DNA evidence was not yet on the scene and it would be another nine years after the first women were found that DNA would be used in an Australian court to convict someone of a crime.
Frankston Murders
Allison Rooke
On May 30 1980, Allison Rooke (59) disappeared from the Frankston area. Her neighbour confirmed to police that she was headed to Frankston to pay bills and get groceries when she disappeared sometime after 11am.
Allison usually drove, but on that day car troubles forced her to take public transport. However, the usual bus driver didn't remember picking her up.
Allison Rooke was found on 5 July 1980 hidden among the bushland at McClelland Drive, a few kilometres from where she was last seen.
Joy Summers
Joy Summers (55) was on her first lone shopping trip to Frankston on October 9, 1981 when she disappeared, Summers suffered a stroke a couple of years before she went missing and was usually accompanied by her partner.
Joy was last seen sitting at a bus stop at 1:20pm just 100m from her home. It is believed she was taken from the bus stop as no bus drivers on the route remember picking her up.
Joy Summers was discovered November 22 1981 in bushland off Skye Road in Frankston, a small distance from where Allison Rooke was found.
Tynong North Murders
Bertha Miller
Bertha Miller (73) lived in Glen Iris and was a very active member of the Spring Wesleyan Street Mission in Prahran, a church she had attended for 48 years.
On August 10 1980, Bertha caught the same tram from High Street Glen Iris to Prahran as she did every week for Sunday service, meeting a close friend along the way.
But her friend never met her on the tram. It is believed she was taken from the tram stop as she waited.
Bertha was also the Aunt of then Victorian Police Commissioner Mick Miller.
Catherine Headland
Catherine Headland (14) was headed to a holiday job at Coles Fountain Gate when she disappeared. Headland had left home early to meet up with her boyfriend before starting her shift.
On August 28, 1980, after a morning of listening to records and watching TV, Catherine headed to the bus stop on the corner of Manuka Road and the Princes Highway. While the bus driver claimed he picked up a girl matching Catherine's description at another stop, Victorian Police ruled that Catherine never got on the bus.
Ann-Marie Sargent
Ann-Marie Sargent (18) was between jobs when she disappeared on October 6 1980. She was a frequent hitchhiker and it is believed she got a lift from Cranbourne to Dandenong the day she went missing.
Ann-Marie was last seen at an unemployment office in Dandenong. Her Father strongly believes that she had hitchhiked that day as she had no money when he had seen her earlier that morning.
Catherine Headland, Ann-Marie Sargent and Bertha Miller were found together in November 1980 by men disposing of sheep offal at a quarry off Brew Road, Tynong North.
Narumol Stephenson
Narumol Stephenson (34) was Thai and had been in Australia just over a year before she went missing from outside a house in Brunswick on November 29 1980.
Narumol and her husband were visiting Melbourne with another couple and after a disagreement about visiting friends late at night, Narumol stayed in the car while the others went inside.
Her husband came outside to check on her regularly, but after a number of hours Narumol disappeared.
Narumol Stephenson was found in February 1983 after a man who taught anatomy and physiology spotted a bone he recognised as human while he waited for assistance with a flat tyre. Her body was found in Tynong North at a different site from the other women.
Investigations and Theories
When people think serial killers and abductions, our minds often wander to places dark and discreet, not busy streets in broad daylight.
With the exception of Narumol Stephenson, all of the women were last seen between 9am and midday and had the intention of getting public transport.
Serial killers usually have an 'ideal victim' based on characteristics such as age, race, physical traits or any other innumerable quality, so there are typically similarities between victims.
Personal items were removed from each of the victims, a practice former FBI profiler John Douglas describes as common of serial killers who like to relive the experience of what they've done.
In this case, all of the victims were women, they were abducted near public transport or from Melbourne streets, but that's where the similarities end.
Five of the women were Caucasian, one was Thai, their ages ranged between 14 and 73, half of the women under 35 and the other half over 55.
The older women were found clothed while the younger women were not.
Investigators believed that the reason there are so few similarities between the women is because the murderer was opportunistic rather than selecting individuals based on their characteristics.
Throughout the decades there have been a number of theories surrounding the murders.
A 1985 inquiry into the murders found that they were caused by three separate offenders. In 2017, in conjunction with the release of the $1,000,000 reward per victim, Victoria Police said that they were looking for one suspect in relation to all six murders.
One murderer theory: The current theory supported by Victorian Police is that all six women were murdered by the same person.
Two murderer theory: The theory supported by early investigators was that the victims found in Tynong North were not connected to the victims in Frankston and that the time frame of the murders is the only link between the cases.
Three murderer theory: Frankston and Tynong North murders were committed by separate individuals, but this theory also separates Narumol Stephenson from the other Tynong cases.
Narumol Stephenson was considered to be the outlier, taken well outside the area and time zone that the murder had previously operated in, her circumstances didn't match the other women.
Narumol Stephenson's remains were not found in the same state as the other women in Tynong, while the killer had taken their time hiding the bodies of the others at the Brew Road location well off the beaten track, Narumol was found a 30 second walk from the main road and no care was taken with hiding her remains.
It was theorised that Narumol's killer may have intended to take her to the Brew Road disposal site, but was spooked by another person in the area and they then hastily placed her body at the secondary location.
A new taskforce was created for the case in 1998, but despite the exhaustive efforts of different detectives over the years, nobody has ever been charged for the murders.
Suspects
Since the 1980s, Victoria Police have interviewed over 2000 people in relation to the murders, with a handful of people standing out as the top suspects.
Raymond Edmunds
Also known as Mr Stinky and The Donvale Rapist, Edmunds was a rapist and serial killer from Victoria who had committed a spate of violent and sexual crimes from the mid-60s to the mid-80s.
He declined interviews with police after his conviction in 1986, and it wasn't until 2018 that he reached out to confess to a number of sexual attacks.
Edmunds has presently been convicted of two murders, nine rapes and a handful of other violent crimes against women, but police once believed that he may be responsible for as many as 32 rapes and several unsolved murders.
Edmunds was not believed to have been the offender in the Tynong North and Frankston murders as he had been living in New South Wales at the time of the time of the murders.
While there is the possibility that Edmunds returned to Victoria for the murders, Police believe that he lacked the charm and interpersonal skills required to get the women into a vehicle without a significant struggle.
Bandali Debs
A man whose actions were once described by a NSW Supreme Court judge as 'lacking humanity'.
Debs is currently serving consecutive life sentences for the murders of two police officers and two sex workers in the mid-late 1990s.
Debs was considered a suspect due to his penchant for opportunistic sexual violence and his proximity to the Princes' Highway.
Police believe he committed a series of violent armed robberies in the early 1990s with the help of his nephew, Jason Ghiller.
Debs was in his late 20s when the Tynong North and Dandenong murders started in 1980, but his earliest violent conviction wasn't until 1988.
The woman Debs murdered in Sydney was also found naked near a quarry, similar to some of the victims found at Tynong North.
Harold Janman
Unlike the other two suspects, Janman was never convicted of any violent crimes, the only blemish on his criminal record comes from soliciting sex workers.
The reason Janman become a key person of interest in the case was because he was well known for offering lifts in the area that the Frankston victims were taken from.
Despite living in the Frankston area for over a decade at the time of the first disappearances, Janman only began offering people lifts in the same time frame as the murders.
When interviewed, he claimed that he had been to the bank in Frankston with his wife on the day that Joy Summers disappeared, an alibi supported by his wife.
However, his bank records didn't tell the same story that he did.
While Janman had close ties to Frankston, he also had connections to Tynong North.
In the late 50s – early 60s, Janman lived in Garfield, the area south of Tynong North, on the opposite side of the Princes Highway.
He had worked in the area at the Tynong Hotel and at the quarry where the Tynong North murderer would dispose of their victims decades later.
In 1985, the first analysis of the cases stated, "The dearth [lack] of physical evidence and eyewitness accounts linking him to either of the [Frankston] victims means that it is unlikely that he will ever be charged with any offence or eliminated as a suspect".
The report also stated that Janman was likely only responsible for the Frankston murders and that two other killers were responsible for the bodies at Tynong North.
However, in 1990 a second report was not as kind to Janman, the analyst described him as a "viable suspect with weak or non-existent alibis".
It went on to say that the murders in Frankston and the three women found together in Tynong North were likely connected, and that "on the information available [Janman] is the best nominated suspect for the offences".
But all of the evidence against Janman was circumstantial; gut feelings, odd behaviour and coincidences doesn't make somebody a murderer.
Harold Janman always maintained that he was innocent and was not involved with the murders.
Harold Janman died on Wednesday 26 August 2020, two days short of the 40th anniversary of Catherine Headlands disappearance.