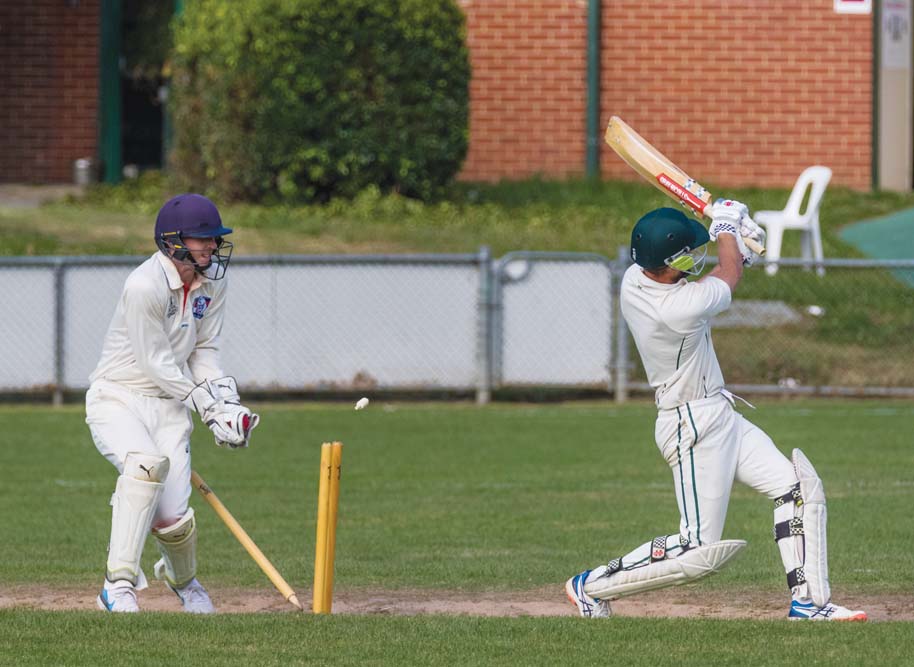 ---
PENINSULA
AFTER a long off-season of uncertainty, MPCA cricket finally got underway last weekend.
The season will look different, consisting entirely of one-day games, but that didn't dampen the enthusiasm of local cricketers who returned to the pitch on Saturday.
In the first week of Peninsula cricket's return, Long Island took on Heatherhill.
Heatherhill chose to bat first and put 132 runs on the board, giving Long Island an attainable target to chase down.
Long Island had little trouble reaching the target and claiming the win. Nick Jewell top scored for the side, scoring 45 runs. Long Island ended up winning with seven wickets in hand.
At BA Cairns Reserve, Flinders took on Moorooduc. Moorooduc set a decent target of 153 for Flinders to chase down.
Dwayne Field's bowling proved a huge help for Flinders, as he took 3/16 in eight overs.
An unbeaten half century from Shane Beggs got Flinders over the line for the win. They reached their target with seven wickets to spare.
Pines' season got off to a ripping start, as they claimed a comfortable win over Seaford Tigers.
The Tigers chose to bat first but couldn't do much damage on the scoreboard. They were bowled out for just 88 runs.
Pines made quick work of that total, securing the win after 25 overs at the crease.
Somerville also got their season started with a good win, prevailing over Main Ridge by 52 runs.

DISTRICT
CARRUM managed to get a tight win over Frankston YCW to kick off the District division of the 2020/2021 MPCA season.
The Stonecats chose to bat first, and were bowled out for 119. Carrum scored at a slow rate in reply, and their middle order struggled. Four middle order batsmen were dismissed for less than ten runs each.
Carrum eventually reached their target with one over left to play.
Dromana and Rosebud also got their season started with a thriller.
A 100-run partnership between Billy Quigley and Ryan Godwin helped Rosebud get to a total of 151 before the end of their innings.
Dromana's run chase got off to a good start, and they looked in control of the contest at 4/114. A quick collapse followed, and the side ended up all out for 134.
Patrick Nagel was the pick of the bowlers for Rosebud, posting figures of 3/22.
Crib Point played host to Delacombe Park in what would go on to be a difficult day for the home team.
Delacombe Park went in to bat first, and set a big total of 192. Number three batsman Matthew Whelan was impressive, hitting 12 boundaries on his way to a score of 91.
Despite a spirited showing from their openers who combined for a 50 run stand, Crib Point ended up all out for 99, well short of victory.
Delacombe Park bowler Matthew Kennedy was a star, taking 5/15.
Hastings also started their season with a big win, bowling out Pearcedale for just 81 to defend their total of 130.

SUB DISTRICT
SKYE defeated Boneo in a nail-biter on Saturday to start their season on the right foot.
Skye lost the toss and was sent in to bat. They set a target of 129 runs, and would have to work hard to defend it.
Boneo kept touch with their target, with a knock of 35 from number four batsman Mitchell Smith the best of their innings.
Approaching the end of their innings, Boneo needed 13 runs to win with one wicket in hand. They managed to close in within three runs of a victory before their last wicket fell.
Number 10 batsman Flinn Sheil was run out to bring the game to a close.
Carrum Downs also had a close win on Saturday, narrowly defending their total of 176 against Balnarring.
Opener Gordon Waterfall scored a half century to get Carrum Downs' innings off to a strong start. His side's total proved to be just enough, as Balnarring's run chase expired just 10 runs short of a result.
At Kananook Reserve, Seaford chased down an impressive total set by Tyabb.
The Yabbies chose to bat first and put 201 runs on the board. Paul Nelson scored 76 runs from 73 balls in a standout performance.
Seaford scored at a quick rate, and managed to reach the target set for them with eight overs left in the day.
A brilliant individual showing from Todd Harnett nearly got Tootgarook the win over Mt Martha, but his side fell just short.
Mt Martha set a target of 156 for their opponents to chase down. Apart from Harnett's knock of 69, Tootgarook struggled and were bowled out for 138.
Ballam Park secured a win to start their season, defeating Rye by 39 runs. Opener Pradeep De Silva put 75 runs on the board for the victors.

PROVINCIAL
A KNOCK of 70 from opener Sam Mullavey helped Baxter to a win over Red Hill on Saturday.
Baxter scored 175 runs in their innings, which proved too much for Red Hill to chase down.
Despite a spirited showing, the Hillmen were bowled out for 162 – 13 runs off a win.
Red Hill batsman Luke Robertson top-scored for his side with 62.
At David Macfarlane Reserve, Peninsula Old Boys got their season off to a flyer with a win over Sorrento.
The contest proved to be a high scoring one. With OB setting a target of 198 for the Sharks to chase down.
Wade Pelzer scored a half century for the Old Boys. Openers Dylan o'Malley and Thomas La Brooy both posted scores of over 40.
Sorrento worked hard to chase down the target set for them, but were 23 runs short of a win at stumps.
At Lloyd Park, Langwarrin secured a dominant win over Baden Powell at home.
Kangaroos bowler Matthew Prosser was at the top of his game, taking 5/4.
Langwarrin ended up winning with nine wickets in hand and nearly 30 overs left to play.
Mornington also secured a win in impressive fashion, defeating Mt Eliza by 66 runs. Matt Foon was best on ground for the winning side, scoring a half century then taking three wickets.
First published in the Frankston Times – 17 November 2020