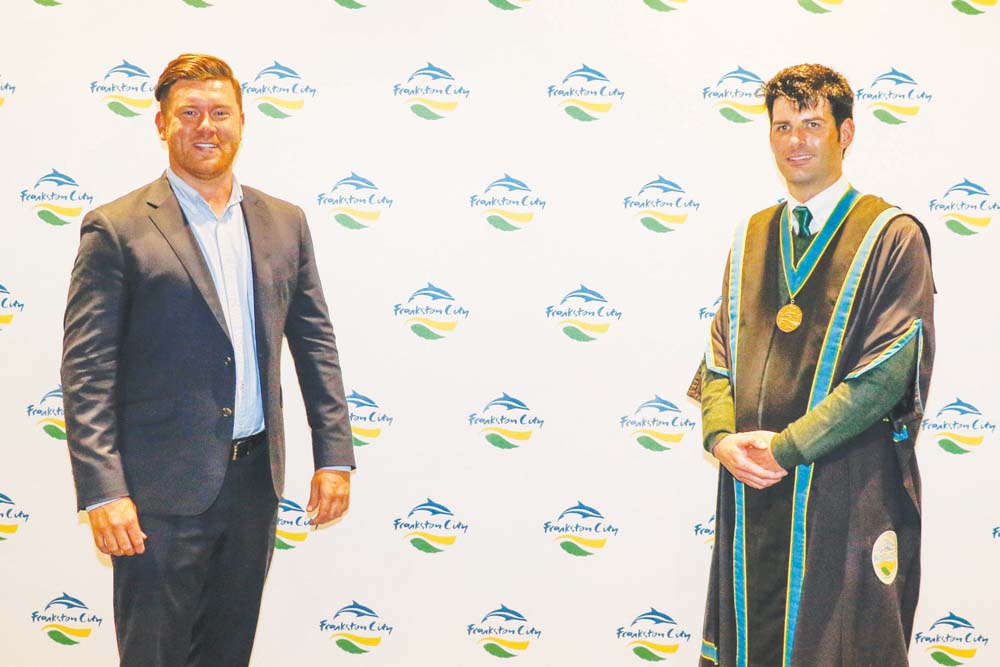 ---
KRIS Bolam has been chosen by his colleagues to be the next mayor of Frankston.
Cr Bolam was handed the mayoral reins at council's 16 November meeting, the first of the new council term.
This will be Cr Bolam's second stint as mayor, his first coming in 2011. He said the next twelve months will be "an exciting yet critical time for Frankston City, as we stand on the precipice of success or failure."
"We're committed to supporting our community through COVID-19 and to the city emerging stronger and more resilient on the other side. Council and our dedicated officers will continue to work tirelessly to achieve this. Failure is not an option," Cr Bolam said.
"My record in the chamber strongly highlights my passion for good governance and transparent decision making, which is why I spearheaded more than 100 good governance reforms over the past two years and dozens more during my time holding public office. These include reducing the amount of decisions made behind closed doors, allowing residents and ratepayers to participate at council meetings and the creation of a register for councillors and officers to declare any interactions with lobbyists.
"I don't believe in absolutes and will always try and work with councillors, staff and community to find that happy medium we can all agree on. Despite what we see and hear nationally and abroad, politics doesn't have to be unnecessarily divisive. Bipartisanship and collaborative decision-making will be the staple of my mayoralty for the next twelve months."
Cr Bolam was the last councillor remaining from the 2016-2020 term, with the other eight either stepping down or losing their re-election bids. He ran for mayor unopposed.
Cr Nathan Conroy was elected deputy mayor.
The new Frankston Council met for the first time last week, with each giving a short speech to introduce themselves to the community.
Cr Conroy told fellow councillors he was "blown away" with his primary result, which saw him elected by a huge margin.
"This is a clear mandate for change within this council," he said. "I campaigned on a number of issues, and I intend to work with the CEO, officers, and fellow councillors to work towards making those happen. I will be putting families first over the next four years, advocating for infrastructure that is required in Carrum Downs, Langwarrin, Sandhurst, and Skye. I will speak to existing and new entrepreneurs to decide what is needed for our local economy to thrive."
Cr Steven Hughes said that driving under an untidy overpass on the Frankston Freeway "is the spark that ignited my desire to run for council."
"The overpass is symptomatic of how Frankston has overlooked the small details that impact residents' daily lives," he said.
"To achieve a better Frankston we must first fix the high rates residents pay. During these uncertain times it's not right that Frankston residents pay the highest average rates in the region, while having the lowest median house price. My first motion in council will be to allocate the COVID hardship rates waiver automatically to all Frankston residents without the need to apply for it."
His son, Cr Liam Hughes, said "as the youngest councillor in Frankston City's history I am here to give a voice to everyone, especially the youth who need to be heard."
"Imagine a place full of restaurants, activities, and fun. One full of year-long things to do for all people from all walks of life. As a lifetime vegetarian I want to have a vegetarian and vegan festival. I also want more arts and music festivals to promote homegrown Frankston talent."
Cr Sue Baker told the community that "placing your trust in me to get involved has been quite overwhelming, and I am looking forward to building a high performance organisation culture. [I will be] looking to developing an inclusive community consultation approach that supports, and really focuses on delivering some great service."
Cr Claire Harvey said "I commit to holding true to the values that are consistently affirmed during our campaign – putting people and planet first, working to strengthen engagement and democratic participation, and working hard to make sure our most vulnerable community members are not left behind."
Returning Crs Brad Hill, David Asker, and Suzette Tayler each thanked voters for returning them to council.
"We can only have success by working together, and listening to each other. We can only achieve if we work together in the council chamber," Cr Hill said. "We have an opportunity to raise the bar higher".
Cr Asker said "it gives me great pride" to be elected and Cr Tayler said she committed to "make our city vibrant again".