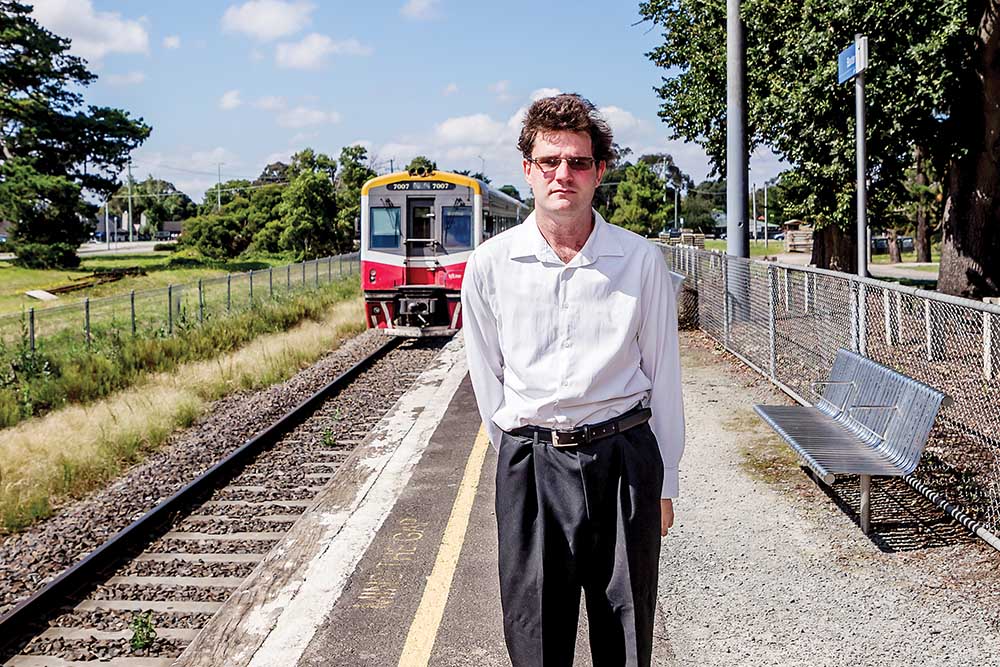 ---
AN urban planning graduate and public transport advocate is working hard on his "life's goal" of reshaping the Mornington Peninsula's public transport network.
Robert Whitehill's Peninsula Rail Link project, which began in 2012 as a "potential" train line connecting Frankston to Rosebud, has since evolved into planning for improved rail and bus transport services across the peninsula – including upgrading the Stony Point line.
Over time, the two-stage project would connect the peninsula to the Melbourne CBD using the Frankston and Cranbourne rail links.
"Although the project started as an investigation to see if it was possible for rail to run along the peninsula's west coast, I found the concept so feasible that I decided it should become a reality and have been pushing for it to happen ever since," Mr Whitehill said.
"With summer seeing a mass exodus onto the peninsula there is always going to be a surge in transport demand that the road network alone can't handle – an issue the peninsula has to deal with every summer."
Mr Whitehill, who earned a Bachelor of Urban and Regional Planning (Honours) in 2018, says he has presented the idea to numerous politicians from all sides and levels of politics and "piqued the interest of many".
He said Public Transport Victoria described the project as "having merit but being low-priority".
Despite the detail of his planning for the two-stage project, Mr Whitehill admits his projected costs – $20 billion over 15 years for land acquisition and construction – "may be inaccurate".
The Seaford resident said: "Unfortunately, I don't have access to proper resources, nor to the people who do, so [my] figures are estimates based on past projects. I estimate acquisition costs for the full project to be $375-$885 million before inflation.
"The entire Peninsula Rail Link project can be completed in two stages, incorporating other projects already proposed, funded or even those under construction.
"Stage 1 (2021-29) overhauls the peninsula's bus network, upgrades the Frankston and Stony Point lines, and builds a new train line to Rosebud.
"Stage 2 (2026-35) sees the line's services separated from suburban services between Frankston and the city, with the construction of a new Frankston-Cranbourne rail link via Carrum Downs, boosting capacity and reliability for the Rosebud and Stony Point lines."
Mr Whitehill said the new peninsula rail link would run to Rosebud via Dromana, Mount Martha and Baxter. "The proposed line will run the entire length of what remains of the Mornington line, as well as down Nepean Highway," he said.
"A new station would be built at Jetty Road, Rosebud to serve the local area, including Padua College's Rosebud campus, and take pressure off Rosebud and McCrae stations."
Mr Whitehill says his Peninsula Rail Link would allow commuters to travel from Rosebud or Stony Point to Melbourne in under 90 minutes on one train; ease traffic congestion while saving money and allowing commuters to work on the train where applicable. Reduced car dependency would give commuters options on how they get around, and independence to those who do not drive.
He says an upgraded bus network would connect the peninsula's east and west coasts, further reducing car dependency.
The project would create long-term jobs in rolling stock and infrastructure operation and maintenance, boosting the peninsula's economy and reducing social disadvantage.
Combined with the proposed Dandenong South Port Rail Shuttle and Port of Hastings, he says it would take dozens of trucks off the road each day while reducing transport costs and offer quicker access to tertiary educational centres at Rosebud, Frankston, Caulfield, Melbourne CBD and, later, Dandenong and Clayton.
"The project would boost tourism by encouraging more visitors by train, especially outside holiday peak periods," Mr Whitehill said.
"It will provide faster, easier travel to Phillip Island and French Island from Stony Point, providing a better alternative to Bass Highway for the former during holiday peak periods."
First published in the Chelsea Mordialloc Mentone News – 13 January 2021