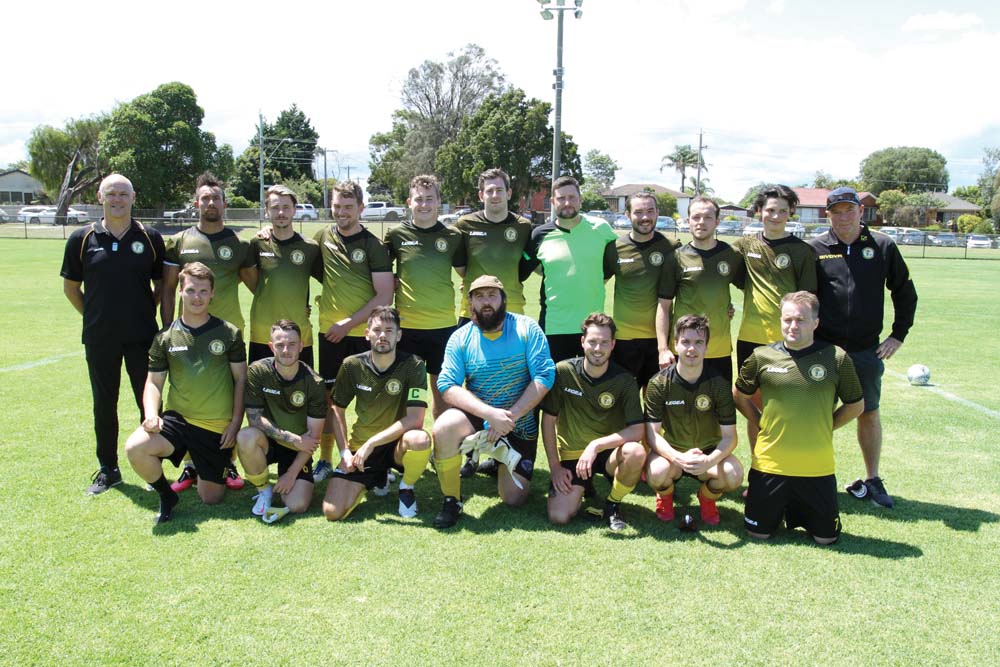 ---
SOCCER
TEAM formation, culture change and depth are the key elements of success according to Seaford United senior coach Peter Schwellinger.
The former Melbourne Knights, Richmond and Langwarrin goalkeeper has coached at Frankston Pines, Old Carey, Melton Phoenix and Whittlesea United and success has walked hand-in-hand with him in recent years.
Schwellinger took Whittlesea United from State 3 to State 1 North-West in successive seasons so he knows what it takes to climb through the leagues.
"I want to use a formation that has won promotion for me previously," he said.
"I don't know that I should talk about it too much but I can tell you it is pretty much a radical change from what we have been doing before.
"I also want to try and cover each position.
"That's hard because it's not easy to get two players for each position but to do that is a big thing for me."
Schwellinger took over the reins at Seaford late last year and has identified a lack of discipline and commitment at State 4 level that he has addressed.
"Obviously discipline and commitment are part of your culture and they are just so important," he said.
"You have to train and you have to turn up at the right time and to train properly.
"At our level players are often allowed to take it a bit easy but I've told the boys if they can't train then don't expect to get a spot in the team.
"It's not like you rock up once a week and expect to play because I don't work like that."
So far the reaction of the players at North Seaford Reserve has been positive.
"Yes I'm pleased with the way they have reacted.
"When we played our first practice match against Hampton Park we only had a half a team but the Mount Eliza game a few days later was much, much different.
"I had more players there and their response was encouraging.
"I thought the players understood the system in the Wallace Cup and looked pretty good.
"We should have won against Skye who scored from a corner not from open play so my defence was very hard to break down.
"Against Strikers I left out some key players and we did well.
"We won that one and it was great to see some young players from the ressies who really stepped up and I think they understood the formation and what we are trying to do."
Schwellinger is keen to add two or three more players to his squad, perhaps a midfielder and a central defender.
"I'm pretty happy with the squad from an attacking point of view and I'm pleased to see Tom Hogan back at training.
"He's a good player. He can play on the wing and he's looking nippy and quite fit."
Schwellinger also confirmed that club great Andy Lancaster will assist him this year.
Meanwhile on Tuesday last week Peninsula Strikers defeated Casey Comets 1-0 at Comets Stadium with a first-half goal from Jai Power.
Power also hit the post, Nick Simmons hit the bar and Aaran Currie should have finished from a one-on-one so there were lots of positives for Strikers gaffer Paul Williams.
The following evening Mornington lost 3-0 to NPL heavyweight Bentleigh Greens at Dallas Brooks Park with Braedyn Crowley (2) and Will Bower scoring.
On Thursday night Skye United lost 4-1 away to Endeavour United with Daniel Walsh scoring for the visitors.
Skye used 21 players and a lot of rotations during the match but there still were seven senior players missing so head coach Phil McGuinness and assistant Stephen Duffy are going to have to make some tough decisions in coming weeks.
The club expects a couple of new players to train shortly.
In State 3 news Frankston Pines signed Max Boulton last week.
The 23-year-old has been used in a wide midfield role during the pre-season.
He's a former Langwarrin and Phillip Island player who did an ACL during the 2019 pre-season when training with Casey Comets and has not played a league game since.
Pines head coach Kevin "Squizzy" Taylor coached Boulton at Langwarrin during the club's inaugural NPL season in 2018.
"I'm very pleased to have Max with us," Taylor said.
"He's worked really hard in his rehabilitation to get himself back into the game and to a similar level of fitness he had pre-injury and I'm sure he will be an integral part of our squad this season and beyond."
In State 4 South news Baxter will host the second Steve Driver Memorial Day at Baxter Park on Saturday.
Long-serving clubman Driver lost his battle with cancer in September 2017.
An intraclub match featuring past and present club members who knew Steve kicks off at 11am followed by the reserves and seniors pre-season practice matches against Brandon Park.
At the request of the Driver family all proceeds from the day will again go to the Cancer Council.
In other State 4 news Mark Pagliarulo (Rosebud), Cal Richardson (Pines) and Carlo Cardoso have been linked to a return to Somerville Eagles.
They were part of the Eagles' 2019 State 5 championship side but Cardoso lives in Elwood and it's understood he was going to play locally last year before the season shutdown.
Somerville player-coach David Greening gave a blunt response when asked if the rumour was true.
"I can't and won't speculate on any rumours until such time as a player has signed for Somerville Eagles," he said.
"As a club we will be keeping things a lot more in-house and striving to do things more professionally moving forward."
In other news Victoria's five-day coronavirus lockdown forced Football Victoria to suspend all football activity during that period.
The FV announcement on Friday afternoon included "all organised competitions (Junior Boys' NPL), all practice matches, club and/or player training sessions, refereeing training sessions, coaching courses, Talent ID camps and FV elite development programs."
The federation hopes to resume all football activity at the end of the lockdown period.
In FFA Cup news Rosebud is unable to host this weekend's home tie against Lara United and has been forced to play away.
As we went to press no venue or kick-off time had been confirmed but the clash is expected to take place on Saturday restrictions permitting.
This weekend's scheduled FFA Cup qualifying round matches:
SATURDAY: Aspendale Stingrays v Bundoora Utd (Kingston Heath Soccer Complex, pitch 2, 7.30pm), Mount Martha v East Kew (Civic Reserve, 2pm), Lara Utd v Rosebud (TBC).
This week's scheduled friendlies:
THURSDAY: Frankston Pines v Beaumaris (Monterey Reserve, 7.30pm, reserves 6.15pm pitch 2).
FRIDAY: Box Hill Utd v Mornington (Wembley Park, 7.30pm), Rosebud v Essendon Utd (Olympic Park, 7.30pm).
SATURDAY: Nunawading City v Langwarrin (Mahoney's Reserve, 11am, U21s 1.15pm, U19s 3.15pm), Frankston Pines v Croydon (Monterey Reserve, 5pm & 7pm), Seaford Utd v East Bentleigh (North Seaford Reserve, 1pm & 3pm), Baxter v Brandon Park (Baxter Park, 1pm & 3pm), Lyndale Utd v Chelsea (Lyndale Secondary College, 1pm & 3pm), Somerville Eagles v North Melbourne Athletic (Somerville Secondary College 3pm, reserves v South Springvale U21s 1pm).