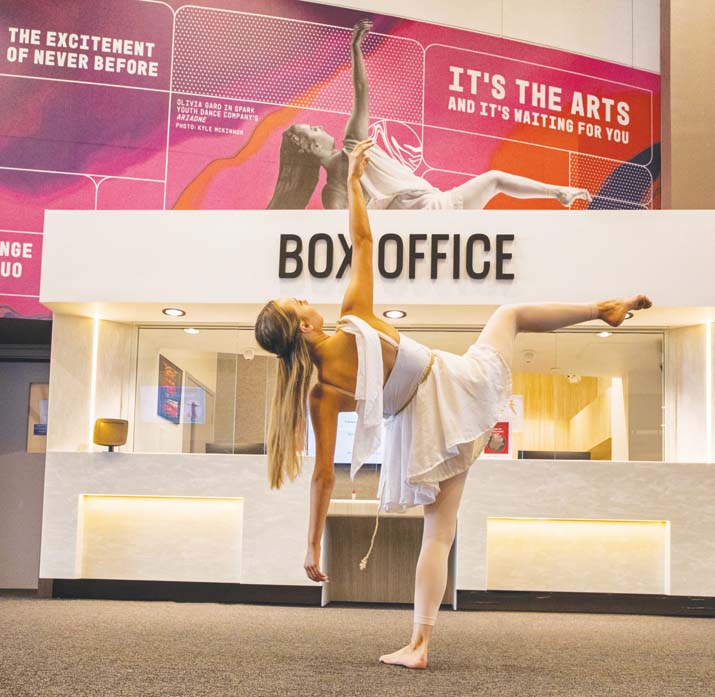 ---
A YOUNG Mornington Peninsula dancer is the star of a new mural which has been installed at the Frankston Arts Centre.
Olivia Gard, 16, first performed at the Frankston Arts Centre when she was just three-years-old. Now a snapshot of her dancing features above the box office for all Arts Centre patrons to see.
Ms Gard appears next to Archie Roach and Rhonda Burchmore in the mural. "It's a real honour to appear next to these amazing people," Ms Gard said.
"I always have to be dancing. If I see a show somewhere, I want to be on the stage. If I am watching someone dance, I need to be dancing.
"I put everything into it. Every time I have a class I always put 110 per cent in. I am always learning and I always want to do well. When I finish a class I always want to feel I got something out of it."
Frankston Council arts and culture manager Andrew Moon said "the new mural captured Frankston Arts Centre's strong bond to the arts in the greater Frankston region."
"The new mural in the Frankston Arts Centre foyer celebrates big names in the arts industry such as Archie Roach and Rhonda Burchmore, but just as importantly promotes our connection to the local arts industry and its abundant talent.
"The Arts Centre plays an important role in being a performance home to many local dance and theatre companies and schools."
Visit thefac.com.au to see more about upcoming shows.