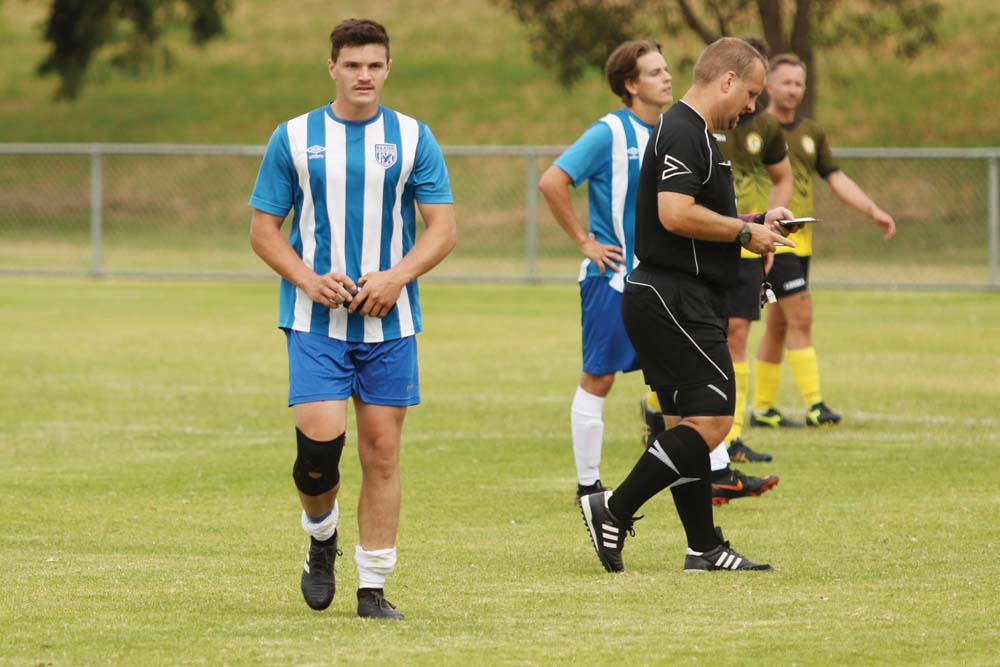 ---
SOCCER
LANGWARRIN midfielder Callum Goulding joined leading NPL1 club Bentleigh Greens last week.
It is the second time the former Melbourne Victory player has left Lawton Park having joined Box Hill United partway through the 2018 season.
Goulding rejoined Langy under Scott Miller for the 2019 season and while there was much angst over his initial departure this time he went with the club's blessing.
"Callum has always expressed his desire to test himself at NPL1 level and the opportunity has presented itself at Bentleigh Greens," was Miller's matter-of-fact response.
"He has been a big part of what we have built over the last few years so naturally it's disappointing to lose a player of his quality, however we will work hard continuing to develop the current squad for the season ahead in a positive way."
The match focus last weekend was on the first main round of the 2021 FFA Cup particularly the State 4 South derby between Seaford United and Baxter at North Seaford Reserve.
And what a controversial contest this turned out to be with Seaford's Matthias Schwellinger stretchered off, Baxter's Charlie O'Connell sent off and confusion over the Cup rules regarding substitutes.
Late in the match referee Martin Kowalczyk, Seaford gaffer Peter Schwellinger and his Baxter counterpart George Hughes were seen deep in conversation on the far touchline.
By then Baxter was 2-0 down, a man down and had used the only three substitutes on its bench so when Harper Bennell trudged off it was forced to see out the match with nine men.
It didn't make any difference to the scoreline as the depleted Baxter line-up wasn't a match for Seaford in the final analysis.
Two Dylan Waugh goals proved the difference and his partnership with Blake Hicks was a constant problem for Baxter and one it failed to solve.
But while Seaford progressed in the Cup it paid a very heavy price.
Schwellinger suffered a broken leg in two places, Jack Carter has a suspected broken ankle and was waiting on x-ray results, Mitch Lander had to be replaced due to a hamstring injury and Adam Martin has a badly swollen ankle after a heavy challenge.
Five minutes of mayhem in the first half summed up this contest.
Baxter attacking midfielder Nat Daher was forced off injured in the 31st minute and replaced by Bennell.
Two minutes later Schwellinger and O'Connell challenged for the ball.
O'Connell was late and left Schwellinger crumpled on the pitch and screaming in agony.
Referee Kowalczyk consulted his assistant then surprised many observers by only issuing a yellow card to O'Connell.
A further two minutes in and Lander collapsed on the right wing clutching his hamstring.
Three minutes into the second half Waugh held off Izaak Barr at the near post following a long throw from Hicks on the right.
Waugh spun past Barr then struck the ball past Baxter keeper James Foster into the far corner.
Waugh's second came in the 66th minute after he broke onto a long bouncing ball and hammered his volley past the advancing Foster for the clincher.
A minute later O'Connell was scythed down.
Instead of setting up for the free-kick he grabbed the ball and thumped it over the touchline.
He received a second yellow for his petulance and so ended the Baxter resistance.
Somerville was the other local club to progress in the Cup thanks to a 2-1 away win over established State 4 West outfit North Melbourne Athletic.
Player-coach David Greening's men had to come from behind but debut goals from Stephen McInerheney and Naseer Mohammad sealed the win.
"We handed debuts to eight players in a match that saw us rediscover some of the 'Somie' spirit," Greening said.
"That togetherness and willingness to go into battle for each other was as pleasing as the result."
Chelsea bowed out of the Cup with a 4-2 loss to Darebin United in a contest switched to Edithvale Recreation Reserve due to ground availability.
All four Darebin goals came from set pieces but one of the positives for the local club was the second half debut of 17-year-old junior Arki Gantzos.
"Arki's a great kid and he scored his first senior goal," Chelsea head coach Carlo Melino said.
Piers Beresford scored Chelsea's other goal and Darebin led 2-1 at half-time.
The draw for the second round of the Cup was made yesterday (Monday) and was streamed online on Football Victoria's Facebook page.
Frankston Pines was included in the draw.
Next Monday (8 March) Mornington, Peninsula Strikers and Skye United enter the draw.
There was a high-scoring result in one of last week's local friendly matches.
Peninsula Strikers beat Somerville Eagles 9-0 at Centenary Park last Tuesday with goals from Riley Anderton (3), Ben Doree (2) Sam Luxford and Abbas Yaqobi.
With apologies to Aaran Currie and Danny Brooks there were also two own goals.
Langwarrin beat Mornington 1-0 in a friendly at Lawton Park on Saturday.
A Sam Orritt goal early in the second half proved the difference.
Langwarrin was missing Marcus Holmes, John Maclean and Wayne Wallace but Tom Youngs returned and Isaiah Joseph came off the bench.
While boom Mornington recruit Milos Lujic didn't play both Josh Hine and Josh Heaton had valuable game time.
Mount Martha defeated FC Noble Hurricanes 2-1 at Civic Reserve on Saturday.
The home side's goals came via a cracking 25-metre free kick from Tom Faska and a low drive from the edge of the box by Jett Higgin.
Jack Morgan made his Mount Martha debut at right back.
The 26-year-old is a former Baxter and Hampton Park player.
Other friendly match results: Doveton 2 Peninsula Strikers 1 (Shane Tagliaferro), Skye Utd 0 Mazenod 3, Frankston Pines 1 (Tito Vodowaqa) Mill Park 4 (on Saturday), Rosebud 0 Mill Park 4 (on Friday).
In other news NPL and State League fixtures were released recently and Langwarrin plays nine of its first 11 games at home including the opening five rounds of the season.
Frankston Pines will play home games under lights at Carrum Downs Recreation Reserve in Wedge Road with 8.30pm kick-offs after Frankston council changed a 10.30pm lights curfew at the venue to 11.30pm.
Pines get the league season underway on Friday 19 March when they host Brighton in a State 3 South-East clash.
Meanwhile Facebook took down Peninsula Strikers' page last week and Peninsula Strikers Junior FC's page.
The club could offer no explanation for the sudden and unexpected move other than being caught up in the crossfire of the recent fight between the American-based technology conglomerate and the Australian government.
Both pages were reinstated a few days later.
This weekend's FFA Cup ties for local clubs:
SATURDAY: East Brighton Utd v Frankston Pines (Monterey Reserve, 5pm, reserves friendly 3pm), East Kew v Seaford Utd (State Football Centre, 2pm), Somerville Eagles bye.
This week's friendlies for local clubs:
THURSDAY: Box Hill Utd v Langwarrin (Wembley Park, 7.30pm), Mount Martha v HMAS Cerberus (Civic Reserve, 6.30pm & 8.30pm).
FRIDAY: Chelsea v Sandringham (Edithvale Recreation Reserve, 6.30pm & 8.30pm), Rosebud v Skye Utd (Olympic Park, 6.30pm & 8.30pm).
SATURDAY: Mornington v Caroline Springs George Cross (Dallas Brooks Park, 3pm & 5pm), Peninsula Strikers v Malvern City (Centenary Park, 1pm & 3pm), Falcons 2000 v Skye Utd (Latrobe City Stadium, 1pm & 3pm), Casey Panthers v Somerville Eagles (Prospect Hill Reserve, 1pm & 3pm), Mount Martha v Keysborough (Civic Reserve, 1pm & 3pm).