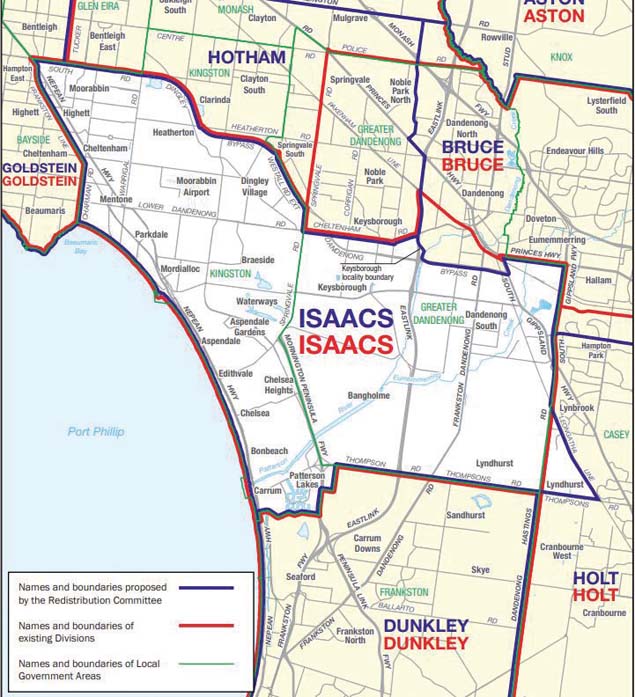 ---
THE boundaries of the Isaacs electorate may slightly change soon under a proposed redistribution.
The Australian Electoral Commission released its new proposed electorate boundaries last week. If the changes are made the southern portion of Dandenong would drop out of the Isaacs electorate, while the majority of Lyndhurst would move into it.
The electorate's boundary in Dandenong would move from the train line to the Dandenong Bypass. In Lyndhurst the boundary would move from the Western Port Highway to the train line.
Electoral commissioner, Tom Rogers, said "under the proposal, the boundaries of all but nine of Victoria's existing electoral divisions would change, the additional division of Hawke would be created and one electoral division would be renamed."
"Ongoing population growth in parts of Victoria has led the Redistribution Committee to propose a number of substantial changes to some of the state's electoral division boundaries," he said.
Isaacs is considered to be a fairly safe seat for the Labor Party. Labor MP Mark Dreyfus was returned at the 2019 election with 56.43 per cent of the two-party-preferred vote. Labor has held the seat for 25 years.
Isaacs runs from Carrum to Moorabbin, and is bordered by Dandenong South on the eastern side. It consists of suburbs from the Kingston, Casey, and Dandenong local government areas.
Any written objections to the proposed changes can be made to the AEC at FedRedistribution-VIC@aec.gov.au. They must be lodged no later than 6pm on 16 April.
First published in the Chelsea Mordialloc Mentone News – 24 March 2021