AFTER more than four decades looking over local parks, Des Lucas is retiring.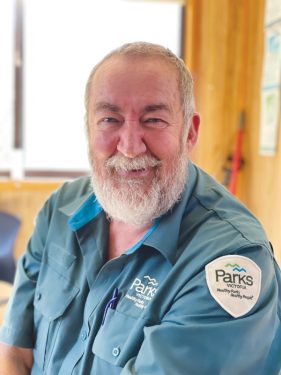 Mr Lucas is the ranger team leader at Braeside Park, where he has worked for 27 years. Before his time at Braeside he worked at Dandenong Valley Parklands.
Mr Lucas fondly remembers seeing a puggle, an echidna train, and other birds and animals as some highlights of his time as a park ranger at Braeside.
The Friends of Braeside Park have thanked Mr Lucas for his tireless work overseeing the Braeside space. "To Des everyday is the best day of his life. No two days are generally the same. The variety of the work and the opportunity to work and collaborate with volunteers and share his love for nature is wonderful," the group said. "He has been responsible for many of the improvements to the park in collaboration with Parks Vic and with various volunteer groups including Friends of Braeside Park."
"He is frustrated by the number of people in the public who do not respect public assets. When you see valuable money that is spent on improving things wasted through vandalism, it hurts. He believes with a bit of help from the public, the volunteers and Parks Vic, Braeside will continue to improve and provide a heaven for a variety of birds, small animals, and numerous insects. Going forward, Braeside will continue to provide a haven for nature and the community."
First published in the Chelsea Mordialloc Mentone News – 20 April 2022