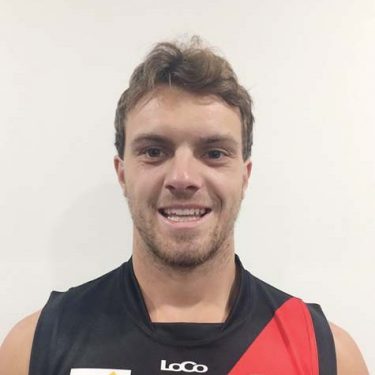 THE loss of beloved teammate Ben Tournier still looms large over the Frankston Bombers more than a year after his passing.
Tournier was killed in a tragic car accident in January last year. He was only 29.
For more than a decade Tournier played football with the Frankston Bombers, becoming a much loved member of the club. Last weekend the Bombers joined forces with 21 other MPNFL clubs and 12 SEWF clubs to wear blue armbands for road safety round. The club hopes that the initiative will promote road safety and prevent future deaths.
Frankston Bombers president Jason Smith says that Tournier's death still hurts the club today.
"Our club was badly impacted by the loss of one of our players last year through a road accident. Benny was a much loved player, member, and friend. The club was seriously affected by that," Smith said. "He was quite an outgoing person and player – he had a great friendship and mateship within the community and the playing group. He was much loved.
"Ben had a lot of close friends in the club and the wider community, it hit the club hard and it still does have an impact on the group."
Smith hopes that initiatives like road safety round will minimise the risk of future deaths on the road. "We want to use this issue to make sure it doesn't happen again. It wasn't just our club affected," he said. "This round is about making sure the education is still there, and making sure the wider community makes the right decisions and does the right thing on the road."
This year was the third annual road safety round, which is commemorated by clubs Victoria-wide. TAC head of road safety Samantha Cockfield said that raising awareness of road safety at local sports games helps to spread the message further.
"The TAC is renowned for using its standing in the community to engage with Victorians on key road safety issues. Road safety round is a great way to share our message on a local level and remind each other that we all have a role to play in keeping the roads safe," Cockfield said.
As of 13 July, 135 people have died on Victorian roads this year. That figure is up more than 15 per cent from the same time last year.