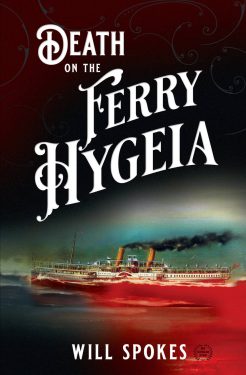 A MURDER on the waters of Port Phillip Bay is the mystery inside a new fiction novel.
Death on the Ferry Hygeia is a new novel from Langwarrin author Will Spokes. The murder mystery is set just after the first World War at a charity event aboard the Port Phillip Bay excursion ferry Hygeia.
Spokes said that the novel is inspired by the works of legendary author Agatha Christie. "I'm a fan of crime and murder mysteries like most people. One of the great titles in this genre is Murder on the Orient Express. Because of my interest in the old ferries, I thought maybe I could write a mystery murder story based on the most famous of the old fleet Hygeia," he said.
Spokes said that his work on the Mornington Peninsula also served as inspiration for the setting. "There are a number of quality books recalling the bay and coastal steamers. I have spent a lot of time in places like Port Fairy and King Island, Tasmania. I have been associated with the famous Couta Boats as the race director for the club at Sorrento and Mornington Yacht Club. Also, as a member of the Classic Yacht Association and visiting the Wooden Boat Festival in Hobart regularly," he said.
The book can be purchased from booktopia.com.au