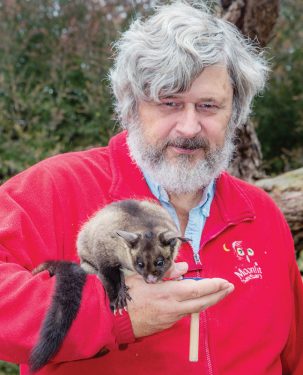 A NEW centre to help save endangered small mammals has opened at Moonlit Sanctuary in Pearcedale.
The Small Mammal Conservation Breeding Centre was officially opened last week. The centre is designed to help maintain the population of critically endangered small mammals.
The centre's work will begin with the Pookila (pictured main). The small mammal's population is in decline due to factors such as drought, feral predators, and bush fires.
Breeding pairs have been matched up at the centre. It is hoped that the offspring can be released into the wild.
Moonlit Sanctuary founder Michael Johnson (pictured with a squirrel glider) said that the new centre will "help Moonlit safeguard the Pookila against extinction, while also allowing them to gain a deeper understanding of how the species breeds and responds to a changing environment."
The sanctuary also runs programs to help conserve the Orange-bellied Parrot, Spot-tailed Quoll, and Regent Honeyeater.