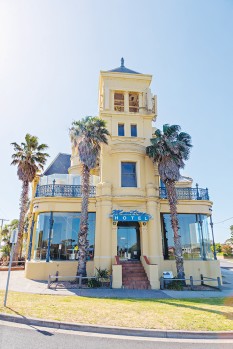 THE iconic Mentone Hotel has been sold to a property development company but the buyer has indicated the heritage building may be preserved.
Mt Waverley based Momentum Developments bought The Edgy for an undisclosed sum, believed to be more than $9 million, after an expressions of interest campaign by CBRE Hotels.
Save The Edgy spokesman Chris Hill took to Facebook last week to advise the developer had been in touch with the residents' group lobbying state government to save the venue after its sudden closure late last year ('Mentone Hotel closes, future unclear', The News 19/11/14).
Mr Hill posted Momentum Developments had advised the Save The Edgy group that the firm would make "all reasonable endeavours to have a retail business including a food and beverage service at the Mentone Hotel".
Momentum Developments founder Paul Huggins said his intention is to "preserve and restore the hotel's facade".
He said some of the internal elements including the staircase would also be retained.
However, he said expert advice had revealed "about 55 per cent of the interior" is not original.
Mr Huggins said Momentum Developments will seek a retail tenant to possibly operate "a scaled down place to eat and drink" on the lower floor of the venue.
"I'm not going to be running a pub," he told The News.
The Save The Edgy group's preference is that the "new business is as close to the existing hotel model as possible, but it will ultimately come down to the operators that put their hands up".
Mr Huggins said he will meet the group's committee this month to discuss the plans for the Mentone Hotel which will include apartments.
To preserve the hotel's historic feel, Mr Huggins said the developer is keen to repaint the venue's exterior its original "battleship grey" to match its colour when it first opened in 1889.