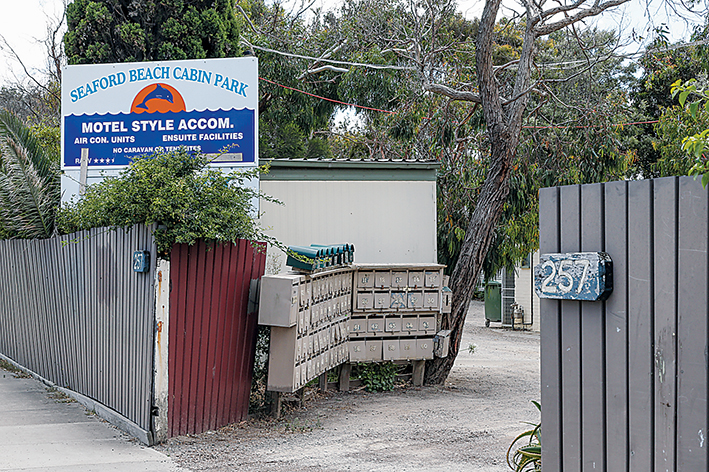 LONG-RUNNING negotiations to provide residential certainty for disadvantaged families and individuals at Seaford Beach Cabin Park could be nearing an end but cabin park owner Michael Hibbert says he is still awaiting final confirmation from Frankston Council that a lease he signed late last year is acceptable to council.
Mr Hibbert and council have been in protracted talks over the past two years to extend a lease on land at Kananook Creek amid disagreement over a land swap deal that council ultimately rejected.
The land swap deal – with a Crown land portion of the site, 860 square metres of land facing Kananook Creek, being exchanged with council receiving 675sqm of freehold land facing Nepean Hwy – was dropped early last year after months of talks ('Cabin park deal 'close' despite reservations', The Times 6/4/15).
Councillors were due to discuss the sealing of the lease – a five-year lease with the option of a further five years in 2020 – behind closed doors after December's public council meeting.
Council spokeswoman Natasha Duckett advised The Times last week the matter remained "confidential" and an update would be given "when this situation changes".
Mr Hibbert said he signed the lease late last year and has heard nothing since from council.
"I haven't heard anything from council. We've written three letters because we're conscious the residents could be evicted soon and we haven't heard," he said.
"We just assumed we'd get something back to say everything is fine."
About 40 families, in 20 cabins on part of the park leased by council to Mr Hibbert, faced eviction from the park before council and the park operator came to an agreement on an extended lease last year.
The cabin park owner agreed to spend about $300,000 to upgrade facilities at the park within two years.
He hoped to hear from council soon to confirm the signed lease had been accepted by council.
"It's disappointing from the residents who keep asking about it. We're not hiding anything. We're just waiting to hear back from them but we don't appear to be too high on their priority list."