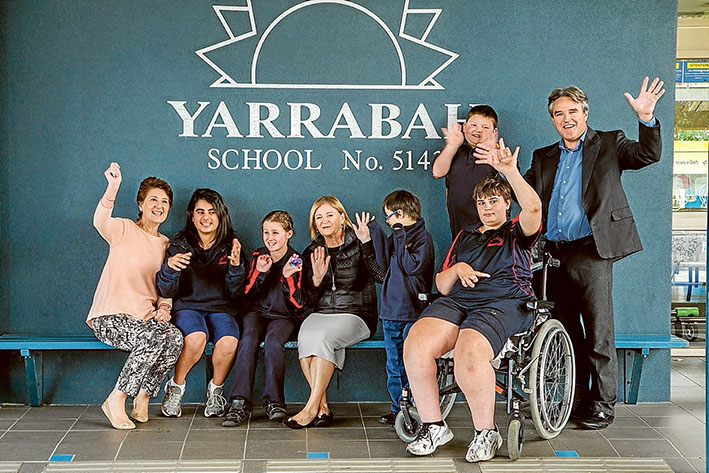 A SPECIAL needs school in Aspendale can finally start planning for its future after the state government provided funding in the 2016-17 Victorian budget for a masterplan for a redevelopment of the school.
Student numbers have risen by more than 700 per cent in the past two decades at Yarrabah School and principal Matthew Harris has been pushing for government funding to replace 20 portable facilities with permanent buildings ('Permanent plan plea for Yarrabah', The News 10/6/15).
"I am absolutely thrilled with the announcement that Yarrabah School can begin its masterplan to understand what buildings and upgrades it needs for the future," Mordialloc Labor MP Tim Richardson said.
"Yarrabah's motto is 'A Little School with a Big Heart' and while it certainly has a big heart, Yarrabah is now bursting with record student numbers."
Parktone Primary School in Parkdale received $4 million for a new multi-purpose hall and classrooms while Beaumaris High School was allocated $13.5 million, on top of $6.5 million last year, to build a new school.
"This is a wonderful budget for the Kingston region with huge investments in our local schools, hospitals and transport system," Mr Richardson said.
"I congratulate the Parktone and Beaumaris school communities, who have fought so hard to secure funding that will get them the buildings they desperately need."
Mordialloc Beach Primary School received $250,000 to upgrade buidlings.
Mr Richardson said Kingston emergency services had "a big win" in this year's state budget, announced last Wednesday (27 April).
"Edithvale CFA's new fire station will proceed without delay with an additional supplementary allocation, providing a leading facility for local volunteers who support our local area in times of need," he said.
"While an additional 400 police officers will be recruited to keep our community safe and support the Kingston and Bayside efforts to tackle crime."
Liberal state Upper House MP for the South Eastern Metropolitan Region Inga Peulich said Labor's budget neglected to invest in much-needed roads upgrades.
"The abandonment of the Mordialloc Bypass, potentially until 2048, means traffic on Wells Rd, White St, Boundary Rd, Nepean Highway and other roads will only become worse," Ms Peulich said.
"There is no money for much needed local sporting infrastructure and dozens of schools are still waiting for upgrades."
First published in the Chelsea Mordialloc Mentone News – 4 May 2016