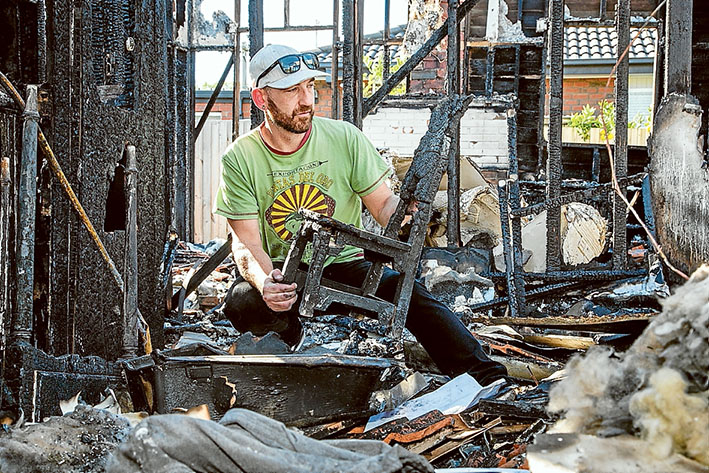 A BOTTLE of 1976 Grange Hermitage valued at $1200, a little girl's Christening candle in a blackened chest of draws, and a walking stick made by his grandfather in Changi prison, Singapore, were among a handful of items saved when a Mordialloc house was gutted by fire in the evening late last month ('Fire puts end to house, exhibition', The News 4/5/16).
But, despite his emotional attachment to these keepsakes, and his joy at retrieving them, the real thrill for victim Sam Bryant, 36, is the kindness of friends and strangers.
No sooner had the smoke cleared from the Powlett St house than Mordialloc's OCD Skate Shop came forward to offer clothes and shoes valued at $500 to the family and Beach Rd's Mordialloc Bike Shop donated a new bike for daughter Olive, 4.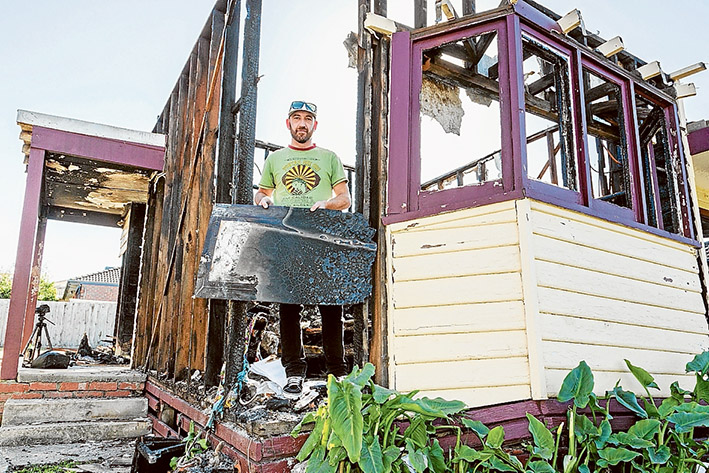 Friends Nikki Affleck organised a GoFundMe campaign which raised $4000, Luanne Willingham cared for Olive, and Holly Kucherenko began coordinating donations.
Also, Korowa Girls' School and St Anne's School in Seaford, donated clothing. His brother Nick bought him a replacement TV and camera, parents at Olive's former kinder, Evesham, in Cheltenham, supplied replacement photographs and her new kinder, Elonera, in Parkdale, offered support.
Yesterday Mr Bryant, who has a knee injury, was able to watch DVD images of Olive on his new TV.
"So many people rang me and offered their support and made donations," Mr Bryant, an artist, said.
"I am amazed by their generosity. We received so much help; it's been quite humbling."
Mr Bryant was not at home when the fire started at 10pm on Wednesday 27 April, but friend Libby Sunshine, 20, heard the alarm and saw smoke in the hallway.
She "grabbed her cat and handbag and fled the house", police said later.
Twenty-five firefighters tackled the blaze, which was brought under control at 10.48pm.
Mr Bryant, who rushed home soon afterwards, ran inside to save his laptop and a wooden DVD case containing family photos, as well as animation work and assorted artworks for an upcoming exhibition.
"The wooden box had been burnt but a fireman began bringing out all these single tapes, as well as a fire-blackened laptop and camera whose memory cards may be OK," he said.
"And the walking stick of Japanese oak made by my grandfather while a prisoner-of-war in Singapore, Olive's Christening candle – as well as the Grange Hermitage – all hold special memories," he said.
But the cherry on top was the safe return of his four beloved cats who all fled the fire. "I'm so grateful they are alright," he said.
First published in the Chelsea Mordialloc Mentone News – 11 May 2016